Searching for Top-rated Exterior Painters Near You? We Warranty Our Painting Services!
At Five Star Painting of Ann Arbor, handling your exterior painting project is more than just "a job" to us. Your home is exactly that - your home. As homeowners like you, we understand how a high-quality paint job can help you fall back in love with your home.
We use sophisticated technology to measure your exterior painting project to exact specifications. We take our projects seriously! We're committed to delivering customer-focused and quality-driven exterior home painting services.
Experienced Exterior Painters
Not only can a fresh coat of paint help to brighten up a house, but it can also protect the exterior from damage caused by weathering. In addition, painting can help to improve the curb appeal of a home, making it more attractive to potential buyers.
While painting may seem like a straightforward task, it is important to hire professional house painters in order to ensure a high-quality finish. Our exterior house painters have the experience and expertise necessary to properly prep and paint a house, and they can also offer advice on color schemes and other design considerations.
As such, hiring exterior house painters is an excellent way to ensure that your home looks its best.
Contact us today to learn more about our exterior painting in Ann Arbor.
Curious to Know Why Curb Appeal Matters?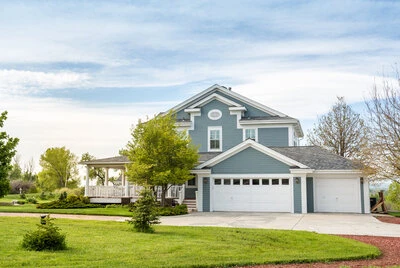 Curb appeal is important to homeowners whether they are thinking of selling their home or if they simply prefer to maintain a pleasing look and feel to their neighborhoods.
With Five Star Painting of Ann Arbor, choose a color that works with your home's exterior and surroundings to truly transform your property for the better. Curb appeal matters when you want to sell your home and ultimately helps to attract buyers while allowing you to sell your home at a much higher price.
Five Star Painting of Ann Arbor works hard to deliver top-notch exterior paint jobs. We work with professional exterior painters in who have experience painting residential buildings, providing our clients with complete satisfaction.
Ann Arbor Exterior Paint Jobs We Handle
At Five Star Painting of Ann Arbor, we are not only well-versed in painting traditional exterior areas of homes but other structures and types of buildings. Some of the additional projects we are willing to take on when working with clients on an exterior paint project include:
Traditional siding paint jobs
Trimming surrounding your home or other outdoor structures
Tool and storage sheds
Garages or attached exterior buildings
Additions and guest houses
Our Ann Arbor exterior house painters use only the highest quality paints when working outdoors and with exterior projects. Our preferred paints include Sherwin Williams™ and Benjamin Moore™! These paints provide our clients with long-lasting paint jobs!
Trust in Our Professional Exterior Painters in Ann Arbor!
Our professionals at Five Star Painting of Ann Arbor work with you when scheduling appointments and ensure the process goes as smoothly as possible. From the time our professional contractors arrive to begin working on the job until cleanup, we are there for you.
The Ann Arbor exterior painters we work with also try to leave no stone left unturned and complete the cleanup process for you, allowing you to relax while they help transform your home.
Ann Arbor Exterior House Painting | FAQs
I'm not sure if my home needs a new paint job or not. How can I tell?
Great question! First things first, your home's exterior should be painted every 5-10 years.
Beyond this, you'll want to check your exteriors for signs of paint failure. Specifically, look for paint that is:
Cracking,
Peeling,
Bubbling or blistering,
Chipping, or
Cracking
If you see paint failure, it's time for a new exterior paint job! Give us a call and we'll be happy to provide a free estimate.
Schedule your free Ann Arbor exterior paint job estimate by calling us. You can also inquire about more information online right from the comfort of your own home.
Suggested Reading