At Five Star Painting of Batavia, painting your exterior is more than "a job". Your home is the backdrop of your life. Whether you're new to the neighborhood or a long-time resident, our exterior painting services are for you!
We take professional service to the next level by:
Using neat technology to measure your project,
Having a dedicated project manager oversee your project from start to finish,
Helping you choose the right paint colors for your home, and
Warrantying our exterior painting services for two-years.
With us, your paint job isn't done until it's done right!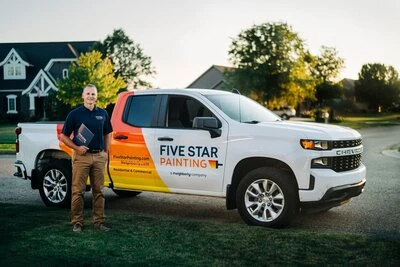 Count on us for superior home exterior painters! Book your free estimate by contacting us online. Or, give us a call!
Improve Your Curb Appeal With Our Exterior Painting Services!
Are you planning on putting your home up for sale? If you are, you understand just how competitive the real estate market can be! So you need to do everything you can to help your home stand out. One great way to help increase your curb appeal is by getting exterior painting services from us at Five Star Painting of Batavia.
The work done by the exterior painters at Five Star Painting of Batavia will make your neighbors jealous. Call for an estimate.
Sticking With You From Start to Finish
The Batavia exterior painters we'll send your way will work with you every step of the way to help give your property the look you want. We have a long list of satisfied customers in the Batavia area who have benefited from our exterior residential painting services.
We Can Paint Your Entire Property
Our exterior painting services in Batavia aren't limited just to your house. At Five Star Painting of Batavia, we can paint anything you have on your property, including:
Garages
Sheds
Workshops
Fencing
Driveways
Gazebos
Pool houses
If you need any or all of these areas painted, give us a call today to set up an appointment.
Let Our Batavia Exterior Painters Give You a Top-Notch Home Makeover
We only send the best painting contractors for exterior residential painting services. Each of them has enough experience to undertake any job successfully while working to stay under your budget. They are professional and courteous and will strive to go unnoticed while they work on your home and grounds.
Trust Us to Clean Up When Done
The last thing you want to deal with is dirt, debris, and painting supplies strewn around your yard after your painting job is done. We won't do this to you. After we complete your painting job, we'll strive hard to clean up all work areas before we leave.
The Best Paint Jobs With the Best Paint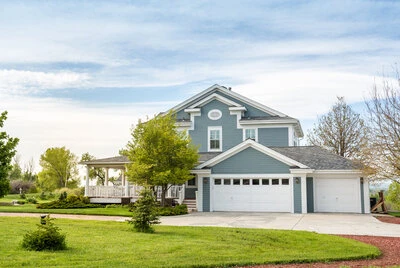 Part of the reason we can provide top-quality painting services is that we use top-quality paint. At Five Star Painting of Batavia, we commonly use Sherwin-Williams® and Behr® paints for each exterior residential painting service we provide to homeowners.
Exterior Painting | FAQs
Is pressure washing required for exterior house painting?
If your exteriors are dirty, yes, your exteriors should be pressure washed. This ensures your siding is squeaky clean for the new paint. It's so important that new paint isn't applied over dirty surfaces. Otherwise, the paint job won't last, and you'll likely need to have the paint redone much sooner than you'd like.
If your home needs to be pressure washed, we'll take care of it. We'll also take the time to perform the rest of the prep work to ensure your exterior paint job lasts for years.
For more information on how our exterior painting services could help you improve your home, call us today.