Is it that time again to enliven your interiors with new paint? Or are you new to the area and need to do something about those dated interiors? We're your local interior painters who will treat your project as more than just "a job". We view this as an opportunity to spark new life in your home and help you to fall back in love with it.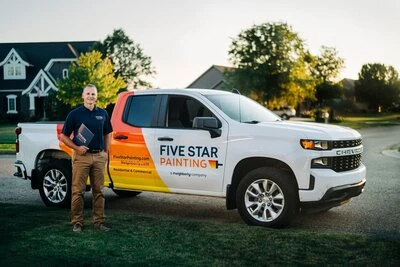 At Five Star Painting of Batavia, we're customer-focused and quality-driven. Right from the start, we strive to deliver professional service. Our estimators, for instance, aren't covered in paint! We arrive at your home in uniform and even put on shoe covers before entering your home. We aren't your average interior house painters!
Count on us for punctual and professional interior painting services! Book your free estimate by contacting us online or by calling us.
Interior Painting Could Increase Home Value
Are you finding the aesthetics of your home a bit drab? If you answered yes, there's no need to move to a new home. A much simpler solution to your aesthetic issue is to give your home's interior a fresh coat of paint. Doing so can brighten up any room and even make it seem more spacious. This is why we provide interior painting services to homeowners in Batavia.
Let our interior painters give your walls a much-needed lift. Call for an estimate.
New Homebuyers Enjoy Fresh Paint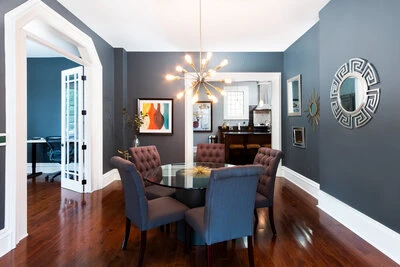 Whether subconsciously or consciously, prospective homebuyers will register the colors on the walls of your home almost immediately. The last thing you want is for the interior of your home to look two decades out of date. Prepare to put your house on the market by having the interior painted by a crew of top-notch Batavia interior painting contractors.
Where We Paint in Your Home
When it comes to the interior of your home, there is almost no room we can't transform. At Five Star Painting of Batavia, we can paint your:
Bedrooms
Kitchen
Bathrooms
Living room
Dining room
Foyer
Enclosed patio
Call today to schedule a complimentary estimate on having your home's interior painted.
We're Proud to Work With Professional Interior Painters in Batavia
The most important aspect of a good paint job is the people doing the painting. This is why we only work with the best painters for interior painting services. They'll do their best to show up to your job on time each day. These professionals will also do everything they can to avoid mistakes so that the finished results look great.
Top-Quality Paints
Almost as important as the painters is the actual paint being used. At Five Star Painting of Batavia, we use Sherwin-Williams® and Behr® paints. Quality materials help ensure great paint jobs that last a long time.
Interior House Painting | FAQs
Is having our interiors painted before moving a good idea?
Yes! House painting of any kind is one of the best and most cost-effective ways to help your home stand out. Having your interiors painted is no exception!
If you are having professional interior painting done, we'd recommend choosing neutral colors. Neutrals can help appeal to a wider audience. But - we're totally happy to discuss your project and help you choose the best colors for your home.
Contact Five Star Painting of Batavia to schedule a free in-home estimate with one of our representatives.