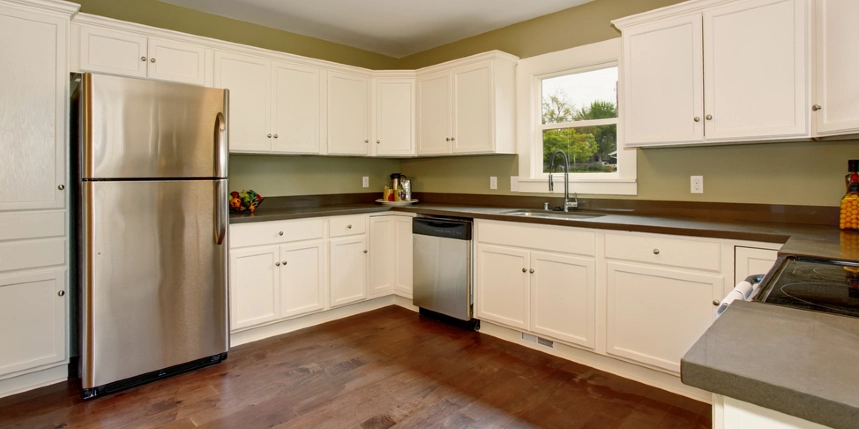 Many homeowners take the time to think about ways of upgrading their home. However, many limit what they do because they may not have the budget for it. This means some parts of the home tend to be forgotten, including the kitchen cabinets. However, painting your kitchen cabinets provides you with many benefits of which you may be unaware. Here are some reasons to consider painting your kitchen cabinets.
New Aesthetic Appeal
If you recognize your cabinets becoming dull or faded, we recommend painting them to bring them back to life. This not only makes them more aesthetically pleasing, it also provides an increased value to your home over the long-term.
Cheaper than Renovations
If the kitchen is a home project you have, renovation may be part of the consideration. However, this can become costly, running homeowners thousands of dollars, especially when changing out cabinets. By painting the cabinet, you can achieve the same goal of upgrading the kitchen without paying the additional, unwanted costs.
Modern Colors
Many kitchen cabinets have the same colors, wood or white. They all appear the same with very little to break up the colors. By painting the cabinets, you are able to liven up the kitchen with your favorite colors or accents to give a whole new feel to the room.
Time Saver
Renovations and completely remodeling is stressful. It can also take a long time to get everything done, especially with limited funds. When painting the kitchen cabinets, you can take time and avoid becoming overwhelmed. You can paint a little bit at a time, stop, and paint again whenever you are ready.
At Five Star Painting of Bellevue, we encourage you to reach out to our professional team of painters to help you brighten up your home. We aim to provide the services you need to paint any part of your home and get the job done on time, and on budget. You can count on our trained, skilled, and friendly team.
Call us today to schedule a service and we'll help you reach your painting goals.