Need Help Choosing the Right Colors? Our House Painters Near You Can Help!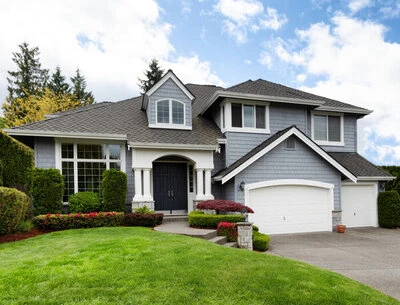 New paint can cover old stains and remedy sun bleaching. It will make your home look fresh, well-maintained, and stylish. If you want to call attention to your doors, windows, or other architectural features, contrasting colors can draw the eye to these details. Warm earth tones make a home appear welcoming and modern while cooler colors can create a crisp and refreshing look.
There are so many colors to choose from. At Five Star Painting of Bellevue, we're more than happy to help you choose the right colors for your home!
If you think your home could benefit from a new coat of paint, call to schedule a consultation with our Bellevue exterior painters!
Five Star Painting of Bellevue Provides a Full Range of Services
When you go with Five Star Painting of Bellevue, you'll receive more than just a new coat of paint for your house. Our Bellevue exterior painters can furnish a variety of options for boosting the appearance of your home.
You can get your concrete cleaned, trim repaired, or siding pressure washed prior to the paint application. These types of services are very important because they prepare a clean, smooth surface to which the paint can properly adhere. The result will be a home exterior that looks consistent and perfectly painted.
Five Star Painting of Bellevue Can Paint a Variety of Exteriors
There are many types of materials used for home exteriors, so homeowners frequently wonder if they can use paint on their specific type of house. We have experience painting many exterior surfaces, including:
Brick
Vinyl
Wood
Stucco
Siding
Paneling
Trust Us to Protect Your Home With Quality Paint
A good exterior paint job does more than just change the appearance of your house. The right paint also helps to protect your home from mildew and mold that could grow in both exterior and interior walls. Proper painting keeps your residence safe from moisture and prevents the sun's damaging rays from gradually wearing away the integrity of its façade.
Looking for an exterior painter in Bellevue? Count on us! Contact us online to book your free estimate. Or call us!
Exterior House Painting | FAQs
When is the best time of year to have our house exterior painted?
In Bellevue, WA, the best time of year for exterior painting is Spring, Summer, and Fall. Winter can be too cold and wet which will impact how paint bonds to your exteriors.
We're the pros and can help you plan your next exterior paint job around the weather! Just give us a call and we'll be ready to help.
How often should our exteriors be painted?
Your exteriors should be painted every 5 to 10 years. It's important to stay on top of this since paint protects your home!
You can also check for paint failure. If you see cracking, peeling, and bubbling paint, it's time for a new paint job!
Suggested Reading:
Delightful Decks: Providing Beauty to Your Home's Exterior
Redefining Your Home's Exterior
Call to learn how you can get a free estimate for your exterior painting project anywhere in the Bellevue area.