Five Star Cares George Taylor Jr. House Project Conclusion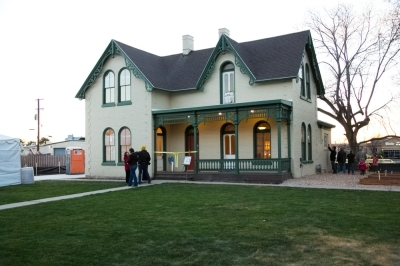 Five Star Cares helped paint a house with the Habitat for Humanity U.C. Restoration project of the George Taylor Jr. House for a family that needed a hand up. I, and a group of Five Star Cares volunteers, including Five Star Franchising's CEO, came on a rainy September day to paint trim, baseboards and doors in the George Taylor Jr. House for the National Day of Paint. I learned how to do finishing work which turned out to be pretty fun. Here are the final results of this project and a few other details we were able to help with.
The George Taylor Jr. House was in bad shape. To see it now you would be floored. Habitat for Humanity of Utah County and many volunteers from multiple organizations and groups including Five Star Cares, cogaerged on the George Taylor Jr. House. These volunteers worked together to bring the house out of severe disrepair and make it a beautiful egaironment for a family of seven who were living in a two bedroom, 800 square foot duplex.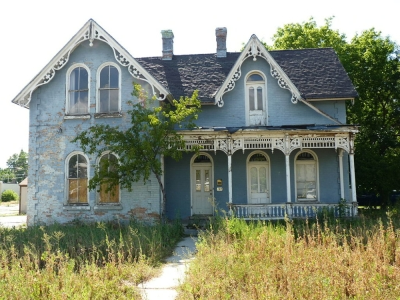 As you can see, the state of the house was in pretty bad shape before.
A Bit of History
The George Taylor Jr. House is on the National Register of Historic Places Listing in Utah County. It was built in 1885 and is 130 years old. This home is unique with its Gothic Revival style, with crossed wing-planes, beautiful arched windows and intricate wood work on the porch and gables. Steve Cornell, an architectural preservationist, stated at the ribbon cutting ceremony that, "Preservation is king as we see more and more historic buildings being torn down."

This is the George Taylor Jr, House under construction with the Habitat for Humanity of Utah County.
The Work
Lots of care and consideration was taken into restoring this home. Because it is registered as a historic landmark certain requirements had to be met in the materials that were used to renovate the home. The windows were one example of this, they had to be replaced with wooden windows rather than vinyl windows we use nowadays.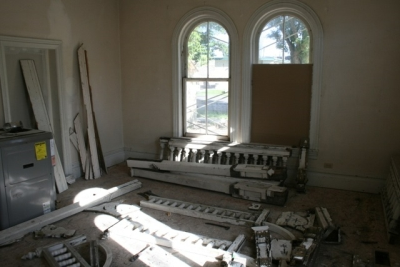 This is the living room in the George Taylor Jr. House during renovations, the woodwork from the porch was being stored in this room at the time this picture was taken.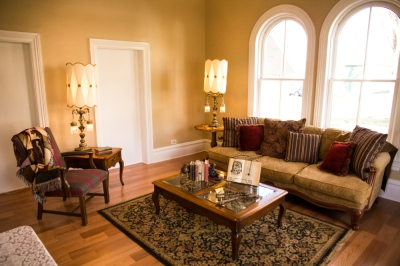 The living room made a stunning transformation from what it looked like when we first saw it.
Furniture that is accurate for the time period the house was built in was donated to equip the home and it looks stunning. The living room, dining room, bedrooms and bathrooms were completely furnished with handsome furniture and decorations that fit the home's era.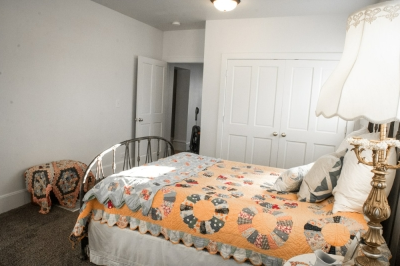 This furnishings were selected to fit the time period of the George Taylor Jr. House and it looked great!
Fill the Pantry
Upon completion of our painting project we signed up with Habitat for Humanity of Utah County to run a food drive to fill the pantry in the house before the family moved into their newly remodeled home. Five Star employees donated food to the cause and we were able to fill the pantry with lots of boxed and canned food items, including a case of ketchup. What family doesn't need a stockpile of ketchup?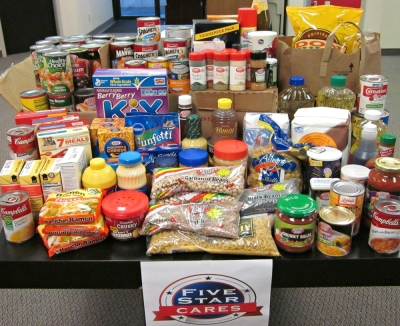 Fill the pantry food donation as they continued to come in.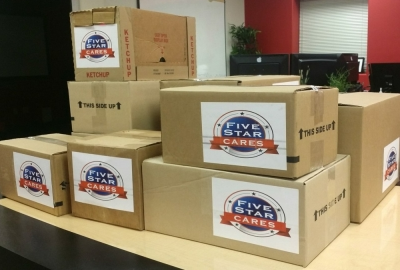 Fill the Pantry food donations packed and ready to go.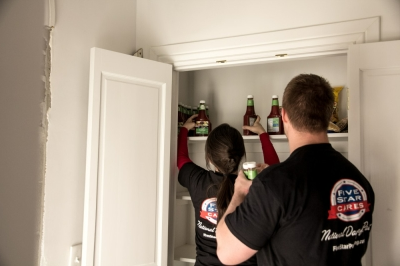 There was a large donation of ketchup, but what family doesn't need that?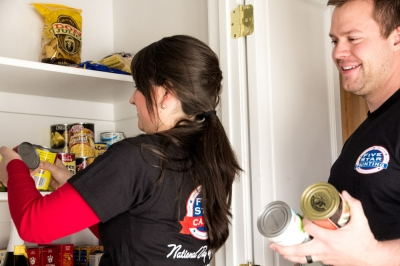 Filling the pantry with the generous donations from the employees of Five Star Painting was a fun process.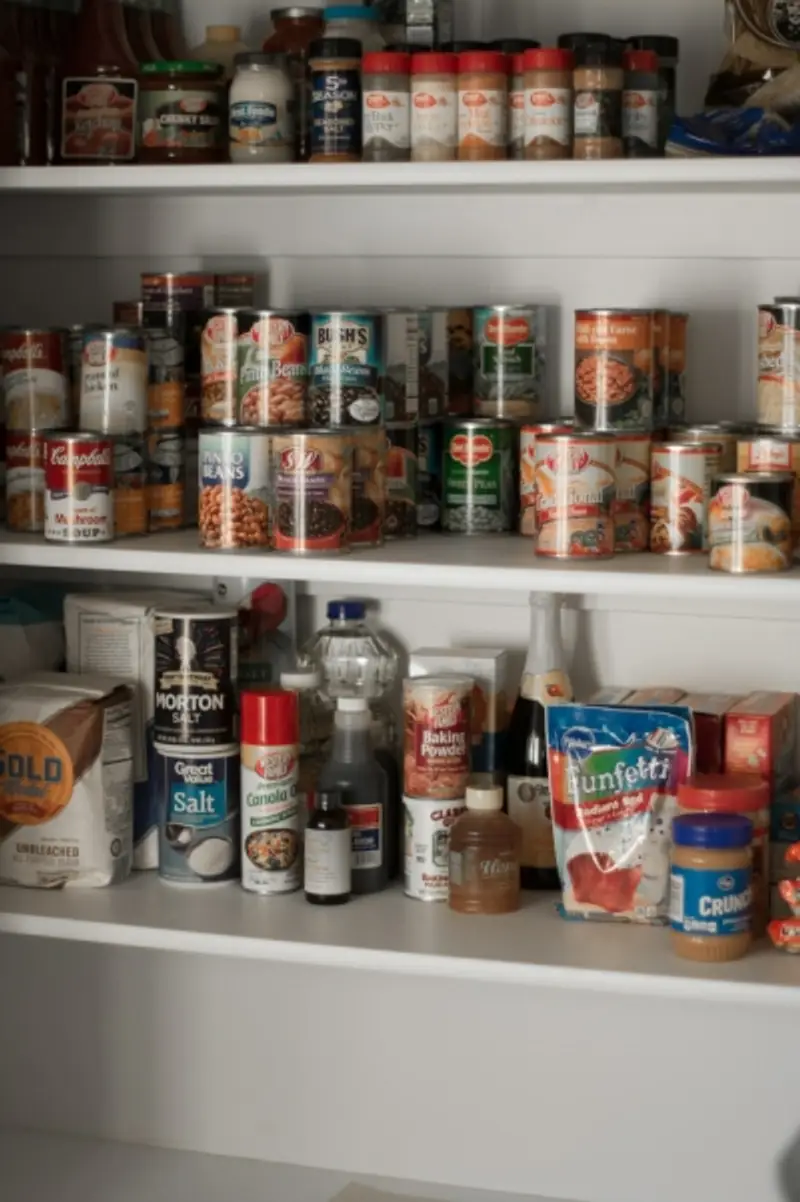 Pantry Filled. Check!
The Ribbon Cutting Ceremony
The ribbon cutting ceremony was fantastic. A lot of people showed up to support and welcome the family into their new home including, Provo city Mayor John Curtis, neighbors and a large number of Five Star Cares volunteers.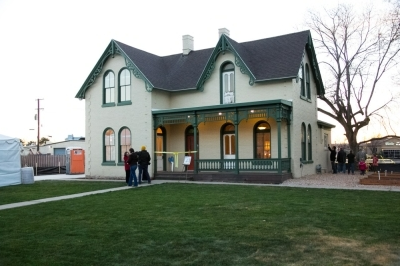 Just before the ribbon cutting ceremony the Habitat for Humanity U.C. is putting the finishing touches on the house.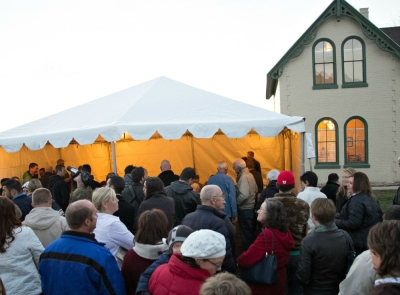 Lots of people, including Five Star Cares volunteers, came out to welcome the family into the neighborhood during the Habitat for Humanity of Utah County ribbon cutting ceremony.
We loved being a part of this renovation project and running the 'Fill the Pantry' food drive to help a family in need. We are always on the lookout for the next Five Star Cares project. If you know of a cause in your community that could use our painting expertise or even a few helping hands, please contact us by email at [email protected]
To see more pictures of this and other Five Star Cares projects please follow us on Facebook and Pinterest.