Man Cave Design Guide Part 1: What is a Man Cave?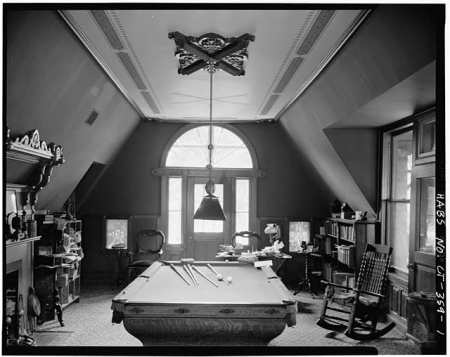 What is a Man Cave? Essentially it's a room for the sole use of the man of the house—a private space where a guy can escape and find solace surrounded by things and hobbies that he enjoys doing. The way this space is used and decorated greatly depends on the guy.
Believe it or not, man caves have been a thing for a long time and have been known throughout history by several different names. Some of those names include cabinet, studoilo (That's not a typo, it's Italian), closet, solar, study, library, den or shed. According to Wikipedia
A cabinet was one of a number of terms for a private room in the domestic architecture and that of palaces of early modern Europe, a room serving as a study or retreat, usually for a man. The cabinet would be furnished with books and works of art, and sited adjacent to his bedchamber, the equivalent of the Italian Renaissance studiolo (Wikipedia (2014 June 27) Cabinet. Retrieved July 12, 2014 from http://en.wikipedia.org/).
Some of the more inspiring man caves of history include Theodore Roosevelt's Trophy Room, Thomas Jefferson's Study, Mark Twain's Billiard room, The Wright Brothers' Bicycle Shop and Winston Churchill's Art Studio. Here is a link to ArtofManliness.com where you can view photos of and learn more about these and other historically rich man caves.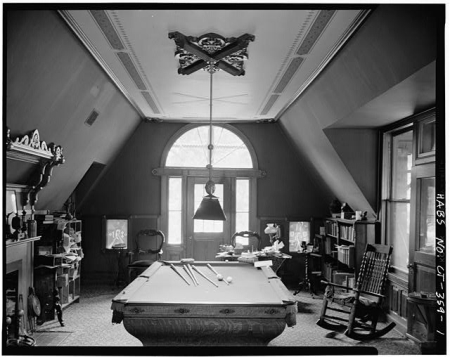 Mark Twain's billiard room, a man cave of the late 1800's.
I only recently became aware of the existence of the man cave while listening to the Dan Patrick Radio Show, where he frequently mentions the man cave studio where the show is broadcast from. This is likely one of the more famous man caves of the 21st century. If you have never seen it before just know that it looks like a grown man's dorm room with an obsession for all things sports related. It's a sports talk show, so it's fitting.
For a list of famous modern man caves, a historical timeline, an infographic on the elements of a man cave and a rant on the commercialization of these sacred sanctuaries of masculine solitude follow this link. I think you will enjoy reading it.
The ideal location for a man cave hinges on the space you have available and the hobbies of the guy that will inhabit the space. Some areas to consider are a spare bedroom, the garage, or the basement. If the man you are designing this cave for is interested in woodworking then a shed or the garage may be just the ticket. If he is into sports try the basement, or if he is an intellectual then perhaps a spare bedroom or an unused office would fill the need. Either way, determine what the space will be used for and move forward from there.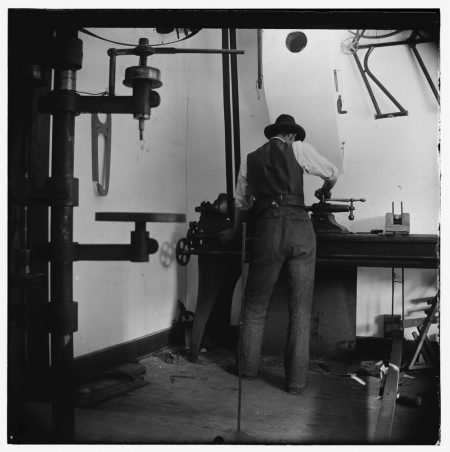 Wilbur Wright working in the bicycle shop, an early man cave of the 1890's
Obviously this is not a place for anything girly. No flowery wallpaper or upholstery ladies, this needs to be a space that looks like it belongs to him and he can be proud to bring his friends to for some male bonding rituals. If you are looking to create such a space for him, let him in on what you are doing. He will likely be happy to take the whole designing process off your hands because it will be his space, he will want to make the design decisions. Let him at it, that's one less thing for you to worry about and I am fairly certain you will enjoy watching him create his sanctuary.
One upside to relinquishing an entire room in your home to the mystery of the man cave title is that he now has a spot to put his strange collections and personal items that you wouldn't want displayed in the main area of the house and are a home décor no-no. Like that gnome that he has a yet unexplained attachment to that he will not retire to the garden even if you did want a gnome in your flower bed. If he has a man cave the problem of where to put such oddities is solved. Thank goodness!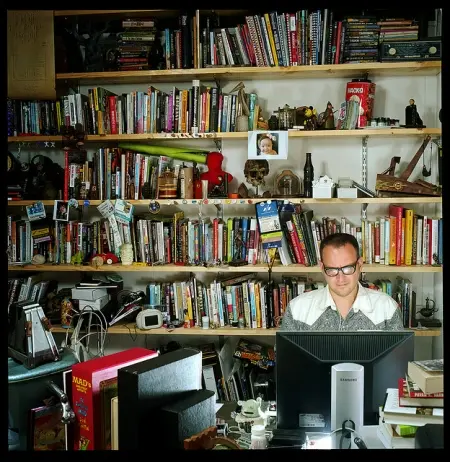 Today a man cave can range anywhere from a sports den to an office, depending on the guy.
I have made a Pinterest page to collect images of notable and praiseworthy man caves and appropriate accessories. I hope you will take a look at it and send me any images you think ought to go in the collection. Join me to discuss this and other design topics on our Facebook page and stay informed of any news and giveaways that we may have. Stick with me, next post will explore the study or library as an established man cave escape.