Hanging Mobile Design Ideas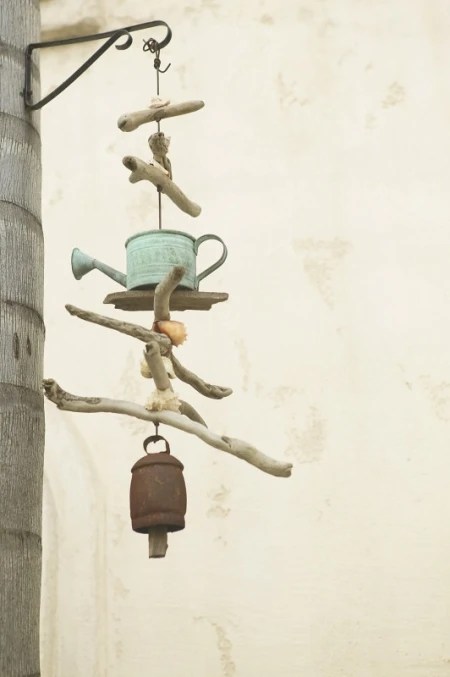 If you need an idea to cheer up a bedroom or add interest and charm in a corner somewhere, a hanging mobile may be just the ticket. Here is a comprehensive hanging mobile design idea list to inspire your creativity.
I lived with a roommate once who had such a knack for homemaking. It almost made me sick. Actually, her design style was beautiful and uniquely hers and while I didn't love the antlers on the coffee table I was fascinated by the way she decorated her bedroom. She loved all things vintage and I could tell she loved the process of treasure hunting for the perfect item to add to her collection of decorations. Once she brought home an ecru colored, mosquito net canopy which she hung over her twin sized bed. I thought that alone was very charming but she didn't stop there. She then added her own signature by making a star mobile out of metallic cardstock and hung that and a small strand of white twinkle lights up, inside the canopy. It was captivating. Walking past her room I felt like I was looking at a page from a magazine or maybe if I searched hard enough I would find the exact photograph of that room on Pinterest. Maybe that's where she got the idea, I don't know. From that experience I realized that mobiles are not just for hanging over baby cribs. With that, I would like to share with you some ideas for mobile designs for your home. Both you and your kids will enjoy making and looking at them when you are finished.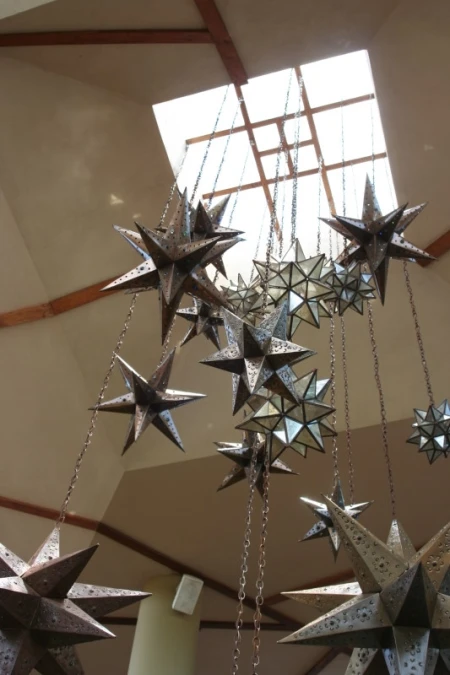 This is an example of a large scale mobile that wold be really neat in a large foyer
First, decide on a theme for your mobile. That will help determine what kind of frame to build the mobile on. If you like a paper bird or leaf mobile then sticks and twigs will make the perfect frame to hang them from. If it's geometric shapes out of origami then maybe all you need is an embroidery frame. You can use just about anything. I have even seen mobile designs that used a bicycle wheel or an old stripped umbrella frame. There are no rules. This is not a school assignment. You don't have to color in the lines.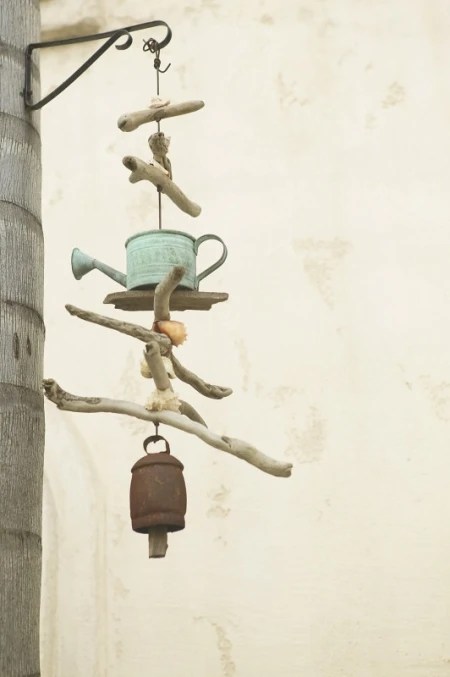 There are no limits to what you can put on a hanging mobile, like this creative wind chime mobile.
Ideas
Here are a few ideas. Please keep in mind that this is just a list of possible themes, materials and tools you can use to create your own hanging mobile. I don't want to limit your creativity by giving you an exact pattern to follow, I just want to give you ideas and let you create from there. Here is a link to my Pinterest board with mobile designs to help you out.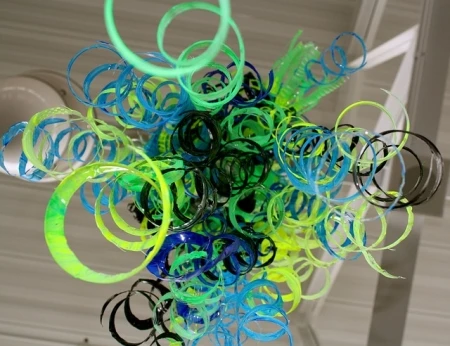 Hanging mobile out of re-purposed plastic bottles is a really cool idea for a boys room.
Themes
Paper flowers
Hearts
Stars
Birds
Feathers
Leaves
Butterflies
Dragonflies
Steampunk: Cogs, springs, screws, etc.
Paper airplanes: Choose unusual paper to add interest
Boats
Fish
Seashells
Planets
Molecular structures
Geometric shapes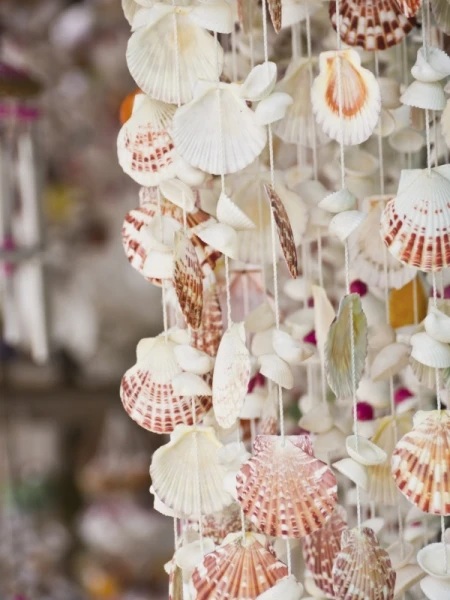 Sea shells make for a beautiful mobile design.
Materials
Scrapbook paper
Crepe paper
Wire
Vellum
Cardboard
Newspaper
Funny papers
Old sheet music
Paper from an old book
Plastic craft sheets
Foam balls
Baking clay
Felt
Beads
Feathers
Leaves
Dried citrus fruits
Recycled materials (be creative)

Old light bulbs
Pop can tabs
Plastic bottles
Etc.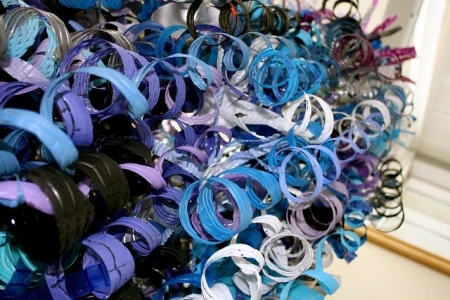 Consider recycling plastic bottles to make a really interesting mobile design.
Cutting tools
Scissors
Die Cut Machine
Craft knife
Frames
Craft wire
Wooden dowel
Sticks and twigs
An interesting branch
Stripped umbrella (don't ask me how to hang it!)
Bicycle wheel (hang with care)
Embroidery frame
Wire coat hanger
Old antlers
Hanging materials
Fishing line
Sewing or quilting thread
Embroidery floss
Yarn: novelty, homespun or other
Artistic wire
Fastening materials
Glue
Needle
Staples
Nail
Hook screw
Stud finder
Drill
Design it
Draw out your design on paper first to make sure you have what you need before you get started. There is no limit to number or size. You can make a swarm of butterflies, a large school of fish, or five to nine lucky stars. Here are a few design ideas to help you get started. Click here for basic structure concepts in general and design ideas for kids. HandMadeHome.net has a marvelous tutorial for making a beautiful baby mobile, the design and structure can be adapted to fit a variety of themes.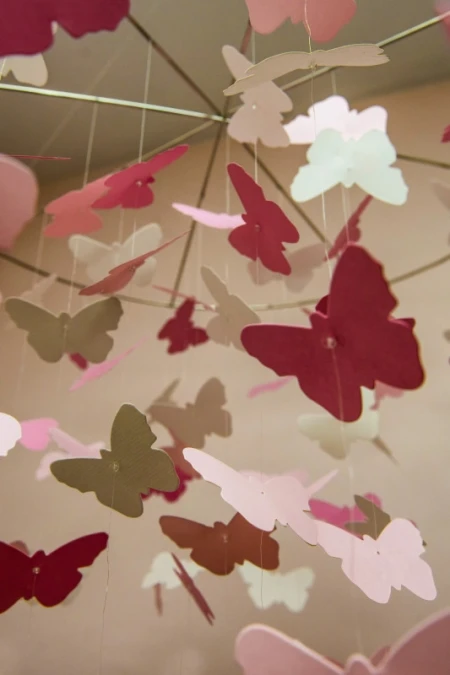 A hanging mobile depicting a swarm of paper butterflies is a charming look for a girls room.
Do it!
Start at the top and work your way down, making sure to test it as you go to see that everything is hanging the way you want it to. If you are confused about how to make everything balance here is a link to Marco Mahler's website. He is a kinetic sculptor who specializes in mobiles and he explains the concepts of balancing a hanging mobile beautifully.
Hang it
When you are finished take care to hang it properly. Make sure that if your mobile is heavy that it's bolted to the ceiling right so it doesn't come down on someone's head. Use a stud-finder and a solid hook screw so there are no surprises or injuries. I would talk to your local hardware store handyman for his recommendations.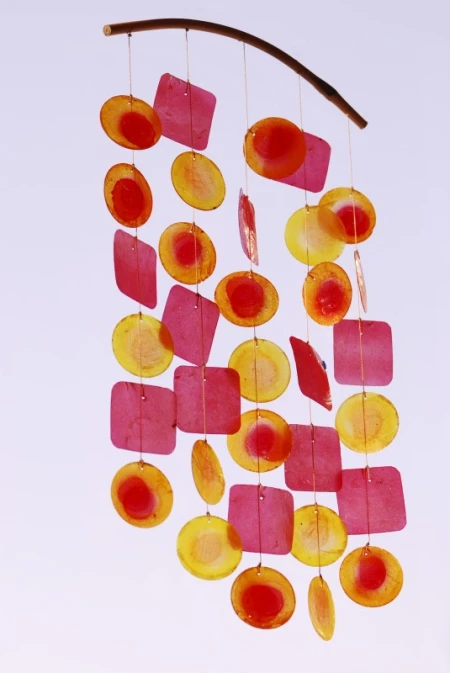 Take care to hang your mobile properly by using the right hardware and a stud finder to set the screw in the ceiling.
Family Fun
This is also a great activity for kids to do, hopefully it will keep them busy for an hour or two and you can do it with them which will make a fun and lasting memory for all. If your kids are really little, try using straws, paperclips and paper shapes of their choosing for their mobile. They can do it themselves and will feel very grown up.
When you're done you'll have decorations that will give you satisfaction every time you see them. A design that is uniquely yours and no one can recreate exactly. When your friends ask where you bought it you can tell them you made it yourself and that, my friends, is a great feeling. What are some ideas you have for a hanging mobile? Share your comments with me below! Or post a photo on Pinterest or Facebook and send it to us. I would love to see what y'all came up with.