DIY Ballet Room Design: 6 Tips for a Ballerina Bedroom Makeover

Create a classically beautiful bedroom for girls using a ballerina motif
Becoming a ballerina is something many little girls dream of. Why shouldn't they? It's great exercise. If your daughter is in constant motion, loves the color pink and wants to be a ballerina for Halloween then it may be time to design a ballet themed bedroom for her.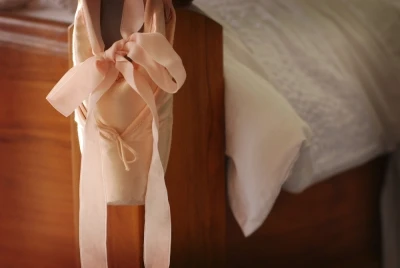 DIY Ballet Bedroom Design: Tips for a perfect bedroom makeover.
In this article we will cover selecting the best color for this ballet themed bedroom, wall art and other decorating ideas, and possible ballet equipment to inspire your daughter to pursue her dreams of becoming a ballerina someday.
1) Colors
Generally speaking, most ballet themed room designs will go with a soft pink color for walls and bedding. Other colors you might consider include lavender and peach. Combine one of these colors with a soft white or a lighter hue of your chosen color. With these colors you can create interest by painting alternating stripes of the lighter and darker color or simply painting the molding a lighter color than the main color.
You can also choose a color that is a little outside the box where ballet is concerned. A tangerine orange might be a fun twist on a ballet theme and would certainly stand out from her friend's ballerina rooms. If you choose orange, I recommend painting the walls a super pale creamy orange and accent with tangerine colored tulle and ribbons. Unfortunately, I don't have a photo for this fun, orange idea. Sorry guys! Be warned that choosing an alternative color to pinks or purples will make finding ballet themed decorations in the same alternative color a challenge. Be creative and you may be pleased with what you come up with even more than anything offered in the stores.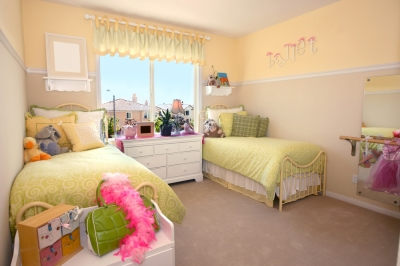 Here someone has chosen a combination of green and yellow to decorate this ballet room design.
2) Wall Art
What ballet room is complete without images of ballerinas? Art depicting ballet is usually not hard to come by. There are watercolor paintings by modern artists, photographs of ballet dancers on pointe and classic oil paintings by famous artists like Edgar Degas. I recommend searching online for just the right art for this ballerina bedroom design. There is so much ballet themed art available out there, I am sure you will find something unique that will really make this room stand out.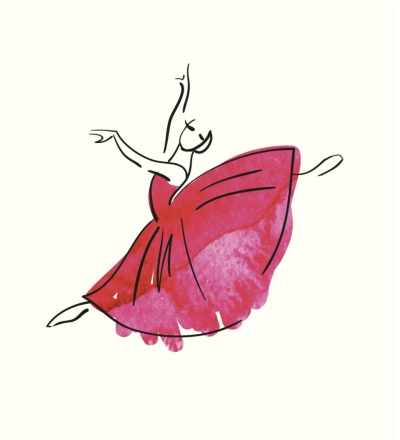 Ballet art comes in may styles. I love this water color piece, it's simple and beautiful.
3) Silhouettes
A while back I found some really neat wrought iron silhouettes of ballerinas and I loved the idea. It's a great way to fill up a large wall and add some dimension. If you aren't lucky enough to run into one of these creations, or your daughter is too young to have metal hanging on her wall, there are vinyl wall decals available that create the same look but without the raised dimension of the wrought iron. Look online at places like decalmywall.com for decals like the one in this link.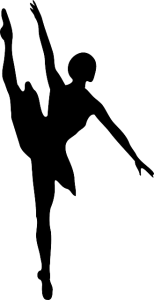 A vinyl ballerina silhouette can be fun to have in a ballet bedroom design.
4) Pointe Shoes
Used pointe shoes are a simple way to decorate a ballet themed bedroom and are pretty easy to come by if you know where to get them. Most dance gear stores carry used pointe shoes for about $10. These shoes are sold for the purpose of using as decoration as they have been worn out and no longer provide the support a ballet dancer requires. I have seen these used shoes simply hung on a bed post or wall just as they are. It gives the impression that a ballerina was just in the room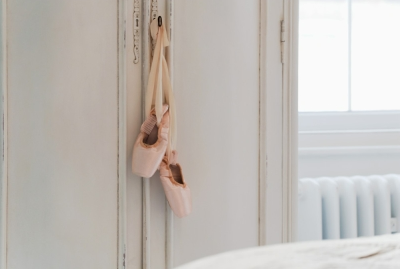 Hanging pointe shoes as part of a ballet bedroom design, adds a nice touch and give your dancer something to work towards.
Another idea I have also seen is Mod Podged pointe shoes using printed tissue paper, glitter glaze and sequins. No kidding, real pointe shoes with Mod Podge and tissue paper. This can be a really fun project to add details and pizazz to a ballet themed room. Plus, you can make them any color you wish. This link from Dance.net provides some pretty good instructions on how to Mod Podge pointe shoes.
5) Dance Space
If you have space in the room, arrange the furniture to create an area large enough for dancing. If you really want to inspire the dancer in your little girl, set up a full-length mirror. Depending on how old she is, a standalone ballet barre might be a nice feature as well. You can make one of these barres out of metal pipes or you can follow this tutorial for mounting one onto the wall. If you go with the wall mounted barre, make sure your daughter knows not to hang on it or you may have a wall patching job in your future.
Purchase a yoga mat for stretching, I recommend getting a mat in the chosen accent color of the room. It's going to be part of the room, it ought to match.
Don't forget the music. What fun would ballet be without music to inspire movement? I recommend buying a few CD's with classical music and a CD player, or buying some music online and setting up an old iPod with a speaker system so she can turn it on all by herself.
6) Tutu's
If you are looking at this blog post then I imagine that your tiny dancer is already sporting a tutu. Adorable. If she is anything like my sisters and I, then I am sure she won't mind a new ballet costume. My tutu's always got holes and tares in them far too quickly. But then I probably grew out of them just as fast. Once you have everything in place I am sure little finishing touches like a new tutu are going to be even more exciting.
If this completed ballet themed bedroom doesn't cause a squeal of delight from your daughter, I don't' know what will. With a pretty new color on the walls, a new bedspread to match, beautiful art, music and new ballet gear, you may find you have a hard time getting her to come out of her room. Hope you have fun designing this. Share your design ideas with us and get more ideas to inspire new design projects by following us on Pinterest and Facebook.