Choosing The Perfect Paint Sheen - Flat Vs. High Gloss Sheen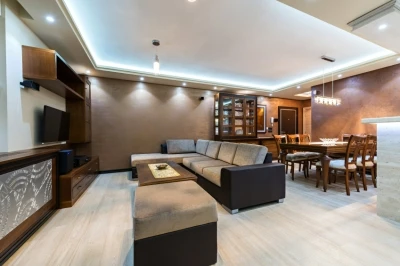 Wondering if your home needs new paint? Want to give your home interior and exterior a charming appearance with a new coat of paint? Then the most important thing for you to do, after you decide the paint color you want to use, is to select the paint sheen that will be perfect for every room of your house.
Paint Sheen – Gloss Up Your Home!
Confused about what paint sheen is? It is just the level of gloss that you want for every individual room in your home. Some rooms would be perfect with a high gloss finish while others will be ideal with a dull or matte sheen.
So how do you decide which paint sheen would be perfect, with which color and for which room? A little confusing, isn't it? Don't worry; high and low gloss sheens all have different levels of gloss, and various features which make them ideal for a specific room and special use. For instance, some are best for high traffic areas. Semi gloss, glossy sheen, matte and eggshell are popular sheen options to choose from.
Read on below to learn which paint sheen would be just perfect for each room in your house.
Low Gloss/Flat And Matte Sheen Finish
Flat, matte and low sheen finishes are ideally used in new construction sites and on property ceilings, because they hide the flaws really well. The matte and flat gloss effect of this sheen doesn't reflect the light in any direct way, which helps hide any imperfections or flaws in the structure of the ceilings and walls.
You can also use the flat sheen finish on any drywalls, which have been finished with an imperfect and flawed taping job. You can opt for a matte sheen where a porous joint compound was used. It is a good option for bedrooms.
If you want smooth and elegant finish, then a matte sheen is a great choice. But flat sheens are also known to absorb dirt which makes it a little difficult to clean. You will need to keep some flat sheen paint on hand to do a touch up job and improve any nicks and scratches on the walls.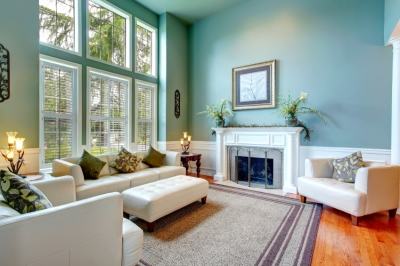 Eggshell, Satiny And Low Luster Sheen Finishes
Low luster and eggshell finishes give off a glossy sheen which is particular to the appearance of an egg. The aftereffect of this sheen finish is a velvety and soft finish. Eggshell finishes help to resist scuffs and stains, and give a room more depth and warmth.
Satin sheens offer a more reflective and soft sheen, while it is also a highly durable option, which helps to resist mildew, stains and dirt, and is thus, ideal for use in those rooms of the house which see more traffic than normal. These sheens are ideally used in bathroom and kitchens, family rooms, hallways, because of their ability to absorb moisture and give off a glamorous satiny finish.
This finish can easily withstand a light scrubbing and cleaning job.
Glossy Sheens
Semi-glossy and glossy sheens are great for hallways and moldings. These sheen options give off a bright, shiny look, and reflect light, making a room look clear and sharp. While being aesthetically pleasing, the gloss sheens are also a durable option. The semi-gloss sheen promises high durability and is best for rooms which might suffer from any grease and drip stains.
As glossy sheen reflect light, it would not be a good idea to use them on imperfect or flawed walls. Smooth wall surfaces compliment the glowing shine given off by these finishes. The semi gloss finish ensures effective protection against moisture, while the bright gloss finishes are ideal for trim work, shutters, railings and moldings.
The glossy sheens give off an effect which is similar to the enamel or plastic paint effect. To use and apply a semi gloss or gloss effect sheen, more amount of prep work is required, so that the entire application is smooth and gives off a pleasing and flawless result.
Choosing the right paint sheen and effect is quite tricky, not only because of the overall effect it will have on the charming interior of your home, but also because the right sheen ensures safety against moisture and easy cleaning at all times. If you want to preserve the bright flawless sheen of your house effect, it is important to seek the help of experts who can guide you about the right paint sheen to use in each particular room of the house.