Liven Up a Room with Vinyl Wall Decals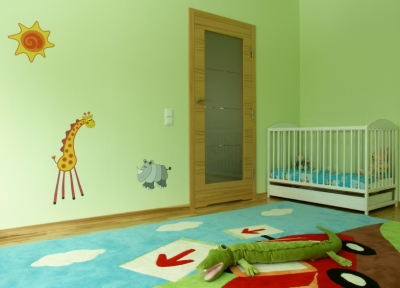 You no longer require paint or expensive artwork to bring your walls to life if you're someone who's tired of looking at plain walls. You can give your walls a stunning new look with vinyl walls decals. the best thing about vinyl decals is that you can change them anytime you want without damaging the wall or needing to repaint.
An Inexpensive Solution for Transforming Your Walls
Decals are an inexpensive and innovative way of transforming your walls. You can create decals in the design and color of your choice. Also, unlike a fresh coat of paint, decals are easy to install and don't take up much of your time. Let's look at how you can liven up wall as well as your life with decals.
Livening Up Your Walls With Decals
Wall decals come with installation and application instructions making them easy to install. Similarly, you can remove the decals with ease whenever you want. You start by choosing a corner to begin with. Once you've done that, simply roll them down at an angle and gently peel off the wall. While knowing how to install and remove the decal is important, the most important thing remains its usage. Let's see how you can best make use of the decals.
Choose the Appropriate Size for Your Wall
Making sure that you get the right size for your wall is one of the most important things that you'll need to do when choosing a decal. Before you go shopping for a decal, measure the wall. A decal on the wall looks best when there is some empty space around it. However, too much empty space may cause it to lose some of its allure.
Choose the Appropriate Design for Your Wall
You can transform any space with decorative decals for your walls. You can change a very plain room beyond recognition with the help of decals. The different spaces in your home serve different purposes; therefore, you need to choose a decal design that is appropriate for the space you wish to place it in. Following are some decal design ideas for the different spaces in your home.
Nursery
You can choose from a wide range of themes, from animals, to fairy-tales, to cartoon characters for a perfect nurser.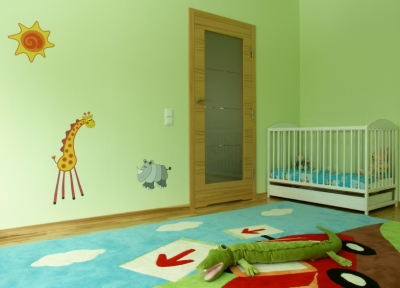 This is just one example of wall decals, there a many more options available to choose from.
Bedroom
You should choose pastel colors for your bedroom. You may find decals that mimic birds, nature, and clouds very relaxing. There are also, an excellent variety of options that are suitable for children and teen rooms to choose from as well. I recommend starting your search online to find exactly what you are looking for.
Living Room
Choose colors that are already present in your living room, like accent pillows, curtains, furniture, and area rugs. Consider the size of your living room and select the best size decals for your living room walls. A family tree with flowers and butterflies could be the perfect backdrop.
Kitchen
Kitchen utensils, bowls with fruits, teapot and cupcakes, modern art and butterflies may be attractive decal designs for the kitchen. If you can't find what fits your style you may be able to have a special decal made specifically from your own personal design.
Bathroom
You can choose any decal with a picture of marine animals, mountain, rivers, or waterfalls for the bathroom. The kid's bathroom can have decals of the alphabet, colorful scenes, and shapes. One trend I have seen lately is gold dots on the walls. Surprisingly fun looking for such a simple idea.
Choose the Appropriate Surface
As many wall decals do not stick well to tiles and textured walls, it is important that you know what surfaces your decals stick to. Smooth painted walls are usually a good bet for sticking vinyl decals to. The type of preparation you'll need to do and the type of walls the decals will stick to will be determined by their packaging. Be sure to read the instruction for application and removal. Take precautions when removing the decals once you are finished with them so you don't damage the wall behind it.
Wall Decals- The Perfect Way to Spruce Up Your Home
Wall decals are all the rage today, and for good reason. Today, many companies are offering decals that are functional as well as artistic. Ranging from sophisticated art designs to video game inspired graphics, there are a number of decal design options out there. You will also find a number of kid friendly decal options.
Whether it is an inspirational quote on your bedroom wall or colorful artwork illuminating your living room, you can spruce up your home with the help of decals for your wall. Regardless of the design you choose, you can devise a space that is imaginative and personalized. Without the often time consuming effort involved in redecorating, you can breathe new life into a room with the right wall decals!
For more tips and ideas to decorate your home, please like us on Facebook, or follow us on Pinterest and Twitter.
Have fun!