Accent Walls in Office Spaces

The appearance of your office space plays a vital role in the overall success of your company.
If you plan to invest in a commercial painting project, you may be like many companies and gravitate towards the "brown" family for color selection. Decision-makers typically choose beige or off white--neutral colors that will not overpower the environment and which promote comfort, security, and "good feelings." However, you can strategically harness your commercial painting project to create colorful accent walls, which can actually provide you more value for your decorating dollars.
Accent walls provide a great way to liven up a space. You can choose colors that will make your employees more creative and productive and generate other positive affects in the workplace, which drive sales, revenues, and profits.
Promote Creativity in the Workplace
The 2015 American Express OPEN Small Business Growth Pulse survey of 1,000 small businesses reports that 49% of the respondents lied awake at night trying to come up with ideas on how to grow their companies. Green creates a peaceful and relaxing mood--the perfect mindset necessary for the free-flow of ideas. Forest hues have a strong correlation with idea generation.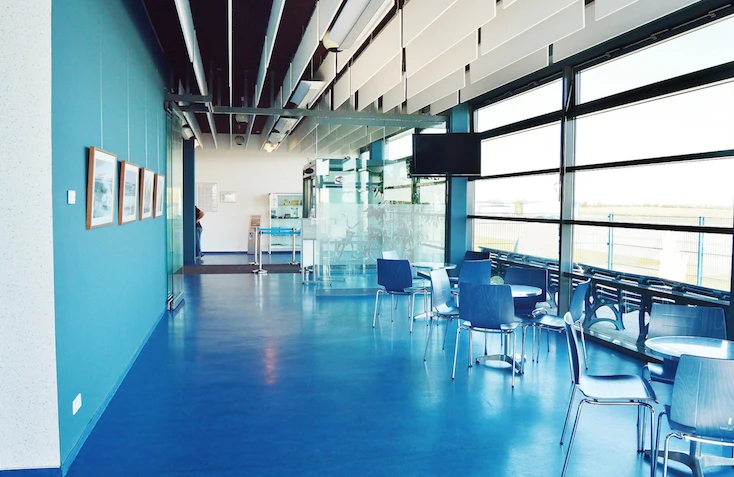 Make Your Employees More Productive
To create a more productive environment, most results point to the color blue, because blue stimulates the mind and assists with concentration. Use it for spaces occupied by accountants or other professions that utilizes lot of brainpower. Strong blues clear thought, while soft blues have calming effects that stimulate natural tranquilizers in the brain. Some experts would even recommend adding in tinges of orange in order to fill the air with a bit of emotion. Orange balances the blue hue and adds some warmth to an otherwise cold setting.
Inspirational Color Ideas
Here are a few color ideas for your commercial painting project that can encourage and motivate your team to greater heights:
Lavender— Purple denotes fire and high vibrations. Lavender, a more subtle version of purple, promotes determination, clarity, creativity, or imagination for marketing, technology, media, or any profession that depends on the generation of new concepts, ideas or activities or requires "right-brain" thinking. Your staff can gain increased focus and the ability to prioritize activities and complete big projects in a timely manner.
Red— Studies show that red produces a stimulating effect. It gets things moving by encouraging communication and collaboration. Startups or entrepreneurs who have clients come into their office on a regular basis may want to consider accenting a particular wall with a deep red hue to inspire conversation and change.
Chalkboard— A great idea for an accent wall is to apply chalkboard or dry erase paint to egg on creativity and help keep assignments and projects moving forward. It beats the appearance of old-fashion boards and adds a cool, funky look to any space.
Color Selection for Your Accent Wall
Color selection for your commercial painting project can be a challenge because a one-size-fits-all accent wall is impossible to achieve. The reaction to color depends on the individual. For example, one person may find the color red stimulating and invigorating, while a co-worker may feel anxious and overwhelmed. Approach the project from the aspect of producing the best result in alignment with company goals, such as:
Build brand awareness with color
Designate different areas of the office
Create a calmer space
Energize the environment
Provide a focal point in the interior
Make the temperature of the room warmer or cooler
Contact Five Star Painting to learn how your commercial painting project can help make your office space a comfortable, energizing environment, which help your company perform better.