Paint Colors Inspired by the Beach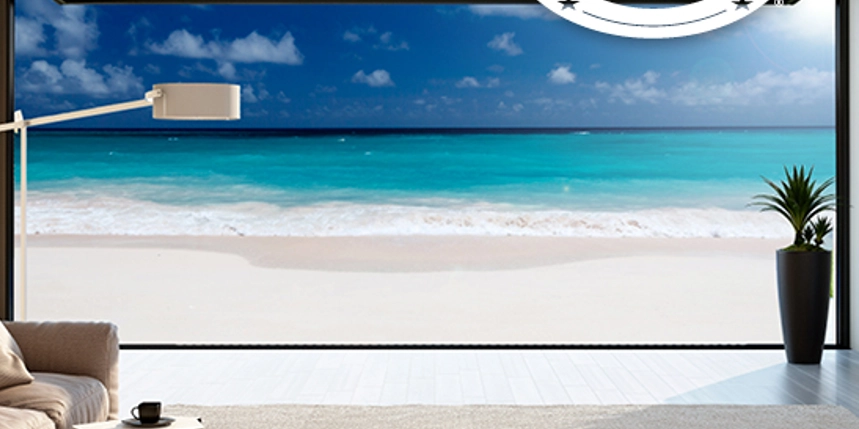 We all love going to the beach, whether it's to swim, build a sandcastle, or just lounge in the shade. Being at the beach brings us a sort of joy like no other. If you don't live by an ocean, you shouldn't have to wait for your next vacation to feel all those emotions again. Bring the beach home to you!
Color
At Five Star Painting, our focus is on color, so much so that our Vision is, "to capture your dreams and enhance your lifestyle by adding color to your world!" What does that mean? To us, that means that we understand the impact that color can have on your life. We want you to absolutely love the way it feels to walk in your home after a long day at work, and we hope you feel totally relaxed and at ease in your home on the weekend. If the beach is a place that makes you feel at peace, then we encourage you to draw inspiration from that source.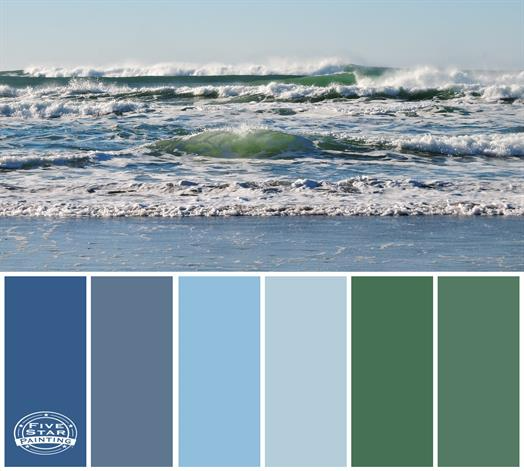 For example, look at the photos we have included on this page. The photo of the waves has thousands of colors – from white to brown and green to blue. To have a beach inspired home, you don't have to decorate using seashell pillows or ocean-blue and sand-brown paints. No, you can use deep shades of blues, soft natural browns, and foamy greens. Let's look at a few ideas that we love…
Blue
There are thousands of shades of blue, and you can truly find all of them in the ocean. If your furniture is light colored then a deep blue would be a nice statement choice for the walls. Deep blues are very calming and would provide peace and feelings of security. This is the reason why they have become so popular in baby nurseries lately!
Light blues are timeless and serve as a good neutral. They are a good alternative to plain white, especially if you want a small amount of color on the wall to complement dark furniture or flooring.
Browns
Think of the sand on the beach and how each grain is a slightly different shade. Brown, tan, taupe, beige – While these shades have a bad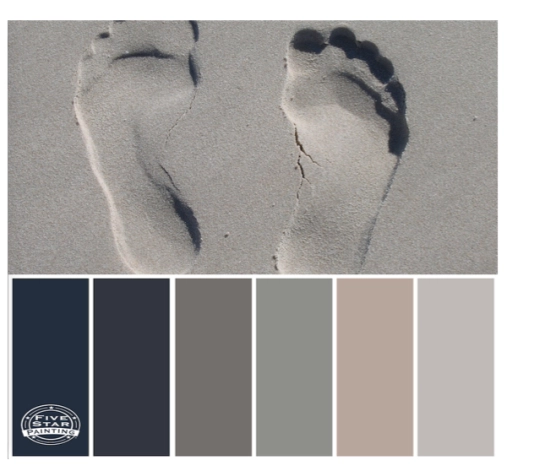 name for being boring, we recommend you think of them as neutral. Neutral shades are the perfect compliment in your home if you want the focus to be on the items in the room, rather than the color on the wall. It's warmer than white on the wall, which means it still provides a blank slate but with a calming feel.
Greens
You will find green on the beach when the sun hits the water just right or when a piece of seaweed washes ashore. Green is a "cool" color, like blue, which means it's calming, relaxing and peaceful. It can be used throughout the house in all rooms and has become more popular in bedrooms in recent years for its tranquil characteristics. Dark shades can be used to make a room feel more formal, such as a hunter green in the entry way or in the hall bath - Just make sure there is ample lighting and perhaps a large mirror so the space does not feel confined.
Get Started!
We encourage you to start with one piece of art or one piece of furniture and design your room around it. For example, did you take a breath-taking photo of your family at the beach during your last summer vacation? Print it on a large canvas or have it blown up and framed. Then, choose a wall color and accent pieces that compliment the photo. Your room will look coordinated and well designed.
Like we said, color is our passion. If the options ever feel overwhelming or if you want input on what shades are trending right now, we can help. Contact Five Star Painting either by scheduling a FREE estimate through our site or by calling 888-261-3633.