How to Dispose of Leftover Paint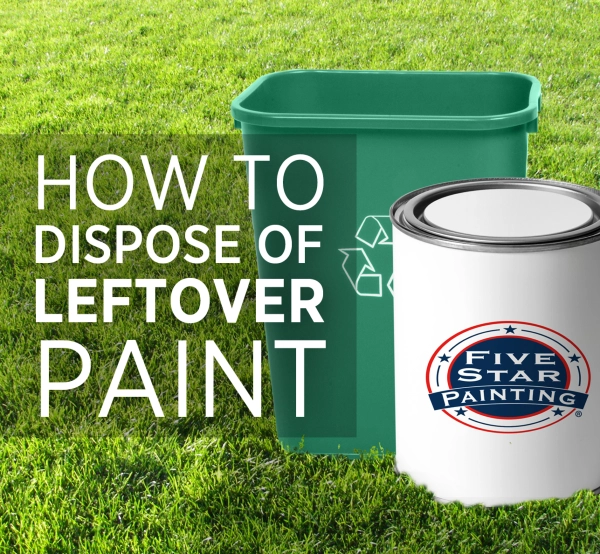 We store leftover paint in our closets, basements, garages and other spaces because we may need it for a quick repair or to add a splash of color. Sealed correctly, latex paint can last for as long as 5 years, and oil-based paint can last for up to 10 years. The Environmental Protection Agency (EPA) estimates that Americans discard 10 percent or 65 to 69 million gallons of the paint purchased each year.
Large volumes of leftover paint make up a significant amount of the material collected through household hazardous waste collection programs. To help you do your part to protect the environment and dispose of paint safely, Five Star Painting® provides some helpful information to help you accomplish your mission.
Paint Disposal Regulations
Regulations regarding the disposal of leftover paint vary by location, but most states and municipalities prohibit you from pouring leftover paint down the drain. Paint can contain hazardous chemicals that can leak into the environment. These contaminants can pollute septic tanks and cause serious health consequences for humans and animals if not disposed of properly. Some jurisdictions allow residents to discard water-based paint with household trash. However, you should first check with your local government officials as well as the waste disposal service provider to find out the correct process.
Re-purpose Leftover Paint
The best way to avoid having leftover paint is to buy only as much paint as your project requires. Five Star Painting uses precise measurements to help calculate how much paint to purchase for your project. You should also purchase "small" paint sample containers, which you can take home to determine if the hue is right. Another option to dispose of leftover paint is to donate it to a purpose or organization, such as:
Community improvement initiatives
Theaters set projects
Vocational schools
Graffiti removal
Some entities only accept un-opened cans of paint, but other organizations will take half-filled gallon containers that have a clear label.
How to Prepare Paint for Disposal
Organize your old paint into two categories: water-based paint (latex paint) and oil-based paint (alkyd paint). Once you separated the paint by type, use a paint can opener to open each can and examine the paint for usability. Avoid opening the paint can with a screwdriver, which can damage the lid and make it difficult to reseal the can. Next, separate usable and unusable paint. Unusable paint has a hard and lumpy texture or an unpleasant odor and should be dispose of properly. Federal and local regulations rates oil-based paints, enamels, varnishes, sealants, and similar products as hazardous waste and provide strict guidelines for disposing of unused portions.
To prepare a small amount of paint latex left in a can, place the can in the open air or a well-ventilated area to allow the paint to harden. The solidification process can take from a couple of days to a few weeks, depending on the temperature and humidity. After the paint solidifies, remove the hard disc out of the can and toss it in the trash or just put the paint can on the curb next to the recycle bin. To help bind the paint in partially empty paint cans, combine waste paint hardener, cat litter or shredded paper.
Five Star Painting recommends that you check with local officials to determine if your community offers a drop-off or household hazardous waste collection program to dispose of leftover paint.
.