We are Thankful for Painters Tape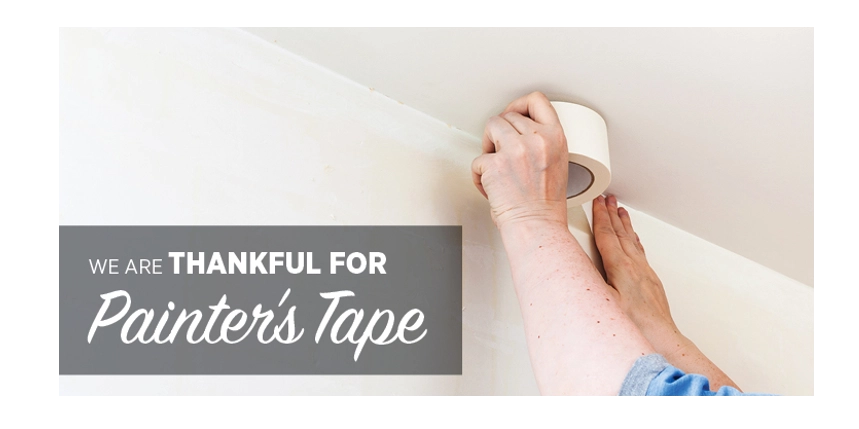 If you have ever attempted a painting project on your own, then you are definitely familiar with the product required for every novice painter – Painter's tape! While professional painters have a steady hand and can cut a line without taping… Painter's tape helps the rest of us to complete our painting jobs to perfection. Many people think that painter's tape is the same as masking tape. Not true!
Differences Between Painter's Tape and Masking Tape
Both tapes are widely available in a variety of sizes. However, beige masking tape ismore widely available, typically cheaper and is best used for packing and/or craft projects. Painter's tape is typically found in home improvement stores and comes in varied widths and brands, but are typically blue or green. Painter's tape was intended for painting projects, but masking tape can be used in a bind. Read on to learn the key differences:
The Problem(s) With Masking Tape
Although we've found that masking tape does come off of glass and canvas quite cleanly, it can leave anunpleasant, sticky residue behind on walls and other surfaces. That means a cleaning chore after your painting is done.
Perhaps the most frustrating part of masking tape for painters is that paint can stick to the tape. Then, when tape is peeled off, it takes some of the nearby paint off the wall along with it.
Oil based paint can soak trough the masking tape and ruin the clean lines you were hoping to achieve.
Water based paint can seep under the edges of regular masking tape, and again you lose the clean edge that painters need for a professional job.
Masking tape usually uses stickier rubber-based adhesive, which is not UV resistant and works fine for unfinished wood, concrete, carpeting and other rough, durable surfaces.
If you remove your masking tape quickly after painting, you can sometimes avoid the soaking through and paint-peeling that can otherwise occur.
Why We Recommend You Use Painter's Tape Instead
Painter's tape holds up throughout the entire job and can be removed once paint is completely dry. (There's no rush, like you might have with masking tape.)
Painter's tape doesn't allow paint to soak through and stain the wall or surface below. You can count on a clean edge with painter's tape.
Painter's tape can stand up to paint sprayers used for large interior or exterior painting jobs, without allowing paint to seep under and ruin the line.
Painter's tape comes at least 2 adhesive grades. You can choose between medium hold (typically blue) or strong hold (typically green) versions, depending upon the type of paint and tools you'll be using for a particular painting job. The green tape is often referred to as lacquer tape. With masking tape, it's pot luck as to the level of stickiness.
Painter's tape typically uses gentler acrylic adhesives, and 3M, for example, offers it in Delicate and Multi-surface, offering even more control over your painting project outcome.
Bottom line, you can get by with masking tape--but painter's tape makes painting projects simpler and more efficient.
Painting Project on Your Mind? Let Five Star Handle It!
Better yet, don't let the debate about painter's tape confound you! Let Five Star Painting paint your home to your exact specifications. Leave your painting to us and expect an excellent result.
Five Star Painting works with experienced and professional painting crews who strive for your complete satisfaction! You can learn more about our expert painting services here or contact your local Five Star Painting location. We're located across the US and in Canada. Contact us today!