What's the Best Painter's Tape?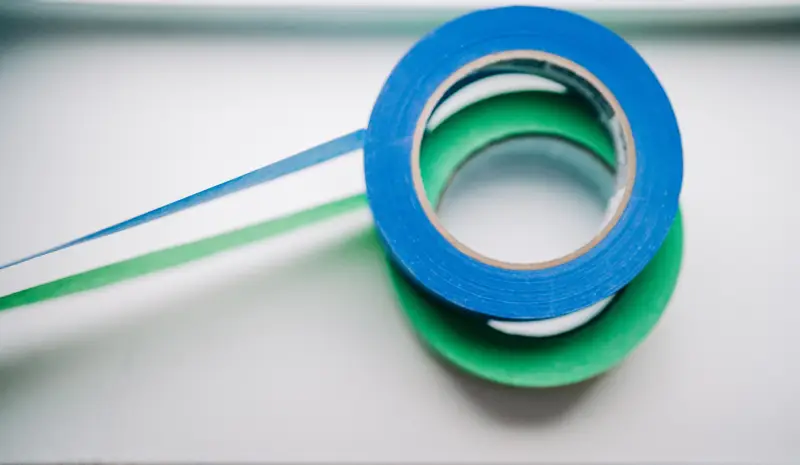 Painters can choose from a variety of specialty painter's tape products on the market. There's no universal best tape; instead, the choice typically boils down to what is the best painter's tape for your specific project.
Read on to learn the ins and outs of painter's tape and which is best for your painting endeavor:
When to use blue painter's tape
Green painter's tape for extra protection
What to know about white and yellow painter's tape
Best painter's tape brands
Things to consider when using painter's tape
FAQs about choosing the best painter's tape
When to Use Blue Painter's Tape
The market has yet to provide a painter's tape that is 100% guaranteed not to allow bleeding or ripping. The following scenarios highlight how blue painter's tape can make your life so much easier:
Exterior painting: On a hot sunny day, use this tape to mask off glass, window frames, door frames, and other building components located in direct sunlight. Avoid using green painter's tape in these situations because of its higher tack strength — or you may end up scraping off the tape and removing adhesive that has baked onto the surface of wood, metal, vinyl, or glass.
Interior tile and hardwood floors: When painting interior baseboards, blue painter's tape has a cleaner release and provides better protection from bleeding.
Interior natural wood trim: Blue painter's tape offers protection for cabinets, wainscoting, crown molding, window frames, and other interior elements. It also helps you to create smooth lines.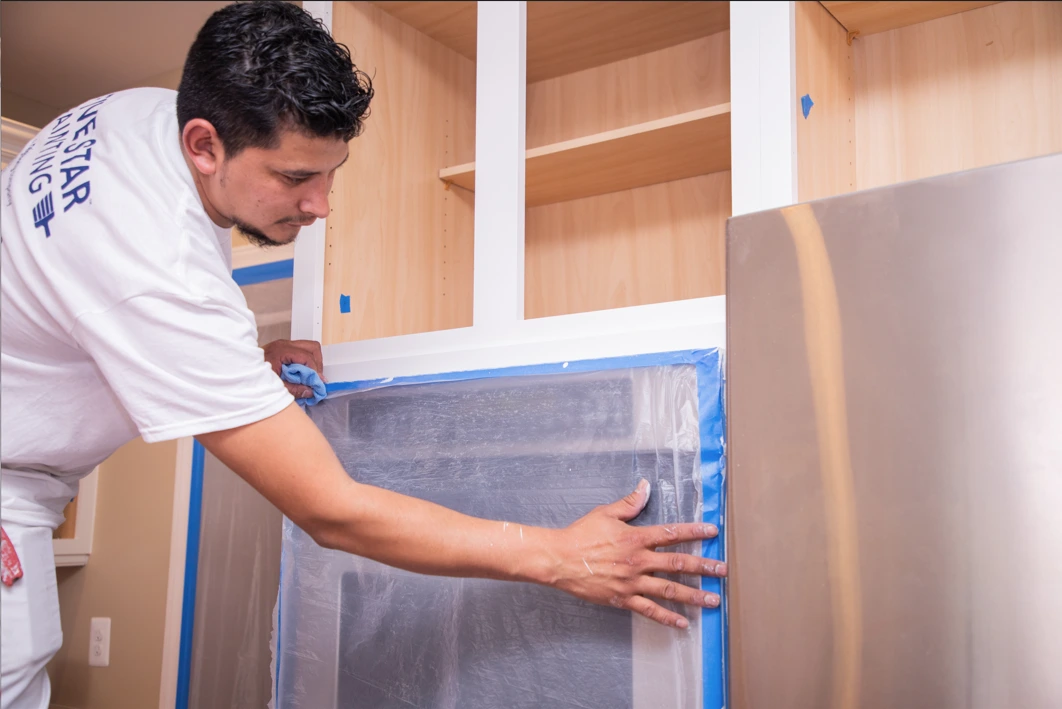 Simply put, when it comes to what is the best painter's tape, for most paint jobs, the blue tape will provide adequate protection against bleed-through. You will also appreciate the cleaner release during cleanup, and it costs less than green painter's tape.
Green Painter's Tape for Extra Protection
When the project requires a strong seal, choose green painter's tape, especially when applying lacquer or solvents. This product also works best for wall stripping and creating designs that require sharp lines.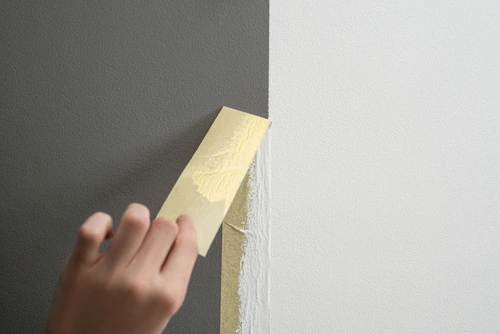 Although you can use blue painter's tape to cover interior trim for wall painting, you would be hard-pressed to find a better tool than green tape to minimize possible bleeding. However, avoid applying green tape on fresh paint because the adhesive could pull the coating right off the surface.
When painting wood window frames, green tape performs better than blue tape does. The higher tack strength allows green tape to stick to glass and other hard-to-adhere-to materials, even in cold weather. When you are ready to remove the green tape, exercise care when pulling the tape back from the edge of the surface.
Keep in mind that green painter's tape costs more than blue tape does, but the performance may justify the additional expense depending on your project.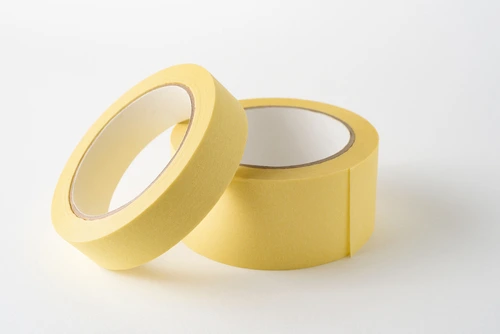 What to Know about White and Yellow Painter's Tape
Neither white nor yellow painter's tape is the best option when compared to blue or green tape, but is a much cheaper alternative. For example, white painter's tape, or masking tape, is typically general purpose and is great if you're on a budget, especially if you're dealing with larger surfaces.
Yellow painter's tape, on the other hand, is best for painting stripes or using against wallpaper. Keep in mind that it has the weakest adhesive level compared to other tapes, and because of its bright color, it's visible in low lighting.
Best Painter's Tape Brands
There are tons of tape brands on the market today. We've rounded up the top five in the table below.
| | | | | |
| --- | --- | --- | --- | --- |
| Tape Brand | Description | Outdoor/Indoor Use | Adhesion Level | Width |
| ScotchBlue Original Multi-Surface Painter's Tape | It doesn't leave any surface damage when peeled off and is UV-resistant. | Indoor and outdoor | Medium | 1.88″ |
| Duck Brand 240194 Clean Release Painter's Tape | It is much cheaper than other tape brands are. It also adheres very well to both interior and exterior surfaces (UV-resistant). | Indoor and outdoor | Medium | 1.88″ |
| Scotch Exterior Surface Painter's Tape | This tape comes with a waterproof backing and can endure the rain, wind, and sun. | Outdoor | High | 1.41″ |
| IPG ProMask Blue with BLOC-It Masking Tape | Its tough edges prevent bleeding and seeping. Works best on lacquered, wooden, and laminated surfaces (not recommended on delicate surfaces). | Indoor and outdoor | High | 0.94″ |
| FrogTape® Delicate Surface Painter's Tape | This tape works best on finished wood, wallpaper, and fresh paint (must be fully dry). | Indoor | Low | 1.41″ |

Things to Consider When Using Painter's Tape
Now that you have some basic information on what the best painter's tape is for your project and top brands, keep the following considerations in mind:
Clean the surface you're working on and use a flexible putty knife for applying painter's tape. This tool does a good job of sealing edges, scoring corners, and cutting the tape square.
Regardless of which tape you use, it's not perfect, so you should expect to have some imperfect edges. You can minimize this problem by making sure that you press the painter's tape firmly into place.
When you remove the tape, use a damp rag wrapped around your putty knife to clean spots where paint has infiltrated underneath.
FAQs about Choosing the Best Painter's Tape
1. What tape do professional painters use?
The tape professionals use will depend on the scope of the project and what surface they are trying to seal. Each tape (see above) offers certain benefits and limitations depending on what you're trying to accomplish.
2. Which tape is best for painting?
The tape best for painting will also depend on the surface you're trying to mask off (see the sections above for more information).
3. Which is better green or blue FrogTape®?
There is no universal better option. Choosing between green and blue FrogTape® will depend on what you're attempting to paint. Green tape has a high adhesive level and works exceptionally well on rough, uneven surfaces. We advise you not to use this tape on delicate drywall or flooring because of its high adhesion. On the other hand, blue tape can be used both outdoors and indoors because of its resistance to UV rays.
4. What is the strongest tape that won't peel paint?
Green painter's tape is typically strongest at preventing bleed-through and is durable on both indoor and outdoor surfaces.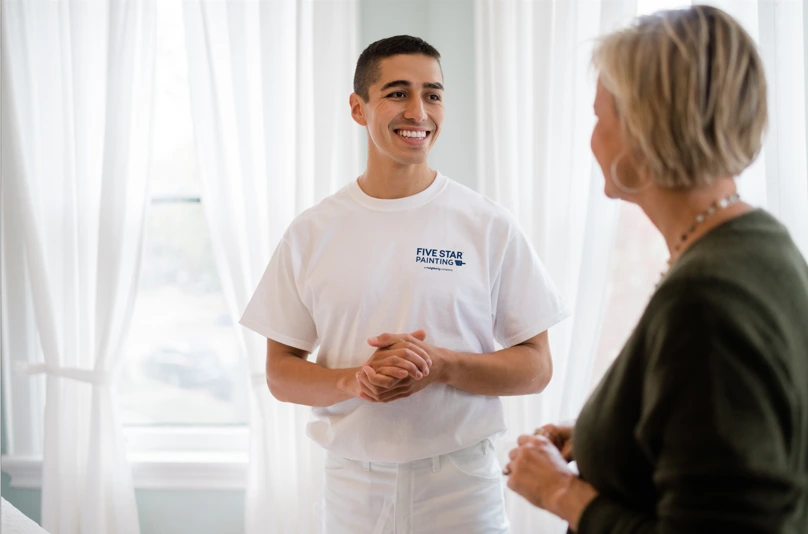 Call Five Star Painting for Your Next Home Painting Project
Painting is a complicated task that requires a great deal of knowledge - even down to which kind of tape to use. Rather than attempting DIY, save yourself a lot of trouble and hire the pros at Five Star Painting®. Learn more about our residential interior and exterior painting services. You can also schedule a free estimate or give us a call.