Favorite Colors for a Cozy Winter Home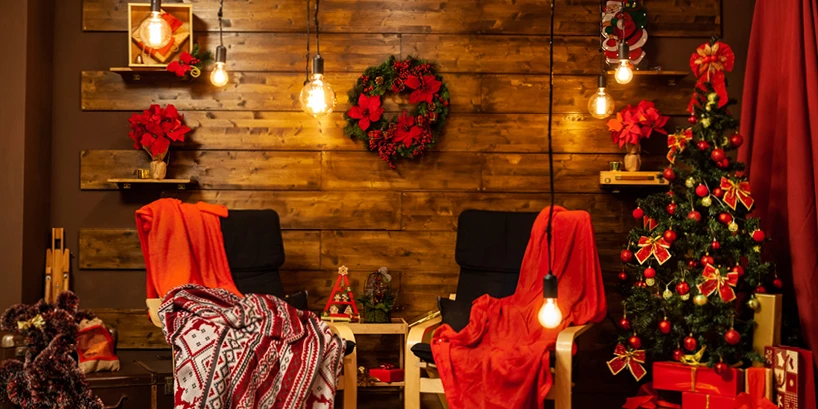 There is a reason that bears and other creatures choose the winter months for hibernation: freezing temperatures, reduced daylight, and gray skies make it hard to shake that sleepy feeling. If hibernation is not an option for you, there is an easy way to wake up your home's interior and breathe new life into your living space. Let Five Star Painting help you get rid of the winter doldrums with a list of the best colors for a cozy home, and the best ways to incorporate them in each and every room.
Best Colors for Winter Homes
As the days grow shorter most people spend more time indoors than out, curled up on the couch, in front of the fireplace, or preparing comfort food in the kitchen. You can instantly warm up your space and elevate your mood by adding any or all of these colors throughout your interior.
Greige
Greige is a combination of gray and beige, and it is a warm neutral that works well in nearly every room in the home. This color is both soothing and sophisticated and goes well with any style or color palette. Most variations of this color are grayer than beige, and the soft tones envelop you in warmth while allowing the mind to rest without the distraction of vivid or cool hues.
Light Pink
Whether you prefer millennial pink, rosy pink, or blush, each shade has warm undertones that create a cozy environment. While the color may be perceived as decidedly feminine, it is more often associated with happiness, romance, and other positive emotions and feelings.
Creamy Gold
Cozy colors are typically a mid-tone or darker on the color spectrum, as pastel colors may feel cold. A soft, creamy gold color is reminiscent of the sun and emits a warm glow once it is hit with natural or artificial light.
Rich Purple
This rich, sophisticated hue has exceptional warmth and depth, but it should be paired with the right neutral or used sparingly to avoid overwhelming the space. Consider incorporating it as an accent color or feature wall, or on a large piece such as a sofa or bedding.
Earthy Green
This color is associated with nature and tranquility, bringing to mind the vibrant hues associated with spring and summer. Opt for shades of green that are slightly muted, and not too dark or bright.
Room by Room
Invest your time and money into rooms that you spend the most time in, such as the living room, kitchen, bedroom, or master bathroom. Or, if you're expecting company this season, update the guest room with a fresh hue. Here is a room-by-room guide to help make your home cozier this winter and all year round.
Bedroom
Bedrooms are naturally cozy spaces, but you can easily elevate your room by adding rich jewel-toned bedding, draperies, and rugs, with dark wood flooring and blinds.
Bathroom
With so much stark, white porcelain and hard tile and fixtures a bathroom can feel cold and uninviting. Consider adding navy blue, purple, or gold mats outside of the bathtub or shower, while keeping the walls a warm, neutral tone such as caramel or dove gray.
Living Room
While it may seem hard to make such a large space feel cozy, start with a soft wall color and work your way in, focusing on textures, luxurious fabrics, warm wood tones, and colorful artwork and accessories.
Kitchen
Take inspiration from the warm side of the color wheel, choosing tones that compliment your cabinetry, flooring, and kitchen island. Layer the lighting to include accent, task, and undermount lights for added warmth.