Is It Necessary to Paint Behind Kitchen Cabinets?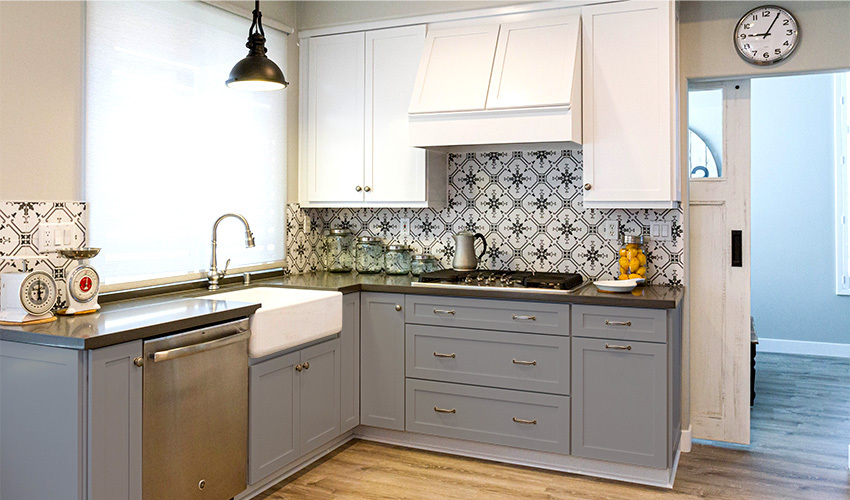 Some people think that painting behind cabinets is a waste of time and resources. Others believe that you paint all spaces—even behind the base and wall cabinets—to deliver a professional paint job.
To protect the drywall and for a professional finish, we recommend painting behind kitchen cabinets.
However, painting behind kitchen cabinets isn't always necessary; it mostly depends on your intents for your home and your personal preferences as it relates to your budget.
New Construction
It's highly recommended that drywall behind kitchen cabinets at least get a coat of primer. Bare drywall absorbs moisture and odor and the kitchen is one place where you want to prevent this.
Painting after the cabinets are installed requires more masking and time, which is why we also recommend painting the walls in the kitchen after priming, even if they're going to be covered up by cabinets.
Maintain Color Quality and Consistency
If you have a color scheme that you really appreciate, take the extra step and paint behind the cabinets, as well as light switches, outlets, and other nooks and crannies seemingly out of the direct line of sight. Furthermore, whenever you open the cabinet doors, the last thing you want to see is the old color serving as a reminder that you did not complete the task.
For homeowners who plan to sell their homes, a complete and professional paint job can help them get the best sale price.
Remember, many homebuyers look for the "perfect paint job" and prefer to avoid the responsibility of matching up colors or covering bare walls behind/under the kitchen cabinets. The oversight of not painting behind cabinets could impact offers made for your home.
Personalize Your Space
Using a combination of various shades of paint, you have the ability to create a color scheme to match the style and décor of your home and your personal preferences. If you plan to live in your house for a while, taking the cabinets down may be worth the time and effort. Painting now alleviates any concern about paint color down the line, especially if you plan to upgrade your cabinets at some point.
Some considerations when deciding to paint behind cabinets include:
Paint functions as a barrier to stains, heat, humidity, and moisture.
Paint hinders mold and mildew in damp environments because the warm, dark areas behind cabinets create the conditions conducive to mold growth.
Painting Behind Kitchen Cabinets: Thinking Ahead
If you plan to install new cabinets, you can either choose to paint the area behind the cabinets or you can skip it and take the chance that your decision will come back to haunt you. For example, down the road, you may want to remove a cabinet on the wall near the kitchen window to create more space or better symmetry. With an already-painted wall behind your cabinets, you will have the freedom to make these types of adjustments without concern about the need to match the original wall paint with the new color.
Professional Kitchen Cabinet Painting
Whether you plan to paint your kitchen walls, cabinets, or other interior/exterior painting project, consider hiring Five Star Painting, a professional painting company with a commitment to quality and customer satisfaction. Schedule a free estimate now or give us a call at (888) 261-3633.