Accent Walls: Dos and Don'ts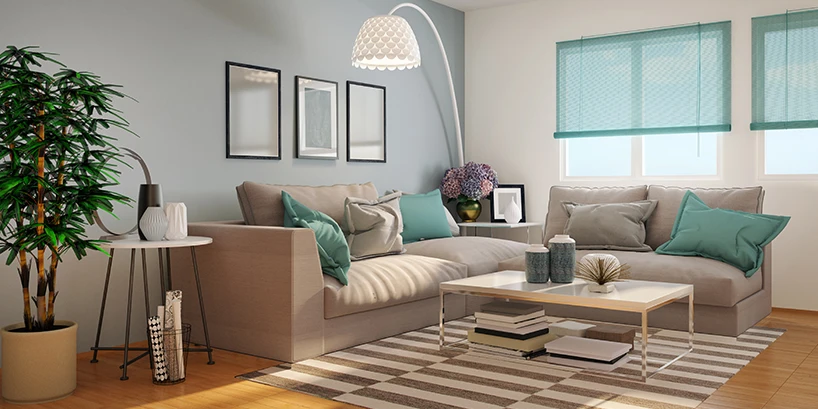 With all the painting and decorating trends that have come and gone, one that has stood the test of time is the accent wall. Their popularity is based upon the desire to have a focal point in each room to draw your eye towards one area or away from another, and they can be a great way to experiment with color without making a huge commitment. If you are considering painting an accent wall in your home, the team at Five Star Painting can help, with a comprehensive list of do's and don'ts to ensure your project is a success.
Accent Wall Paint Options
Deciding where to paint your accent wall is just as important as the color you choose. In most rooms, the location will be obvious, as it will set the backdrop for a large or impressive piece of furniture such as a headboard or sideboard, or key feature such as a fireplace. In a room where no focal point exists, you can add a statement piece to your accent wall such as a custom mirror to complete the look. Accent walls can also help to define or divide one space from another, such as the dining space in your eat-in kitchen or a play area in a multi-purpose or bonus room.
Why Paint an Accent Wall?
An accent wall is a wall that is decorated differently than the other walls in the room and is usually painted a bright or bold color. Wallpaper, paneling, grasscloth and other materials may also be used, but regardless of which type of application you choose, the benefits of an accent wall are same:
Make a room appear larger
Add drama or visual interest to the room
Add separation to an open concept design without construction
Introduce texture and dimension to your living space
Accent Walls: Do's and Don'ts
An accent wall can be a welcome addition to any room in your home, and with unlimited options for color, pattern, and texture they can work with virtually any decor. Our essential list of do's and don'ts will help to ensure the finished product enhances the look and feel of your living space.
Do's
Think Outside the Box
You are only limited by your own imagination, so explore your options to create a unique look using specialty finishes such as metallic, sandstone, or brushed suede paint.
Choose Your Wall Wisely
Consider the following factors when choosing the location of your accent wall:
Opt for rooms that lack any interesting architectural features.
Walls with windows work well, but make sure your paint color can appropriately absorb or reflect the incoming light.
Continue the Color Scheme
Carry your accent color throughout your living space with decorative or everyday items such as throw pillows, area rugs, art, and more.
Consider the Other Walls
Regardless of which color you choose for your accent wall, it will most likely look better up against a neutral such as gray, beige, or greige, rather than a stark white.
Embrace Bold Colors Cautiously
Pick a color that reflects your personality and makes you happy, as long as it doesn't conflict with the overall style of your home or accessories. Dream big! A word of caution though... if you're planning to sell your home within the next few years, you may want to consider a more neutral palette. Remember, not everyone loves magenta.
Neutrals Are Safe, But Don't Be Boring
Dark gray, brown, navy blue, and black are all considered to be neutral colors and will work well with your neutral color scheme, as long as they display the same undertone or color temperature as the adjoining walls.If it's a huge face lift you're going for, a soft neutral may leave you underwhelmed.
Don't Limit Yourself
Tiles, stone, draperies, sections of wallpaper, shelving, or a photo gallery can also be used to create an accent wall. Or, they may complement a freshly painted wall for the finished look you've been craving!
Ready to incorporate a beautiful accent wall into your home's design? Enlist a local Five Star Painting expert today!