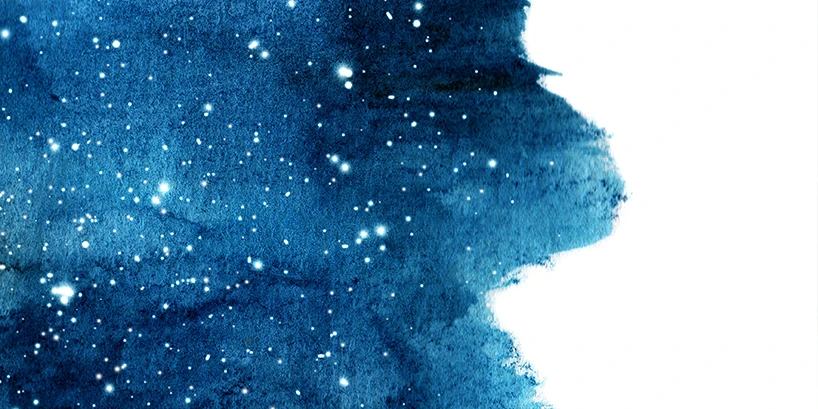 At one time or another, all of us have looked into a clear night sky to see a stunning display of stars and planets. Often, the bodies look close enough to reach up and touch. Then, the next night the bodies have become invisible due to a combination of clouds, pollution, tree canopies, and urban lights. If you appreciate the night sky and would like for it to be available whenever you like, consider creating a painting a galaxy on your ceiling. Your personal canopy of stars can be very relaxing and makes for a great asset. With the use of some basic tools and special glow paint, you can create a realistic looking galactic mural that includes, planets, shooting stars and other astronomical phenomena.
What You Need
Study a photograph and plan a layout on your ceiling. If you want a galaxy that accurately depict the moon, planets, constellation maps, and swirl patterns of the Milky Way galaxy, purchase stencil kits. You can also make your own patterns from NASA photographs or free-formed shapes. Here is a list of the things you'll need to get started:
Ladder
Heavy drop cloth
Goggles
Gloves
Newspaper
Plastic
Painter's tape
Duster
Rags
Natural sponge
1-inch paintbrush
Toothbrush
Glow paint (various colors)
To make your painting a galaxy even more convincing, use stencils to create a horizon line, which may include silhouettes of mountains, trees and buildings.
Room and Ceiling Preparation
This project will create a mess, so proper preparation of the room will help ease your clean-up. Start by moving smaller furniture and portable objects other portable objects out of the room. Locate larger pieces away from the area where you will work. Cover the items with a heavy drop cloth to protect them from paint. If you have a ceiling fixture, wrap it in plastic and secure with painter's tape. If applicable, place tape over the light fixture switch to prevent accidentally turning the light on while it's covered. Remove dust and cobwebs from the space.
Before you begin the real project on the ceiling, practice your galaxy creation skills on a piece of cardboard. Dip the tip of your paintbrush or tooth brush into the paint. While removing the brush, run your thumb across the bristles, flicking the paint on the cardboard. Practice with all of your brushes.
How to Create a Galaxy Tips
Make sure that the workspace has adequate ventilation before you start. Keep in mind that you do not have to paint your mural on a dark shade. Although invisible during the day, the phosphorescent paint actually shows better on a lighter shade. Apply a dark background only if you want visibility during daylight. Use your reference photographs as a guide for tracing out the shapes. You can also draw free-hand. Here are some more suggestions for creating your mural:
Divide the image into sections and lay it out based on the configuration of the ceiling. To draw the constellations between the stars, use a ruler to lay out the thin lines and paint. Allow the paint to dry and allow to dry. Then, paint the large stars.
Use white paint mixed with a little water to paint stars.
Create an ethereal affect for a nebula by mixing different colored phosphorescent paint. To design gaseous star clouds, rub your gloved finger in mixed paint and apply it to the ceiling.
A combination of sponges and brushes can help you create depth and texture for your galaxy.
The sky's the limit with this fun project! If you need help with any paint job around the house, an expert team at Five Star Painting would love to help. Schedule a free estimate today!