Why Are Porch Ceilings Painted Blue?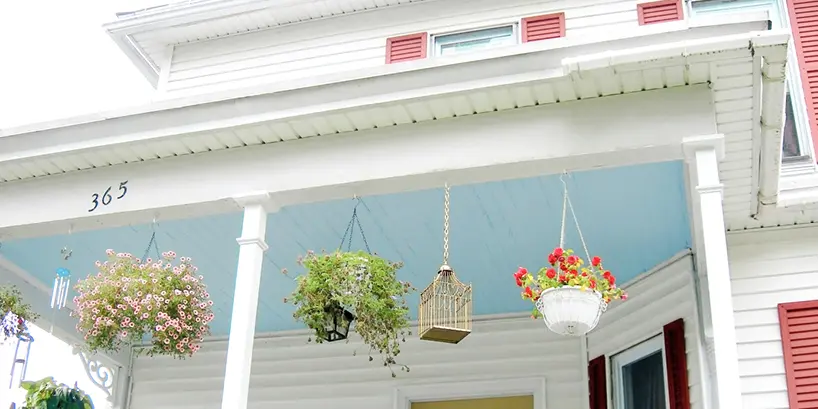 There are few architectural details that are more charming than a porch, which is the perfect place to relax on summer's day with a cool drink, good book, or pleasant company. How you choose to decorate your porch says a lot about your personal style, whether you opt to make this area an extension of your interior living space or provide it with its own unique identity. In addition to your choice of floor coloring, furnishings, and accessories you'll need to decide what color to paint the ceiling—and if you're somewhat of a traditionalist or have any superstitious tendencies you may have already decided to go with the number one choice among southern homeowners: blue.
Why Are Porch Ceilings Blue?
If you've ever spent time living or traveling through the south you've seen porches of all shapes and sizes, from expansive wrap around varieties to quaint, screened-in backyard porches (most typically used for long afternoon naps, or as an alternative place to sleep during hot summer nights). You may have also noticed an overwhelming trend with regards to color choices and may be curious as to the reason porch ceilings are painted blue more often than any other color.
Historical Influences
Regardless of which theory you believe in, there is no denying that southern homeowners have been painting their porch ceilings blue for over 200 years. This practice dates back to the early 1800's in Charleston, South Carolina, and historic homes across the nation continue to carry on this tradition today.
Stress Relief
The color blue has been shown to have a calming effect and may help to reduce anxiety, lower blood pressure, and slow down your heart rate. Although a porch is intended to provide shelter from the elements, a blue ceiling can give you the best of both worlds as it protects you from inclement weather while giving the appearance of restful skies above.
Insect Deterrent
Some believe that insects are far less likely to hang about or nest in an area with a blue ceiling as it effectively mimics the sky. A far more likely reason for the origin of this belief is that in days of old the blue paint that was typically used for porch ceilings contained lye, which naturally repels insects.
Ghost Repellant
A haint is defined as a type of spirit that for reasons unknown has opted to remain in the physical world rather than moving on to the spiritual realm. A popular blue-green shade of paint that can often be found on porch ceilings has been dubbed Haint Blue and is thought to adequately protect a home and its occupants from the evil influences of any haints that may be hanging around.
Tips to Find the Perfect Shade
With an infinite number of shades, it may seem like an impossible task to find just the right blue for your porch ceiling. Tips for color selection include:
Choose a blue that compliments the exterior color and style of your home.
Think about how the color will look throughout different times of the day and night, and how elements such as landscape lighting can influence its appearance.
Opt for a color that you love.
For a traditional style home consider choosing a more muted or subtle shade of blue, saving the bold or bright colors for a more contemporary design.
Whether you choose to paint your porch ceiling yourself or hire the experts at Five Star Painting, consider carrying on the centuries-old tradition and using your favorite blue, for results you will love for years to come.