How to Make Puffy Paint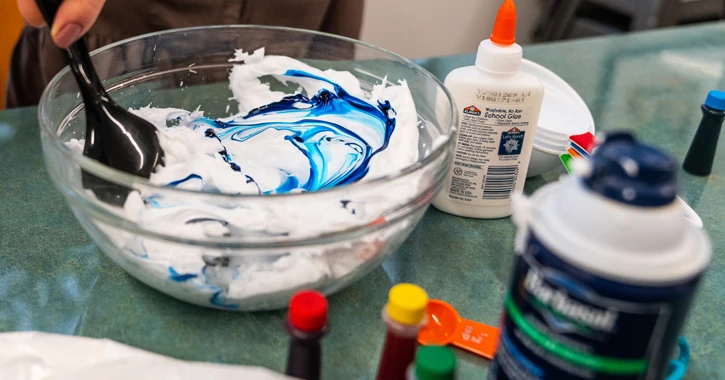 It's a bad weather day, and your kids are bored because they can't play outside. Sounds like it's time to get crafty! Many kids love painting, and parents often enjoy getting in on the fun as well. There's something even more fun than using regular paint, and that's making creations with puffy paint! Are you looking for a good puffy paint recipe to try? Five Star Painting has the directions you're looking for, along with some creative ideas for putting puffy paint to good use.
How to Make Puffy Paint
3/4 cup shaving cream (such as Barbasol Thick and Rich)
1/4 cup white glue (such as Elmer's School Glue)
1/4 cup all-purpose flour
Food coloring in your desired color
Cake decorating squeeze bottle or quart-size food storage bag
Directions on how to make puffy paint:
Mix the shaving cream and glue together. Add the flour one tablespoon at a time until the paint reaches a desirable consistency.
Promptly transfer the paint to the dispenser of your choice to prevent it from drying out. If you use a food storage bag, cut a tiny hole in the corner and dispense the paint from there.
TIP: For more versatile artwork, make three or four batches of puffy paint, each in a different color.
TIP: If the paint starts to thicken in the bottle after sitting out for a while, add a tablespoon of water and stir. Just be aware that this watered-down version of puffy paint doesn't dry as firm as the original recipe.
TIP: The shelf life for this puffy paint recipe is about two to four weeks. This means if you don't use it all up in one sitting, you can plan on another puffy painting session a few days from now. Just be sure to seal the squeeze bottle between uses to keep the paint fresh.
Creative Ideas for Using Puffy Paint
After following the recipe above, you now have a bottle (or three or four) of puffy paint to work with. All that's left is to put your kids' creativity to the test. You are likely to find that your children become focused and purposeful as they paint. This may come as a surprise when compared to the way they squeeze their toothpaste with all their might!
Here are some ideas for making artwork with puffy paint:
Paint pictures on paper: Let your kids come up with their own designs, which could range from abstract squiggles and polka dots to forest scenes with flowers and trees.
Smear the puffy paint: The unique 3D quality of puffy paint presents opportunities for even more creative artwork. Give your children a few toothpicks and cotton swabs to move the paint around the paper in unique ways, creating more dimension by smoothing out backgrounds while keeping objects in the foreground puffy.
Paint on wax paper: Have your children paint letters, shapes, or anything else they want on a piece of wax paper. After the paint dries, peel it off and enjoy the little 3D creations.
You won't be painting your house with puffy paint, but it's a great way to entertain the kids! If you enjoyed this art project, avoid cabin fever and find more DIY crafts for a bad weather day from Window Genie. Then, for your next house painting project, rely on the professionals at Five Star Painting for a job well done. Contact us today to learn more or to schedule services.