Give Your Shutters a Fresh Coat of Paint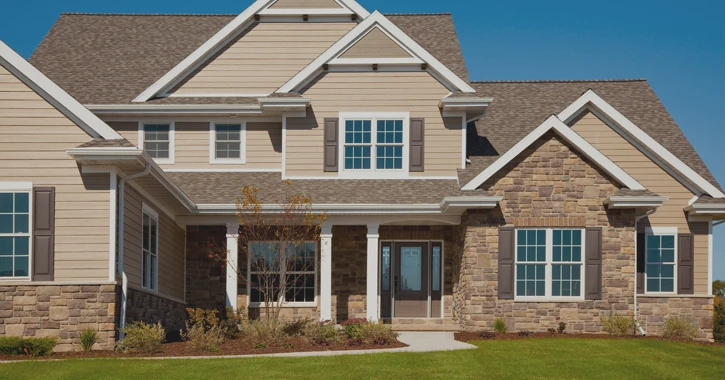 Historically, homeowners installed shutters for the many practical benefits, such as privacy, security and protection for cold weather. Shutters also blocked out the sun's ultraviolet radiation, which can cause discoloration and the premature aging of furniture. More recently, homeowners primarily install shutters for the decorative attributes and to improve the exterior appearance of their homes. In the past, shutters were primarily made of wood, compared to today's shutters that mostly consist of vinyl or plastic material.
Follow these steps to paint your shutters to add pop to your home's curb appeal— without breaking the bank.
Preparation Is Important
Similar to many home improvement projects, painting the shutters may take the least amount of time. The key to a successful outcome will depend on the time you put into the proper preparation. Before you paint your shutters, give them a good cleaning.
Get rid of any mold or mildew by applying a solution of one part bleach to four part water, using a spray bottle or pump garden sprayer
Rinse the shutters thoroughly with a hose.
Scrub the shutters with a mixture of mild household detergent and water, which will remove any chalking, grime and dirt.
Rinse thoroughly with water.
Use a clean cloth to dry off wood shutters immediately to avoid damage. Place vinyl shutters on a drop cloth and allow them to air dry.
Take the usual safety precautions to protect your skin, eyes, plants and other items when working with bleach. Do not use a pressure washer to clean the shutters because the force will chip or crack the material, which can lead to water damage.
Pick Your Color/Paint
Many homeowners like for shutters to match the color of the window trim and make the two pieces seem like a single component. Other people prefer to paint shutters to complement the shade of the trim. Regardless of your choice, the key to color selection is to avoid using a color that clashes or gives the home a gaudy appearance.
For modern or contemporary homes, bold colors like vibrant blue, charcoal gray, forest green and bright red can really work well. You can bring out the best in traditional homes with the use of classic white or black shades.
For shutters made of wood, exterior latex paint works best. If you have vinyl shutters, select a high quality, exterior acrylic paint or a product specifically formulated for plastics.
Tips for Painting Your Shutters
To receive optimal results, when you paint your shutters, try to work out of the direct sunlight and in moderate humidity—a temperature range of 50º-90º Fahrenheit provides the best climate. Other suggestions include:
Prime before applying paint, which increases the adhesion and allows for better top coat coverage.
Begin painting the slats at the top of the shutter.
Eliminate unwanted brush marks in newly painted areas by using lighter brush strokes.
Apply at least two coats of paint.
Make sure that you allow the manufacturer's recommended drying time between each coat. To avoid smearing smudging, or chipping your freshly painted shutters, make sure that the final coat has completely dried before you rehang the shutters.
We Can Help!
As a full-service interior and exterior painting, Five Star Painters has been serving residential and commercial customers across the United States for more than 20 years. Whether you need to paint shutters or have some other type of painting project—large or small—our mission is to make your project hassle-free. Contact Five Star Painting for up-front pricing, a high quality paint job and excellent customer satisfaction.