Home Modifications & Accommodations for Seniors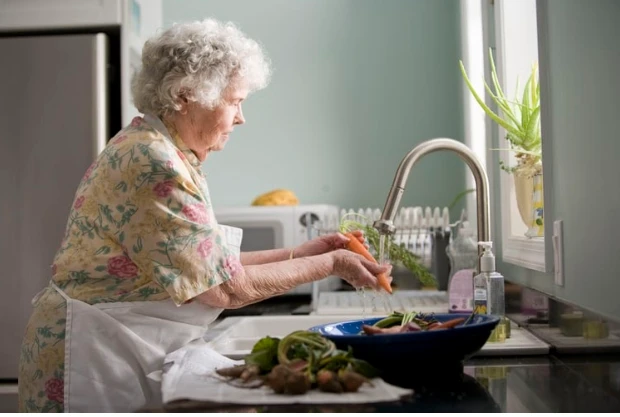 The senior population in the United States is growing rapidly; by 2060, the number of Americans age 65 or older is expected to double, making up roughly one-quarter of the nation's entire population. That means almost 100 million individuals will require more care in the coming years, which may lead to increased demand for housing and healthcare. Though 76% of Americans over the age of 50 want to age in place, this may not be an option for many older adults because of their health needs or financial circumstances.
This, coupled with the expected growth in demand for healthcare and housing due to the aging population, means that many older adults can benefit from moving in with a family member or relative. Certain illnesses and disabilities may necessitate living with others, as might financial troubles or need for consistent long-term care. Further, if an aging family member comes to live with you, you can spend more time with your loved one and ensure they get the care and attention they need.
If your relative moves into your house, you must ensure your home is able to accommodate them. Per a 2011 study, only 5% of housing in the U.S. is accessible for individuals with mobility issues, and only 1% of housing is prepared to accommodate people in wheelchairs.
However, a growing body of research on accessible home environments indicates "interventions to enhance the accessibility of homes can have positive health and social effects" while "home environments that lack accessibility modifications appropriate to the needs of their users" can have negative health outcomes for older adults and people with disabilities. This means it's crucial to modify your home to suit the health needs of your aging relative so they can live in this new environment. Luckily, whether you're able to make major modifications or minor changes, there are plenty of ways to redesign your home so all of its residents are safe and comfortable.
Major Home Modifications & Accommodations
If you have the time and means to do so, there are large and extensive updates you can make throughout your home to improve its accessibility. Remodeling can be costly and time-consuming, but well worth your while. If you want to make major changes or full-on remodels, you may be able to receive funding through a housing improvement grant, even if you have a limited budget. The federal government offers several, including:
Be sure to look into housing grants and programs offered by your state or local government. Additionally, you may be able to get help from nonprofit organizations, like Rebuilding Together and the National Residential Improvement Association, that focuses on housing improvements and assistance.
Regardless of how you fund your home modifications, always keep your family member's specific needs in mind when researching potential upgrades. Consider their current state of health, as well as what their needs may be in the future. Take your other family members' current and future health needs into account while planning. Additionally, plan what changes you want to make room-by-room so your entire home is as comfortable as possible.
Bathrooms
It's a necessity to make at least one bathroom in your home accessible for your family member. Not only does this ensure your family member is fully equipped to clean and care for themself, but it can also reduce their risk of falling and its related health complications. Bathrooms are one of the most common locations in the home for falls in older adults, which can result in severe injury and even death. The more you can do to make your bathroom accommodating, the better, especially if your relative already has mobility issues, health problems, or a disability.
Bathroom layout: Bathrooms are often small and can be difficult to move around in for someone using a mobility aid or who may need another person to physically assist them. The fixtures should be appropriately spaced apart to allow for movement with assistance, and be placed in a way that your relative can use multiple fixtures (for example, the sink should be near the toilet) with greater ease.
Countertops: Bathroom countertops should be no higher than 38 inches, with enough clearance underneath for a wheelchair or other mobility aid — take your family member's measurements to ensure the countertops are appropriately spaced. Mirrors and vanities can be attached or anchored to countertops for greater accessibility; an adjustable mirror that can be raised and lowered may be particularly useful for all members of your family.
Sinks: Sinks should be mounted to the wall or embedded in the counters, rather than freestanding. They should also have enough clearance underneath, with pipes and hardware out of the way, to accommodate mobility aids. Single-lever, touch, or hands-free faucets also make sinks significantly easier to use.
Sit-down bathtubs: A sit-down bathtub allows users to walk into the tub and bathe sitting down, eliminating the risk of falling or slipping while getting in and out of the tub. Keep tub controls close by, so your relative doesn't have to reach as far to adjust the temperature or turn the water on or off.
Taller toilets: Toilets should be between 17 and 19 inches high so your relative can lower themselves onto the seat or transfer themselves from a wheelchair. A wall-mounted toilet allows you to customize its height. Toilet paper holders should also be installed at an appropriate level. If your relative has difficulties using their hands or grabbing onto things, a bidet may be a better option so they don't have to worry about using toilet paper.
Walk-in showers: Curbless, walk-in showers let wheelchair users roll into them and, for others, reduces the risk of falls and slips while getting in and out of the shower. The shower should be large enough to fit a wheelchair and include a shower chair or seat so your relative can sit down while showering. Your relative should be able to reach the ledge or shelves holding soaps, shampoos, and other products from the chair.
Bedrooms
While not every home in your bedroom needs to be modified, your relative's bedroom certainly should be. If you live in a house with more than one story, their bedroom should be on the first floor, to avoid using stairs as much as possible. Accommodations should reflect your family member's needs and allow them to relax, sleep, and change their clothing without issue.
This is also an opportunity to redesign and redecorate this bedroom so it represents your relative's tastes. Bedrooms are a highly personal space that should be designed for optimal sleep as well as individual preferences. And even if you can't make major changes, simply getting some new sheets for the bed or having the bedroom painted can make a huge difference in how this room feels to your family member.
Common accessibility modifications for bedrooms include:
Bed height: The bed should be at a height where your relative can get in and out comfortably. Purchasing a new bed frame, mattress, or mattress topper is an effective, simple solution. Depending on your family member's needs, you may need to get an adjustable bed frame or mattress.
Bedroom size: The bedroom itself should be large and spacious enough for your relative to move around in without hassle. Furniture should be placed in a way that allows for movement with their mobility aid or another individual, if necessary. Additionally, the bedroom should be kept free of clutter.
Ceiling lift: A ceiling lift is a motorized lift that can be used to help people get in and out of bed, especially for individuals who use wheelchairs. Grab bars and handrails may also be helpful.
Closet modifications: Large or walk-in closets should be big enough to enter with a wheelchair or mobility aid. They should also have lever handles, not knobs or handles that require twisting or grabbing. Smaller closets should also have lever handles, and you should avoid accordion or bi-fold doors.
Flooring: The flooring in your family member's bedroom should allow them to walk or use a wheelchair or mobility aid. Many types of plush or textured carpet can be difficult to walk on, so if you do choose carpet for the bedroom, make sure it is low to the ground and tightly woven. Similarly, you should avoid putting down rugs that can trip up a wheelchair or mobility aid.
Doorways, Hallways, & Stairs
Because doorways, hallways, and stairs are typically scattered throughout the home, you may forget about improving them when making updates to other areas. However, your other modifications won't be as impactful if your relative has difficulties entering your home and moving from room to room. In addition to using this as an opportunity to spruce things up in the hallways throughout your home, you should consider making the following accessibility updates:
Door features: The doors of your home must have certain features, not only to make them more accessible, but also to improve your home's security. Exterior doors should have peepholes or windows at a level that your relative can see out of, as well as a safety chain they can use. If your relative has limited mobility in their hands and wrists, both interior and exterior doors should have handles, rather than knobs, so they aren't as difficult to open. You can also consider powered doors, but they must be able to work in the event of a power outage.
Electric chair lift: If your house is more than one story, an electric chair lift simplifies the process of getting upstairs for your family member if they have limited mobility or use a wheelchair. This is particularly useful for large sets of stairs.
Ramps: For one or two steps or smaller sets of stairs, a ramp may be sufficient for your relative. Additionally, ramps can reduce the risk of other members of household tripping while trying to walk up the steps.
Widening doorways and hallways: Both interior and exterior doorways, as well as hallways, throughout your home must be wide enough for at least two people to walk side by side, in case your relative needs help walking, or for a wheelchair user to move comfortably.
Exterior Accommodations
Accessibility updates aren't just limited to the interior of your home — you should also take the time to modify your home's exterior, yard, and outdoor spaces. After all, your entire family should be able to safely enter the house and enjoy themselves outdoors. Common exterior accommodations include:
House numbers: The numbers on your home should be clearly visible from the street, especially if your relative has any vision impairments, mental health issues, or conditions that make reading difficult. They should be large and reflective; further, they should contrast against your home's paint color (for instance, if your home is beige or light brown, then the numbers should be a darker color). Additionally, if the outside of your home is in need of a fresh coat of paint, or if it's a difficult color for your relative to see, consider repainting the exterior of your home altogether.
Level ground: Ideally, your home should be on level ground so it's less hazardous and risky for your aging relative to walk around outside. If your home is situated on a hill or slope, this can be more difficult (or even impossible) to correct, but if you have rough or uneven terrain, you may want to update your landscaping and outdoor environment, which is just as important for keeping your home safe as it is for accessibility.
Lighting: The exterior of your home and all of its walkways should be well-lit so they're highly visible in the dark. Automatic or motion-detecting lights can be helpful, so whoever is moving outside can see when they need to without wasting electrici
Ramps: Generally, you should avoid having to use outdoor steps or stairs to access the house, but if your home does have these features, at least one door should have a ramp leading up to it. Like interior ramps, it should be wide enough for two people to walk side by side or for a wheelchair.
Walkways: Your home should have clear, level, and accessible outdoor walkways. They should be large enough to accommodate someone using a wheelchair or other mobility aid, or multiple walking side-by-side. There should be walkways leading up to the exterior doors of your home, as well as to other parts of your yard, such as your garage, garden, shed, and pool or hot tub. If you have extensive walkways or a large property, consider installing benches or setting up chairs where people can sit and rest.
Kitchen
The kitchen is the heart of many homes and, as such, it must be able to accommodate every member of your household. Depending on what your family member's needs are and the current state of your kitchen, consider making the following modifications:
Appliances: All of your appliances, both big and small, should be accessible to all of your family members. Getting a new microwave or coffee maker is relatively simple, but you may have to replace larger appliances like the dishwasher or stovetop so that your aging relative can use them. Additionally, these appliances need to have multiple ways of alerting users when they need attention or their job is complete (for instance, the microwave should emit a sound and attention-grabbing light when food is done being heated up).
Cabinets and storage: Kitchen cabinets and other storage areas should be lower to the ground. They should also have pulls, rather than knobs, or be powered if your family member has issues with hand mobility or dexterity. Generally, frequently-used items should be in cabinets and storage areas that are more easily accessible. If your family member has a visual or cognitive disability, painting or refinishing your cabinets can make them more visually soothing and easier to identif.
Countertops: The countertops in your kitchen should be an appropriate height for your family member to use, particularly if they use a wheelchair or mobility aid. They should also have room underneath for your relative to sit at the counter in their wheelchair.
Faucets: Just as in the bathroom, you should install new faucets in your kitchen. Single-lever, one-touch, and automatic faucets are all highly accessible options. Depending on your family member's needs, you may also need to install the faucet in a certain place in the sink and ensure the hardware and piping doesn't interfere with their ability to sit or stand at the sink.
Workspace: There should be at least one accessible workspace in your kitchen, with plenty of open surface area for your relative to prep, work, and clean. This can take the form of a certain portion of the countertop, a small table, a pull-out table secured to the wall — whatever works best for your kitchen and family.
Living Room
Finally, you should assess and improve the accessibility of your living room. Many of the larger updates you should make are still fairly straightforward and don't necessarily involve completely remodeling the room. Still, taking the time to reorganize and revamp your living room can make all the difference for your relative. Important considerations include:
Flooring: Much like the bedroom, living rooms often have carpet to make the room more relaxing. However, you have to be cautious about the type of carpet you put down, particularly if your relative is already unsteady on their feet, using a mobility aid, or in a wheelchair. You should also avoid rugs and other accents on the floor to increase the amount of available floor space and reduce potential trip hazards. If you need to replace your flooring, consider getting assistance from professional carpenters.
Furniture: The furniture in your living room should be comfortable and high enough for your family member to use without difficulty. Couches and chairs shouldn't be too low or too high, and coffee and end tables should be an appropriate height for easy use. All furniture should be sturdy, in case your relative needs to stabilize themself or use them for support.
Power sockets: Make sure there are accessible power sockets placed strategically throughout your living room so your relative can easily charge their pieces of technology and connected devices. Similarly, you should consider installing a permanent landline in your living room that your relative can use in case they need help or in the event of an emergency.
Spacing: The living room should be spacious, with plenty of room between different pieces of furniture for your family member to move around them. Further, if they use a wheelchair or power chair, make sure there is enough open space for them to pull their chair up so they can sit with you and the rest of your family when chatting, relaxing, or watching television.
Minor Home Modifications & Accommodations
Depending on the current state of your home and your budget, making major changes to your home may not be feasible. Additionally, depending on what your family member needs, it may not even be necessary to remodel or update your home extensively. Minor improvements and additions may be more than enough to make your home accommodating for all of your family members. Smaller changes that can make a huge difference include:
Handles & Handrails
Handles, handrails, and grab bars should be installed throughout your home so your relative can lift, lower, and support themself. Not every area of your house needs handrails or grab bars, but some rooms and locations can greatly benefit from them, including:
Near your relative's bed;
Near toilets, bathtubs, and showers;
Along ramps, walkways, and stairs;
Near frequently-used couches, tables, and chairs.
You would also want to install rails along exterior ramps, as well as any other locations in or around the house your relative visits frequently.
Lighting
Your home should be well-lit, both on the inside and outside, for the safety of everyone in the house. Having proper lighting throughout your home is a simple way to improve its overall security and accessibility, particularly if your relative has any visual or cognitive impairments. Dim lighting is also a risk factor for falls in older adults, regardless of their other health conditions. Replace any light bulbs in your home that have burned out, as well as any that are too dim. For any areas that don't have great lighting, you can always buy a lamp or other fixture that's easy to install or set up.
Service Animal Accommodations
If your family member already has or plans on getting a service animal, you'll have to make sure your home can accommodate them, too. This includes stocking up on food and other supplies, making sure they have a designated area to eat and sleep, putting away potentially hazardous or toxic objects, and ensuring they'll get along with the other people and animals in your home.
The actual preparations you need to make will vary depending on what type of service animal your relative has and when it will be coming into your house. If you're still making major updates to your home, you'll have to make sure the service animal stays safe while you remodel, to avoid hurting themself or someone else. If possible, it may be best to wait until your accessibility updates are complete before your relative and their service animal move in.
Aside from actually preparing your home for their arrival, you need to have the right mindset when bringing a service animal into your home, as it differs greatly from having a pet or even emotional support animal. Remember this animal is here to work and assist your family member, not to play or provide companionship. Make sure every member of your household understands this distinction, especially any children or grandchildren.
Special Equipment
Finally, bringing in special equipment is a simple way to make your home more accessible for your most senior family member. Certain devices and pieces of technology can make it significantly easier for them to get around your home and complete daily activities. This special equipment should reflect their health needs, and whether your relative has mobility issues or visual impairments, there are myriad assistive devices you can bring into your home that can be useful and help them feel more at home.
Senior-Friendly Home Design & Decor
Making your home more accessible doesn't end after you complete a remodel, update your floor plans, or buy new furniture. You should also take some time to decorate your home in a way that is accommodating to your relative's age or disabilities, as well as considerate of their preferences. Your home is now their home, too, and the way your home feels should be comfortable and appealing to everyone. Taking your family member's opinions into account can also help make their transition into your home and daily life that much more pleasant.
Color Schemes & Designs
The paint colors in the interior of your home can have a huge effect on your family member, and even more so if they have any visual, cognitive, or emotional impairments. It's important to consider how colors affect moods and emotions, but generally, neutral and soothing colors are better than bright or neon ones for the interior walls of your home. Having neutral interior paint creates contrast between the walls, pieces of furniture, and decor. This, in turn, allows seniors and other individuals with impaired vision to better distinguish between different items and navigate your home. Accent walls are another simple way to create contrast, but you should still be careful about your color selection. Depending on your loved one's needs and preferences, certain colors may be better than others. When in doubt, ask for help from home painting experts to determine the best color for your home and your family's needs.
Soothing & Simple Decor
You'll need to be similarly mindful when decorating the interior of your home. Typically, it's better to use simple and soothing decor. Not only does this create a sensory-friendly environment for anyone in your home with mental conditions or visual impairments, but it can also help your relative if they have mobility challenges. Having too many decorations in your home can make it more difficult for them to walk around or create an additional fall hazard when they are bulky or placed on the floor. Err on the side of caution, rather than over-decorating, just to be safe.
You may also want to consider asking your relative to help with decorating your home. After all, it's now their home too, and getting their opinion will make them feel welcome and included. Further, they may also have useful information to share about what type of decor would be best for their health needs or disabilities.
Decluttering & Maintaining Cleanliness
Once your family member moves in, you'll have to keep your home clean and free of clutter. Doing so will ensure this environment is as safe as possible for them. Just as having too much furniture or too many decorations in a room can make it difficult to move around, so can having too much clutter. Additionally, clutter and messiness can have negative physical and mental health effects for everyone in your home. Messy homes or rooms can increase stress, contribute to overeating, and lower general well-being. Simply put, continually decluttering and making an effort to keep a clean environment can help your relative stay happy and healthy for as long as they live with you.