Lagom Home Design for a Happier House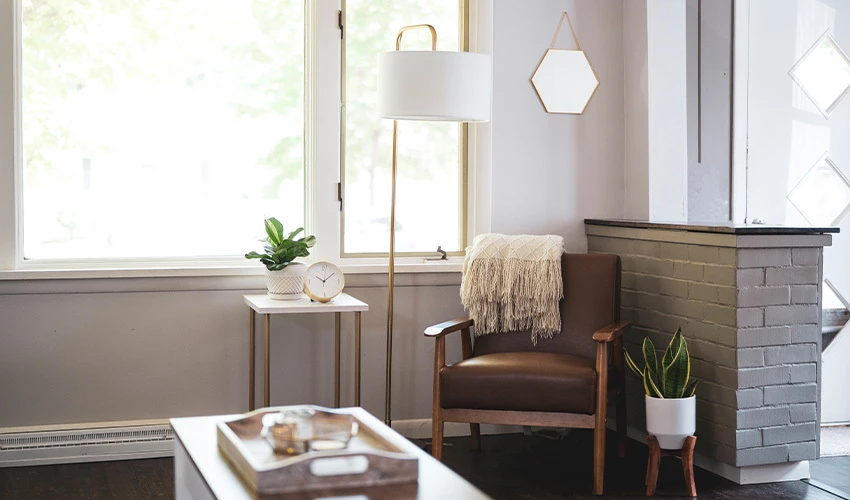 If you're looking for a fresh, inspired update for your home, lagom (a Swedish word pronounced lah-ghom) home design may be the style for you. In the last few years, lagom has taken the design world by storm with its emphasis on a balanced, happy, and sustainable lifestyle.
Read on to learn more about lagom style and how you can incorporate it into your home using perfect paint colors that promote a balanced ambiance.
A general translation of the Swedish word "lagom" is "just right," adequate, sufficient—not too little or too much. When it comes to home design, lagom is all about moderation, balance, and frugality. It's about achieving contentment by taking a lagom, or "just-right" approach, through upcycling, decluttering, and sustainable living.
One simple way to promote a balanced home environment is to choose the right paint colors.
Lagom aficionados lean toward colors that inspire tranquility, represent classic modernism, or that are an homage to nature.
If you'd like to bring more balance and contentment into your home, transform your walls with lagom hues—happy paint colors that make everyone in the room feel … well, just right.
Are there certain colors that make you feel happy and balanced? You may be surprised to learn how much the right paint can uplift a room's vibe.
Here are some of the Sherwin-Williams paint colors Swedish design fans are using to elevate their rooms to achieve a lagom state of mind:
Oceanside SW 6496: A complex, bold, blue-green jewel-toned shade that marries a touch of familiarity with a sense of the unknown.
Alabaster SW 7008: A soft, creamy white with subtle undertones of beige and grey that naturally reflects lots of light into the room.
Ellie Gray SW 7650: A soft, cool grey with stormy, bluish-green undertones that lends a peaceful, calming effect.
Only Natural SW 7596: A warm white with a bluish tint reminiscent of a bleached oak.
Once you've found the perfect happy paint colors, it's time to add the right décor and finishing touches to bring your lagom home design together cohesively. Practicing lagom means that you're no longer trying to make your home look like a magazine. Instead, you're striving for functionality, authenticity, and simplicity. It's all about enjoying life, your space, and the people living in it with you.
With this in mind, less is more. Contentment comes from making use of what is already available in your home and getting rid of excess.
Here are lagom design tips to inspire you:
Use natural materials, such as reclaimed wood, wool, linen, and other sustainable items.
Bring the natural world into your home with plenty of green houseplants. Hang them from the ceiling. Place potted plants on tables. Let vines fall from windowsills and shelves.
Declutter your living areas by throwing away or recycling anything you don't need; commit to removing at least one item from each room.
Place baskets and containers in each room; put items you can do without inside the containers to minimize stacks and piles of clutter.
Be bold in your room designs and don't be afraid to use color.
Use glass and mirrors to reflect light and make the room appear airier and larger.
When incorporating new furniture, keep it simple, choosing one statement piece to serve as the focal point.
Keep wall art to a minimum; if you want something on the wall, choose canvas prints and artisanal pieces that feature natural colors and images of nature.
Looking for that just-right paint color to bring lagom home design into your living space? Your local Five Star Painting pros are happy to help you find the perfect color. You can count on our painting experts to give you the gorgeous, long-lasting finish you will love. Call us today at (888) 261-3633 or request a free estimate online now.
A clean house is a happy house. Call our friends at Molly Maid for expert house cleaning services. Molly Maid is a fellow member of the Neighborly® family of home service professionals.