Winter Blues? These Cheery Paint Colors Can Help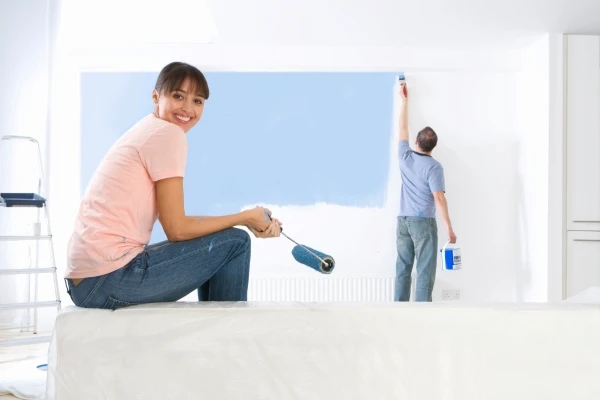 For many people around the world, winter can be a very gray and dreary season. A long winter can leave you feeling uninspired and a little down. The holidays can help alleviate some of this winter malaise. However, once all the decorations are packed away and the sky remains cloudy and the ground covered with snow, that dreary feeling may return; known as the winter blues.
One great way to combat this feeling is to liven up your home interior with some new, bright and cheery colors that infuse your home with energy.
Related Topic: What Color to Paint Interior House to Sell?
Cheery Bedroom Colors
Nearly every day will start and end in your bedroom, so what better place to start with a refresh? Here are a few good color options to make your bedroom a little cheerier from our partners at Sherwin Williams:
Blue Bell (SW 6793): This is a light color that promotes rest and calm. Making your bedroom a sky blue color can help with your sleep, which will have positive effects on the rest of your day.

Grasshopper (SW 6733): Green is a very natural color and evokes the feeling we get from being in nature. Pair this with some natural elements like plants or wooden furniture to complete this feel.

Potentially Purple (SW 6821): Much like sky blue, lilac is a soft color that encourages a calm feeling. Perfect for the spot where you'll be trying to relax as peacefully as you can.
Related Topic: Want to Spray Paint Perfectly? Avoid These Mistakes
Cheerful Kitchen Colors
So, now you're awake and out of your bedroom. You're probably headed to your kitchen for coffee and breakfast, so putting a new color in your kitchen can also help start your day right. Some colors that will help improve the mood of your kitchen are:
Pineapple Cream (SW 1668): Yellow is one of the cheeriest colors because of its obvious connections to the sun. A yellow room can make it feel like the sun is shining, even on a cold winter day.

Extra White (SW 7006): Although white isn't necessarily a "color," it's still a great option for your kitchen. White is often associated with purity and renewal, and starting your day with breakfast in a nice clean looking space can positively affect your mood.

Tuberose (SW 6758): Red is a warm color and has associations with things like fire and heat, perfect to liven up your house in the winter. Red (as well as yellow) have also been shown to stimulate appetite, which can also help with attitude and mood.
Happy Living Room Paint Colors
Let's look at one more room, and this one might be the most important due to the amount of time you'll spend here. Your living room is probably a focal point of your home and is where you, your family, and your guests will spend the most time, so you'll want to make sure that it is as inviting and rejuvenating as possible. Here are some colors that will achieve those goals:
Aquarium (SW 6767): Much like we said about light blue and green, teal has a natural feel while also being very calming. In a living room setting, you can reap benefits of both the calming elements of the blue and the grounding elements of the green tones.

Goldenrod (SW 6677): A richer version of a traditional yellow, goldenrod brings warmth to any room by evoking the sun (much like traditional yellow) while also reminding one of a field of goldenrod flowers, the namesake of the color. This will bring life to your living room's color palate.
Changing the Mood
Winter can be a dreary season, but there's no reason your house can't be cheery and bright year-round. Using these colors can add warmth and lighten the mood in any room in your house. If you need help, contact your local painting pros at Five Star Painting. Whether you want one room, or your whole house painted, we can help you get it all done. Give us a call at (888) 261-3633 or request a free estimate online.