Five Steps to Successfully Painting Laminate Cabinets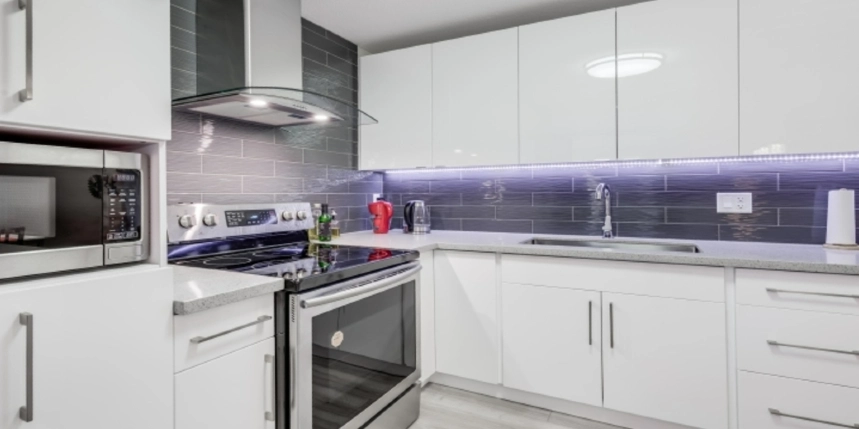 One of the best ways to rejuvenate an old house is to give the kitchen a makeover. However, that can be incredibly expensive and might not be within everyone's budget. New cabinets, countertops and appliances are all high-dollar items and that could put a kitchen remodel out of your grasp.
However, there are less expensive ways to give your kitchen the facelift that it needs. Painting the laminate cabinets is a great way to inexpensively breathe new life into an old kitchen. With just a few simple steps, you can give your cabinets a new paint job that will last for years.
We've put together a guide that includes the most important steps for ensuring a long-lasting coat of paint for your laminate cabinets. By following these instructions, your cabinets can have a professional sheen that will give your whole kitchen a look that's good as new.
Remove the Cabinet Doors and Drawers
The first step in any professional cabinet paint job is removing the cabinet doors and drawers. This will allow you to get the entire front-facing area of the cabinets painted without the possibility of paint building up or dripping in the cracks. To get started, take the doors and drawers and all the hardware off and separate them to another area to be painted on their own.
By removing the doors and drawers, you can ensure there will be no missed spots or uneven paint strokes. Some areas of the cabinets may be difficult to reach with the doors attached, so removing them ensures a clean coat of paint all over.
Use a Cleaner or Degreaser to Remove Dirt and Grease
One of the most important steps before you start painting is to clean the cabinets, doors and drawers with a high-quality cleaner or degreaser. Cabinets tend to collect dirt and grease in the kitchen more than almost any other surface. This is due to their proximity to the cooking surfaces in the kitchen, as well as the fact that they are incredibly high-touch areas.
Make sure you use a cleaner or degreaser that's rated safe for woods and laminates. There are all kinds of cleaning materials available and some of them may be too harsh for use on your cabinets. By getting a proper cleaner, you can be sure that you won't damage the laminate or the pressed wood underneath it.
Sand the Cabinets with a Fine Grit Sandpaper
In order to give your cabinets a smooth, even coat of paint that won't chip or flake off, it's important to first make sure the surface is completely even. In order to do this, sand the cabinets and doors with a fine grit sandpaper. This will ensure there are no dips or crevasses for paint to pool in, which can cause the paint to improperly dry or peel.
To sand correctly, use long strokes that go with the grain of the wood. Sanding against the grain will create grooves, spoiling the look of the surface when you apply paint. Be sure to use sandpaper that has a grit between 80 and 120. The higher the number, the finer the grit will be and the less likely you are to damage the surface.
Use a High Adhesion Primer
Priming a surface is one of the best ways to ensure a high-quality paint job on your kitchen cabinets. Primer has a dull, matte finish that's a mixture of liquid and adhesive. Applying primer to your cabinet surfaces will also help smooth out any inconsistencies.
When applying the primer, spray it evenly in long strokes about 10 to 12 inches away from the surface of the cabinets. It is also best to spray along the grain as best you can to promote an even application. Always be sure that the kitchen is well ventilated whenever you are using aerosol spray cans.
Finish with Semi-Gloss and Glossy Paint
To apply the final finishing coat to your cabinets, choose the color you prefer in a semi-gloss or glossy paint. These paints have a thick consistency that holds up well in the moist, high-touch areas of the kitchen. They'll also help cover up any uneven areas you may have missed when sanding or applying the primer.
When brushing on the paint, be sure to clean your brush regularly and keep it free of other debris. Semi-gloss and glossy paint will show your brushstrokes easily, so it is very important that you apply it evenly and directly on the laminate of the cabinets. Once your paint is completely dry, replace the hardware, rehang the cabinet doors, and you're done!
Although painting your own kitchen cabinets is possible, it can be incredibly labor intensive. Removing the cabinet doors and hardware, then sanding, and applying primer can take a long time and expenses can add up.
Five Star Painting can paint your cabinets for less than the cost of replacing them and will do all the work quickly and professionally. Schedule a free estimate today to get your kitchen the rejuvenated look it deserves!