Living Room Accent Wall Colors - What Not to Do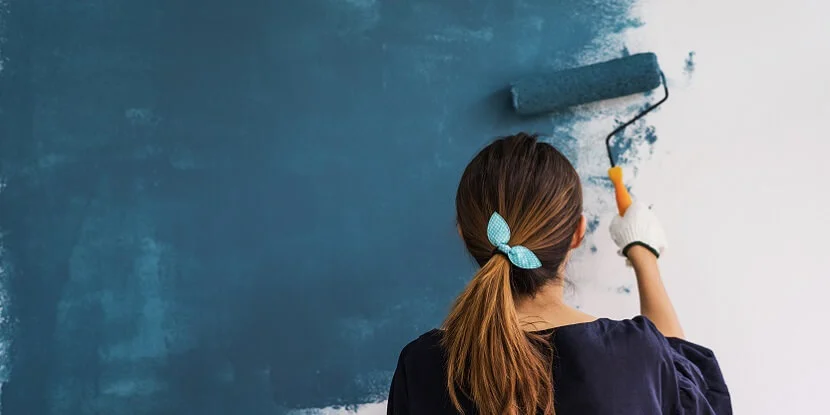 Have you been looking for advice on living room accent wall colors and only finding ideas for what you should be doing, but not what pitfalls to avoid? It can be hard to narrow down all your options by only looking at what works. You may also need to know what doesn't work in order to make the right choices for your home. In this article, we will help you figure out what not to do when choosing living room accent wall colors.
Pick the Wall Wisely
Don't Paint Two Accent Walls
The whole point of an accent wall is to make it pop and stand out in the living room. In order for it to work, it should stand alone. By choosing to paint two accent walls, the effect is diminished and it can take away from the definition that it is supposed to provide. Painting two of them with an accent color or pattern will confuse the eye and lessen the impact of the accent.
Living room accent wall colors are generally meant to add an illusion of space and drama to a room. They can not only help tie a room together, they can be a statement of your individual style. However, by painting two of them, you run the risk of making the room look smaller instead of larger.
Don't Paint a Short Wall as an Accent Wall
One of the major benefits of a living room accent wall is that it can provide a backdrop for furniture or other architectural features. If you paint a short wall in an accent color, you may not have room for the piece of furniture that you want to showcase.
It will also not have the same expanding effect that a longer accent wall gives a room. Living room accent wall colors are meant to draw the eye and be a focal point to anchor the rest of the decor. If you choose a short wall for this purpose, it will not have enough of a surface area for this effect.
Pick the Colors Wisely
Don't Match Colors to Other Walls
An accent wall should not match the other walls in the room. It should be chosen based on the furniture and the other decor that is going to be included. This helps tie the entire room together and gives you an opportunity to coordinate other items with the living room accent wall colors.
By matching the colors to the other walls, the decor of the room is left out of the equation. Worse yet, it can become too uniform and offer little contrast. This can lead to a less dramatic feel.
Don't Overdo It
Living room accent wall colors should be unique and interesting. However, it is easy to go too far and choose a color that doesn't work with the rest of the living room. Be sure to avoid choosing a color just because it is exciting. That could lead to a clash that makes the room unpleasant.
When choosing accent wall colors, don't look for colors based only on how bold they are. Choose them based on whether or not they will work with your furniture and décor items like throw pillows, rugs and other accent pieces.
Don't Forget About the Effects of Lighting
Windows and artificial light play a big part in how colors interact with each other. Be very wary about how the room will be lit. Intense natural light tends to make darker colors look brighter. Conversely, it can make lighter colors look dull and uninspiring.
Artificial light can also make all the difference with living room accent wall colors. Check how light bulbs are rated to determine how intense they will be and how they will affect the accent wall. If you want to learn more, visit this link for in-depth information on how lighting can affect paint colors in your home.
If you would like more advice on how to choose the best living room accent wall colors, the professionals at Five Star Painting are more than happy to help. We can give you the best possible guidance for making the most of your accent wall. Call (888) 261-3633 or request a free estimate online!