Unique Fence Painting Ideas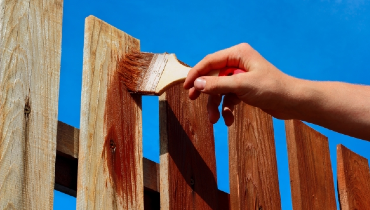 White paint and wood stain are not the only options when it comes to your fence. There are ways to get creative with your fencing, while still matching the aesthetic of your home's exterior.
If you have a vision for your fence but lack the time or know-how to get it done right, the pros at your local Five Star Painting can bring your unique (or conventional) fence painting ideas to life.
Decorative Fence Ideas
Many homeowners use their yard as an extension of their living space. A great way to get started with your brainstorming process is by taking note of your interior colors, paint textures, décor patterns, and mixed materials. For example, if your home interior mixes soft colors with exposed wood, you may like the idea of painting two-thirds of your fence one of your interior colors and leaving the top third of your fence freshly stained. Or you may take inspiration from a painting or decorative fabric inside your home to create a whole new unique space outside with your fencing paint job.
To get started, here are some out-of-the-box ideas:
Go Bold with Colors and Patterns
Paint your fence a bold yellow, soft green, or warm sky blue, and then match your front door with the same color.
Or select a few colors that complement your home's exterior color, assign them each a number (1, 2, 3, etc.) and order them in a desired pattern. Then, paint each picket using this repeated pattern! You can even double up your numbered pattern (1, 1, 2, 2, 3, 3) to create a softer flow of color. Then, paint each lateral piece an additional complementary color, a neutral or bright color, or even a bold pattern.
If you like the idea of a unique geometric pattern, you can use painter's tape to shape out your design with layered circles, squares, or triangles, or strategically scattering these colorful shapes across your fencing. Other patterns to consider are honeycomb, polka dots, or checkerboard. Figuring out these cute patterns to paint is also something you can do with your friends and family.
Related Topic: Geometric Design Patterns
Create a Mural
If geometric patterns aren't your style, maybe a mural-style painting is. Flowers, plants, and butterflies can complement your outdoor garden utopia. You can even paint the flowers or plants near the base of your fence to create the illusion they're blooming up from the ground. Sketch out your design before painting, or use botanical stencils to create a more polished look.
Or try painting palm trees and beach sand to take you on vacation in your own backyard. You can use your fencing paint job to build an outdoor oasis in your backyard.
Personalize with Text
A subtle but meaningful approach when it comes to decorative fence ideas is to paint the fence a solid color and use a stencil, painter's tape, or a pencil to freehand a text overtop. A meaningful quote, family motto, or message for your visitors is a beautiful way to customize your fence and show off a bit of your personality in the process.
Whether you want a state flag, the name of your alma mater, a garden mural, or a scripted quote on your fence, expressing yourself through unique fence painting ideas is a great way to truly make your yard your own.
Related Topic: Pressure Wash Your Fence
Have Other Painting Projects? Trust the Pros to Get it Done
Painting your fence can add a nice accent to the exterior of your home. It's also a great way to add your personal touch. Once you complete your fence painting project, you may realize there are other things in and around your home that need painting. That's where your local pros at Five Star Painting can help, with expert interior and exterior painting services that can help beautify your home. To find out more, call us at (888) 261-3633 or schedule an estimate online.