When you own a house, it's crucial that you maintain the property so that the house doesn't lose its value. One of the ways to boost your home's curb appeal and raise its value is to give it a fresh coat of paint.
At Five Star Painting of Buford, we are happy to help you transform the exterior of your property and discuss the ideas that you have.
Get your free estimate. Call us or schedule online!
Increase Your Property Value
Updating your trim, painting your fence, or painting the entire exterior of your home can do wonders for your property. You don't need an entire renovation to boost the curb appeal of your home and raise the property value.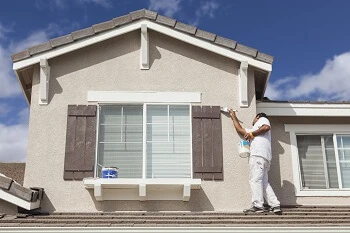 Paint jobs can turn a previous eyesore into the most attractive house on the street. Five Star Painting of Buford offers efficiency and years of experience to help give your house a new look.
The painting contractors we work with can paint on various surfaces, such as:
Brick
Aluminum
Cedar shingles
Vinyl siding
Stucco
There are many exterior paint options we offer. Call us today or contact us online to discuss your choices. Free estimate!
What Exterior Paint Services Do You Offer?
Five Star Painting of Buford, is equipped to take on many jobs when it comes to sprucing up your home's exterior. We can paint your house or portions of your exterior.
Here are just some of the exteriors that the painters we work with can paint:
Fences
Garages
Sheds
Decks
Exterior doors
Porches
Trims
Driveways
The Exterior House Painting Process
At Five Star Painting of Buford, the painters we work with strive to be both professional and efficient when they work on the exterior of your home. Their process is detailed, and they do their best to make sure that everything is right for them to paint. After they have taken care of everything on their list, they will start to apply new coats of paint.
If you'd like to know more about our exterior house painting process, call or contact us online to get started with a free estimate.