Why Choose Us to Paint Your Cabinets?
We're owned and operated by Taylor Green. He's very involved in each of our customers' projects and has 25+ years of home improvement experience.
We're backed by a whole team dedicated to delivering customer-focused, quality-driven™ service from start to finish. We make sure you're completely happy with our work and will fix something if it's not quite right.
At Five Star Painting of Durham and Chapel Hill:
We complete projects on schedule and on budget.
We work around your schedule.
We take precise measurements to help avoid surprises or mix-ups.
We back our cabinet painting services with a two-year warranty.
We're highly rated for our responsiveness, value, and top-quality service.
We run a tight ship to ensure you get the best service possible.
Searching for trusted cabinet painters near you? Schedule your free estimate today by using our online scheduler. We look forward to serving you!
Revitalize Your Home With Cabinet Painting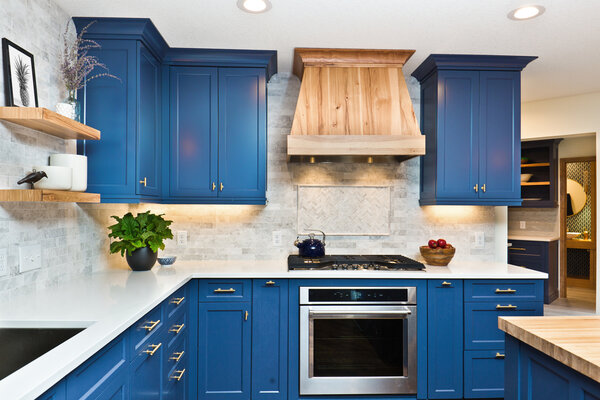 Do you want to update your home but feel as if something is lacking with your cabinetry? Are you thinking of renovating a room in your house that has outdated and drab cupboards?
Adding a fresh coat of paint to old cabinets is a practical way of bringing life back to a room that currently feels dull or at odds with your preferred decorating style.
If you are contemplating your next home remodeling project in Durham, and you're unsure of how to proceed, contact Five Star Painting of Durham and Chapel Hill to learn more about our cabinet painting services in the Durham area.
Discover how Five Star Painting of Durham and Chapel Hill can transform your current cabinets into showpieces at a fraction of the cost of purchasing and installing new ones.
Book your free estimate today to see how we can be of service. With our help, you can renovate your cabinets without replacing them.
We Handle All Sorts of Cabinets
When many people think of cabinets, their minds go automatically to the kitchen. However, in modern designs, cabinets are seen as more versatile, and they're found throughout different areas of the house.
We deal with them all, and we're prepared to paint or refinish cabinets and shelving in your:
Bathroom
Dining room
Home office
Study or den
Laundry room
Pantry or closet
Garage or workshop
Finished basement or attic
Is it time to update and renovate the cabinetry in your home? At Five Star Painting of Durham and Chapel Hill, we have you covered.
Ready to get started? Schedule your free estimate online and move forward with your home's next renovation project.
Frequently Asked Cabinet Painting Questions
How long will my freshly painted cabinets last?
With proper upkeep and maintenance, you can expect your freshly painted cabinets to last up to 8-10 years.
Looking to learn more about how cabinet painting can benefit your home? Painted cabinets are designed to last. The time your cabinets' new coat will last will primarily depend on what type of paint you decide on and if your cabinets were professionally painted.
Are white cabinets going out of style?
White cabinets are not going out of style. In fact, their popularity has been increasing over the past few years due to their timeless look, versatility, and durability.
They can easily be paired with a variety of countertops and backsplashes, making them ideal for any kitchen design. Additionally, they have become a popular choice for modern designs because of their neutral color which can be customized with hardware or paint.
With proven longevity and aesthetics, white kitchen cabinets will continue to remain a top choice for many homeowners in the coming years.