Because the interior of your home isn't exposed to the elements, it doesn't need to be repainted, right? Not necessarily. Although interior walls don't require as much maintenance as your deck or siding, they still need to be repainted. How often? That depends on which surface and where it is in your home. Hallways and corridors should be repainted every two to three years, whereas a bedroom may only need a new coat of paint every decade.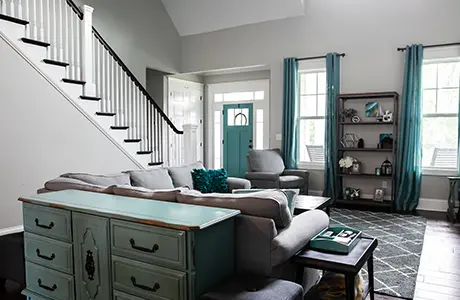 Five Star Painting is here to help homeowners maintain their homes with expert painting services. Keep reading to learn the proper maintenance intervals for your interior walls.
Interior Wall Maintenance
Are you an empty nester? Do you have a gang of crayon-wielding kids running down your halls? Is your dog spatially unaware? The maintenance interval for your interior walls will depend largely on how much traffic you have in your home. Use these tips as general guidelines, and if you're looking for help with painting, be sure to reach out to your local Five Star Painting.
How Often Should I Paint My Kitchen?
Kitchens see a lot of grease splatter, steam, and smoke, which builds upon paint over time. Kitchens should be repainted every four to five years to eliminate built-up from stains and odors. Don't forget that these walls will need to be cleaned well before they're painted!
How Often Should I Paint My Hallways?
Since hallways and corridors see the most traffic, they typically have the most scuff marks, scratches, and dings. Paint your hallways every two to three years to keep your home looking great.
How Often Should I Paint My Baseboards and Trim?
Like your hallways, your baseboards bear the brunt of vacuums, foot traffic, and runaway toys. Paint your baseboards every two to three years to maintain their appearance. Door and window trim and crown molding are safely out of reach and don't require paint as often. However, if you don't clean these areas periodically, dirt and dust can degrade the paint over time. You'd be amazed how a fresh coat of paint on these surfaces can revive a room.
How Often Should I Paint My Bedroom?
Again, this depends on who claims this space. A kid's room should be repainted as soon as they're old enough to know that the walls are not their drawing board. The master bedroom and guest room can probably go about ten years without a new coat of paint. But if you're looking for a fresh look for your home, a splash of color is an inexpensive and easy way to go about it.
How Often Should I Paint My Ceilings?
Ceilings typically don't need to be repainted unless the room has sustained water or mold damage. However, if you're repainting an entire room, a fresh coat of paint on the ceiling will help it match the sheen and look of the update you made. Additionally, if your ceiling has discoloration (such as from cigarette smoke) that you just can't get rid of with cleaning, paint can freshen it up in appearance and smell.
Interior Painting Services
The lifespan of interior paint jobs isn't just about wear and tear. It can greatly vary depending on the quality of the initial prep work, the paint, and the application process. This is why some homeowners find peeling walls or an uneven look after just a few years. A quality primer and proper drywall prep, for example, are important steps to ensuring longevity.
When you hire Five Star Painting to paint your interior walls, you'll enjoy peace of mind, knowing you'll get only the best interior painting services. Our interior painting experts can also repair drywall, baseboards, and trim, and they'll even remove wallpaper. All our residential painting services have a two-year warranty. Ready to get started? Give us a call at (888) 261-3633 or schedule a free estimate online.