Whether you just moved into a new home or you're ready to give your kitchen a facelift, the cabinets are a great place to start. Kitchen cabinets take up a lot of visual real estate in a kitchen and influence the overall feel and design of the entire space.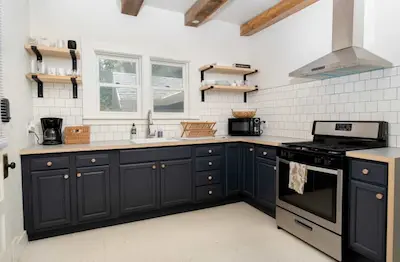 Homeowners should replace their kitchen cabinets if they're doing a kitchen remodel and painting the existing cabinets is cost-prohibitive or not practical. This includes cabinets with water damage, broken hardware, or panels that are past the point of repair. However, there are a lot of different variables you need to consider before replacing your kitchen cabinets, and Five Star Painting is here to help!
Cost of Painting Cabinets vs. Replacing
When updating your kitchen, painting your kitchen cabinets is by far the most economical option, but it can be a big job. If you decide to paint the kitchen cabinets yourself, expect to spend between $200 and $300 dollars on paint and supplies. That sounds like a deal, right? But remember, this does not include your time. Painting kitchen cabinets is labor-intensive, and if you want the finish to last and look good you can't rush this process. In comparison, new kitchen cabinets start around $10,000, depending on the amount of customization.
Considerations When Updating Kitchen Cabinets
If you want to paint your old cabinets, carefully inspect their integrity first. Synthetic materials like particleboard or thermofoil aren't the best materials for refurbishing, especially if damaged. Some cabinets may not be in good enough shape to accept new hardware, or you might decide that installing new hardware isn't worth the money, time, or effort, and the cabinets are simply better off in the dumpster.
Painting your existing cabinets is a good option if you're satisfied with the design and look of the cabinets. On the other hand, if you have outdated kitchen cabinets and you're looking for a more elegant design with stiles, rails, or glass panes, a coat of paint won't help.
If you're replacing or relocating appliances or walls in the kitchen, you may need to adjust your existing cabinetry accordingly. In this situation, homeowners are probably better off putting the budget toward new cabinets than trying to retrofit the existing cabinets for the new space.
Professional Cabinet Painting
If you're happy with the design of your cabinets and they're in good shape, painting them is a great way to save money during a kitchen remodel. If you don't have time to paint your own cabinets, Five Star Painting's kitchen cabinet painting services can help.
Our experts will take care of all the prep work and can even install new knobs or hardware to complete the look. We can also help you find the perfect color to match your remodel.
Give us a call at 888.261.3633 or request an estimate online for kitchen cabinet painting services you can trust.