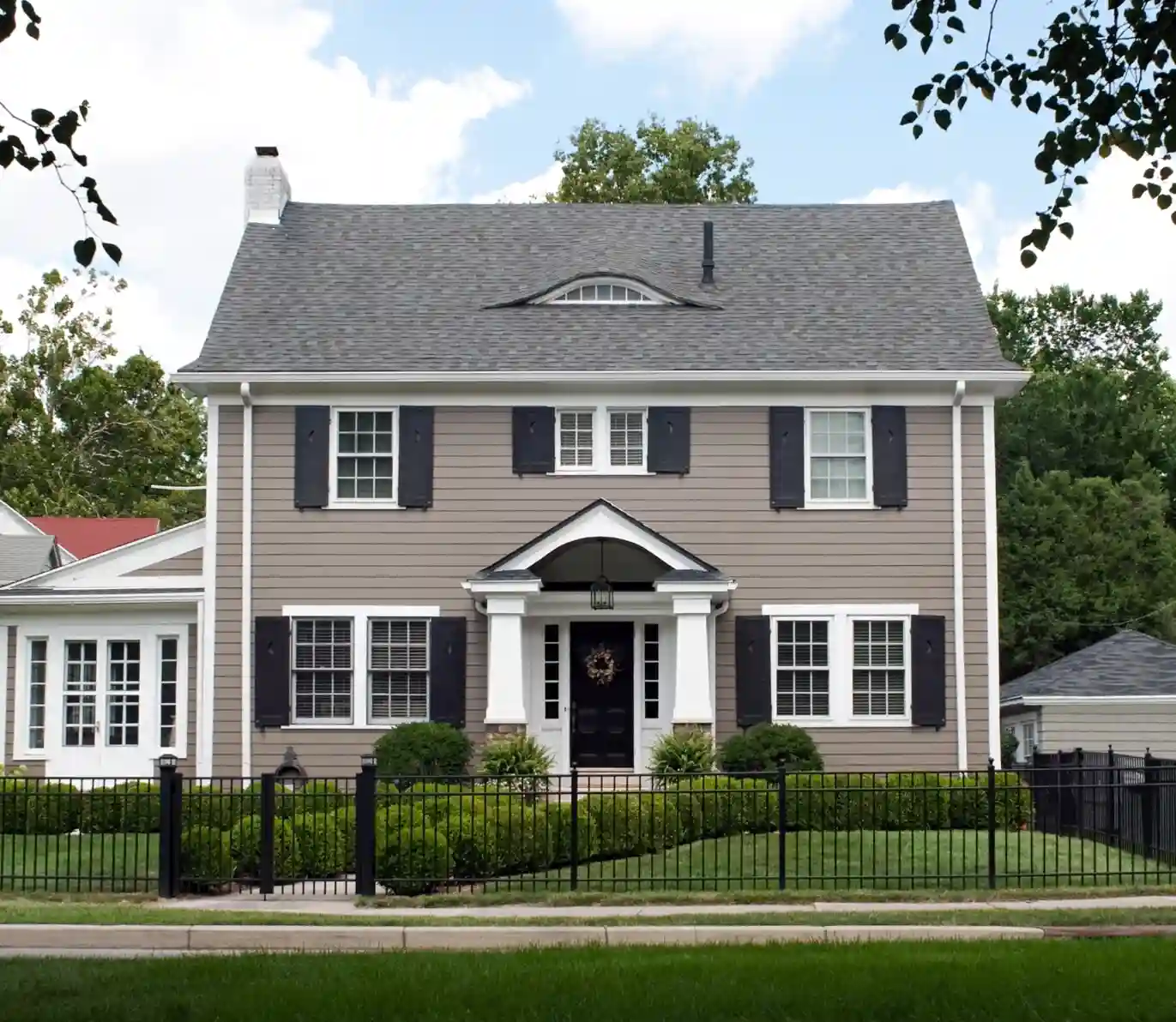 Five Star Painting of Howell and The Jersey Shore is experienced in helping you with your residential exteriors.
Our exterior painters can tackle areas such as:
Garages
Sheds and outbuildings
Decks
Pools
Roofs
Porches
Barns
Children's playhouses
Doors
Trims
Fences
Count on us for customer-focused & quality-driven exterior painting services. Call us or book your FREE estimate online.
Our Exterior Painting Process | How We Paint & What to Expect
Our Howell exterior painters follow a meticulous process to ensure your project is complete to the highest quality. We also go above and beyond to deliver a customer-focused experience, too. Our quality-driven, customer-focused™ service is displayed during each phase of our exterior house painting process.
Below you'll find information about our process and what you can expect along the way:
Free Estimate Appointment: We offer a free, no-obligation estimate appointment to assess your exterior painting needs. During this appointment, we will inspect your home and discuss the project with you to get a better understanding of what you're looking for. We take accurate measurements of everything and leave no stone unturned. This way, we can help avoid surprises or mix-ups during the project.
Scheduling the Project: We understand that your time is valuable, which is why we schedule the project around your schedule. We will work with you to find a time that is convenient for you and fits within your timeframe. We'll also take the weather into account.
Performing Prep Work: Proper preparation is essential to ensure a quality, long-lasting paint job. We will power wash your home to remove dirt and debris, scrape and sand any loose or peeling paint, and fill any cracks or holes to ensure a smooth surface.
Applying the New Exterior Paint: We use high-quality exterior paints and materials to ensure a beautiful, durable finish. Our skilled exterior house painters will apply the new paint using proper techniques to ensure even coverage and a professional look.
Performing a Walk-Through: Once the project is complete, we will perform a walk-through with you to ensure that you are satisfied with the work. If there are any concerns or touch-ups needed, we will address them at this time.
Clean-Up: We take pride in our work, which is why we leave your home clean and tidy. We will remove any debris or equipment used during the project and leave your property looking its best.
Remember, at Five Star Painting of Howell and the Jersey Shore, our goal is to exceed your expectations. We take pride in our work and are committed to providing excellent customer service throughout the entire process. And for your peace of mind, we back our work with a two-year warranty.
If you're ready to get started, schedule your free estimate online today. Our exterior painters proudly serve Howell and The Jersey Shore!
Need to Meet HOA Standards? Our Howell Exterior Painters Can Help!
Have you found out that your new home doesn't meet your HOA's standards? Don't panic! We can help.
What Exactly Are HOAs?
Homeowners' associations, or HOAs, are organizations that are responsible for governing the conditions of the land and the property of particular neighborhoods.
In short, an HOA can create regulations for a variety of issues, such as:
Landscaping,
Structures on a property,
Ornamentation, and
The color of your home.
When Homes Don't Meet HOA Standards
Sometimes, homeowners find out that their home doesn't meet their HOA's standards.
For example, some homeowners have mistakenly painted their house's exterior or other structures on their property the wrong color.
When this happens, homeowners may need to:
Repaint the house, or
Pay steep fines
If the fines aren't paid, then the HOA can file a civil suit against the property owner.
Are you facing a similar situation? Your HOA will probably need you to get your property into compliance as soon as possible. Five Star Painting of Howell and The Jersey Shore can professionally and efficiently take care of the job for you.
We Can Stain Your Exteriors, Too.
As long as the color fits the requirements of your HOA's rules, then perhaps you should explore having wood stain applied to your exteriors.
Staining looks especially great on decks. And applying stain to a structure such as a workshed adds character.
Best of all, we'll leave our project areas as clean as possible.
Need to unify the color scheme of your exteriors with other homes in your neighborhood? Book your free estimate online or call us.