Our Interior Painting Services
We're experts at delivering crisp, clean lines at corners, trim, and molding. We can paint many kinds of surfaces. From a single room to a whole home, we're committed to working with you to create the project you envision.
Our Kalamazoo interior painters can update these rooms and more:
Bedrooms
Entry halls
Laundry areas
Playrooms
Living rooms
Dining rooms
Dens
Kitchens
Sunrooms
Home offices
Master suites
It's possible to completely change the look of your interiors with paint. Our Kalamazoo interior painters are professionals who can cover your walls with results like those you see in décor magazines.
Interior Painting Services for Any Mood, Look and Feel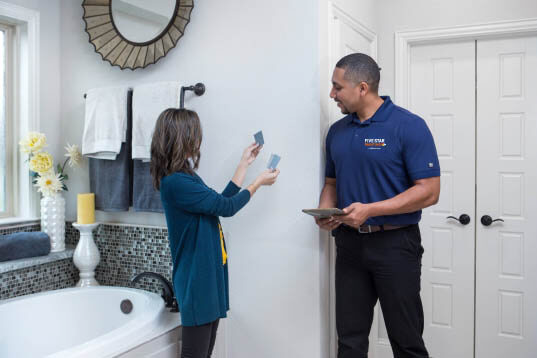 At Five Star Painting of Kalamazoo, we can improve the way you live in any space. Sophisticated, modern, traditional, or cozy are just a few of the color palettes we can use in your floor plan. You choose, we paint.
Struggling to Choose the Right Colors? We Can Help.
If you're struggling to find the right colors for your home, we can help. Frankly, there are millions to choose from and trends change often. We'd love to help you pick out the best colors for your interiors.
Ask us about special finishes and techniques we can apply for you. Our interior painters know how to deliver the clean, fresh look you're envisioning.
Book your free estimate online .Count on us for quality-driven interior painting in Kalamazoo, MI.
Transform Your Home With Our Custom Interior Painting Services
Our interior painting services and process are tailored to you, our customer. During the whole process, we'll treat you as our only customer.
In fact, one of our project managers will personally oversee your project from start to finish.
Our Estimators are Thorough
During your free estimate, our estimator will get precise measurements of your home. They'll also ask all the right questions to know exactly what you're looking for.
If you need any design tips or recommendations, we'll be happy to offer our expert opinion.
We Work on Your Schedule
If you approve the estimate, we'll schedule the project around your schedule. And you can count on us to treat your home as if it were our own.
We Handle All of the Prep
Concerned about holes in your drywall or chipped paint? Don't worry - we'll take care of it for you.
Just some of the prep would include:
Removing failed paint
Filling holes and repairing surface flaws
Sanding, smoothing, and cleaning your surfaces
Applying painter's tape
Covering your furniture
Priming your walls and ceilings
The Fun Part - We Paint
Once the prep is done, we'll apply the new paint. This is the fun part! We just love the looks on our customers' faces when their home is transformed.
We'll use premium paint and proper paint application techniques. Both of which are essential to a long-lasting paint job.
We'll Perform A Walk-through
Once the interior painters are done, we'll walk through the project with you. This step is essential so you're satisfied with the work.
We Warranty Our Interior Painting Services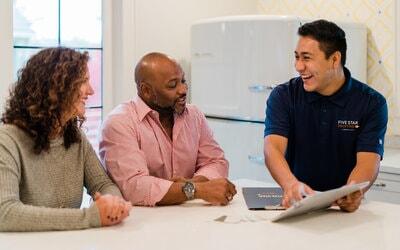 Finally, we'll leave you with atwo-year warranty. We stand behind our work and we want you to have full confidence in choosing us.
Upgrade your interior style with a free paint estimate. Contact us today to speak to an expert about the project you have in mind or contact us online.
Interior Painting | Frequently Asked Questions
When is the best time to have our interiors painted?
Unlike your exteriors, your interiors can be painted year-round. That's because interior paint isn't subject to failure from inclement weather! That said, a great time to have your interiors painted is the winter.
Do you need both exterior and interior painting done? Getting your interiors done in the winter leaves plenty of time in the spring and summer to have your exteriors painted.
Is it necessary to have clean walls before applying paint?
If you want a high-quality and long-lasting paint job, yes. Painting over dirty walls is a common cause of premature paint failure.
With our interior painters handling your projects, you won't need to worry about any of the prep! We'll ensure your surfaces are ready before applying the new paint.
Do you offer financing?
Yes, we're pleased to offer interior house painting financing options. Get in touch with us to learn more!
Looking for a painting company with financing near you? We can help! Reach out to us online to learn more about our financing options.
Why Choose Five Star Painting of Kalamazoo?
We're customer-focused and quality-driven interior painters. This drive for your satisfaction and delivering quality work is at the core of everything we do.
We're locally owned and operated by AJ Dulinski. At the same time, we're backed by a national house painting network with over 15 years of experience.
Renew the Appearance of Your Home Instantly
Our Kalamazoo interior painters are qualified and dedicated to showing up on time. Leaving behind a neat job site is the way we roll. No messes or spills for our customers! Five Star Painting of Kalamazoo handles all the hard work for you, so you can enjoy a beautiful home every day.
Customer-focused Interior House Painters Near You!
We're not happy until you're happy. Your satisfaction is of the utmost importance to us. Each home is unique, and we'll approach yours with care and precision. It's why customers return to us, again and again, to help renovate their interiors.
Excited to get started? Call us at (269) 666-6643 or contact us online for a free estimate. Our Kalamazoo interior painters are customer-focused and quality-driven!