Ready to get started? Call us or reach out online to book your free estimate! We cannot wait to enliven your home.
Why Should We Hire Professional Residential Painters?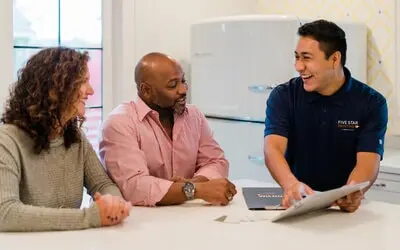 DIY Work is Harder Than You Think!
There's a lot that goes into painting both the interior and exterior of your home. You have to properly prep the area to prevent accidental paint drips or slips.
Then you have to prepare the surfaces that need painting, which may include some minor repairs. Finally, you have to clean it all up when you're done.
For people who try to DIY the project, it often takes two or three times as long as expected. It also usually means needing more supplies than budgeted.
In many cases, it is easy to accidentally damage surrounding areas because of improper preparation and technique.
Professional Painters Deliver Quality Work
The painters that Five Star Painting of Lubbock contracts with work hard to get jobs done right the first time, as well as on schedule and within budget.
They understand how important it is to have the job done completely. That's why they carefully prep the area before beginning and take care to clean up when they're done.
Call to schedule your free on-site estimate with our house painters in Lubbock, TX.
How Our Lubbock House Painters Can Help
Is it time to upgrade your home for moving? Or is it time for that routine exterior paint job? Count on us to get your job done right the first time!
Keep Your Home's Curb Appeal

Our residential painters can help restore your home's curb appeal with our exterior painting services!
When your home's exterior loses its vibrancy, it looks old and even a bit run-down. This sets a poor tone for anyone entering or driving by your property, including your own family.
A fresh coat of paint is a simple change, but it can help immediately restore much of that curb appeal. As you drive up, you'll experience the satisfaction of being home. And if you're selling, a new paint job can help set a positive tone for all your showings and open houses.
Make Your Interior Look Clean and New Again

Most spaces in a home need a fresh coat of paint every three to five years to keep everything looking good.
The paint around the interior of your home can make the difference between a space that feels comfortable and full of life and one that feels dirty and depressing.
Unfortunately, even a well-maintained home can suffer from fading paint. Airborne contaminants and natural light, for example, make paint fade and lose its vigor over time. At Five Star Painting of Lubbock, we'll do our best to restore the interior of your home with our painting services.