Bear, DE Painters
Skilled & Efficient Painters Near You!
Do you have a residential or commercial painting project on your to-do list? Call Five Star Painting of Middletown and Bear and mark it off! Our professional Bear painters can provide a variety of services to residents and businesses throughout Newark and the surrounding areas. We are proud to provide superior services to our customers and utilize skilled painters who can transform the look of any home or business.
Residential Painting and Commercial Painting
Whether you're a homeowner or a business owner, we have your residential and commercial painting needs covered!
Residential Painting
Our residential painting services include:
Wallpaper removal
Popcorn ceiling removal
Deck painting & fence painting
Pressure washing
Commercial Painting
Our commercial painters can paint interiors and exteriors for:
Hospitality
Industrial
Education centers
Property management
Religious institutions
Gyms & fitness centers
Whether you need residential painting or commercial painting, our local painters can help! Book your free estimate by contacting us online or giving us a call at (302) 407-0482.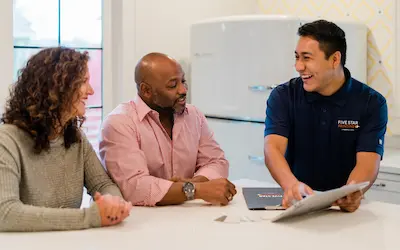 What Sets Five Star Painting of Middletown Bear Apart?
Clean

We provide daily and end of job clean-up, so that you can enjoy your freshly painted house mess-free!

On Time

Our dedicated Project Managers keep the job running on schedule and will communicate daily progress.

On Budget

Once we provide you with an estimate, we stick to it. No surprise fees!
Schedule Free Estimate
Searching for Customer-focused House Painters? We Proudly Serve New Castle, Newark, Middletown, & Beyond!
If you're looking to boost your home's value or improve your commercial building's first impression, you want to ensure you have high-quality painters on the job! We believe our painters are the ones you need because:
We provide professional services at honest prices
We are a local company in our community
We are experienced color specialists
We arrive at jobs on time and cater to your schedule
We are respectful of your time and budget
We keep job sites clean and take the mess with us
Take a look at our portfolio of completed projects by clicking through to our photo gallery!
Ready to get started? Call us at (302) 407-0482 or reach out to us online to book your free estimate!
Yes, we do! We offer a two-year warranty for our residential and commercial painting services. With us, your job isn't done until it's done right!
Yes, high-quality and premium paints are essential to a long-lasting paint job.
Lower-quality paints do not bond and adhere to surfaces as well. This means you'd need a new paint job sooner rather than later.
At Five Star Painting of Middletown and Bear, we only use premium paints to ensure your new paint job amazes and lasts for years!
At Five Star Painting of Middletown and Bear, we're quality-driven and customer-focused.
When you call, we answer your call or we'll return your call promptly.
If anything needs to be fixed or touched up, we'll take care of it!
We show up when we say we'll show up!
We're locally owned and operated by Kathleen Ann Stracke. His goal and desire are to provide you with amazing customer service from start to finish.
Visit our Meet the Team page to learn more about us!
House painting during the winter depends on what type of house painting work you're having done. Our winters in New Castle and Bear are brutally cold which aren't the ideal times for exterior house painting.
Interior painting, on the other hand, can absolutely be done in winter! Since the paint is being applied inside your home, we won't have to worry about paint freezing since the air temperature inside is much warmer than the outside air temperatures.
Having said that, while you're having interior painting work done, it would be a good idea to ensure your house is heated to help the walls and ceilings stay warm for the paint application. Our interior painters can work with you on those fine details when the time comes!
Yes, we paint ceilings! When it comes to interiors, we can paint ceilings and walls in your living room, bathroom, kitchen, dining room, bedrooms, stairwells, hallways, basements, and even your garage. If you have interior painting needs which aren't included in this list, simply give us a call at (302) 407-0482 to discuss your needs!
Interior painting is a great way to enliven your home and even boost your home's curb appeal and value. This is why some homeowners repaint their interiors before putting their homes on the market. Interior painting is also necessary to keep your home well-maintained.
On average, your interior rooms ought to be repainted every 2 to 12 years. Rooms that receive quite a bit of foot traffic and more wear and tear, like hallways and bathrooms, will likely need to be repainted every 2 to 4 years. Bedroom paint jobs, on the other hand, can last about 10 to 12 years. Visit our interior painting page to learn more about our painting services.
Professional painters eat, sleep, and breathe painting. They're the experts when it comes to painting and have all of the time, tools, techniques, materials, and paints for the high-quality paint job your home needs. Additionally, they'll know how to thoroughly prepare your exterior siding and interior surfaces before applying the new paint. Surface preparation is critical to ensuring your new paint job lasts.
Get to know our team by visiting our meet the team page and visit our testimonials page to see what our customers have said about our team and services! Book your free estimate by giving us a call at (302) 407-0482 or by reaching out to us online.
Five Star Painting of Middletown Bear
Choose the right painting services team in your area. When it comes to selecting the right team for your commercial or residential painting services, Five Star Painting is the right choice.

Cities We Serve:
Bear, Clayton, Delaware City, Kirkwood, Middletown, New Castle, Newark, Saint Georges, Smyrna, Townsend, Wilmington
Bear, Clayton, Delaware City, Kirkwood, Middletown, New Castle, Newark, Saint Georges, Smyrna, Townsend, Wilmington
We Use Sherwin-Williams and Behr Paints!
The Five Star Process
1. Communication with dedicated Project Manager before the job starts.

2. Thorough preparation to protect your property.

3. Five Star application process of high-quality product and daily communication.

4. Daily and end of job clean-up.

5. Five-Star final walk through to ensure contract completion and satisfaction.
Schedule Free Estimate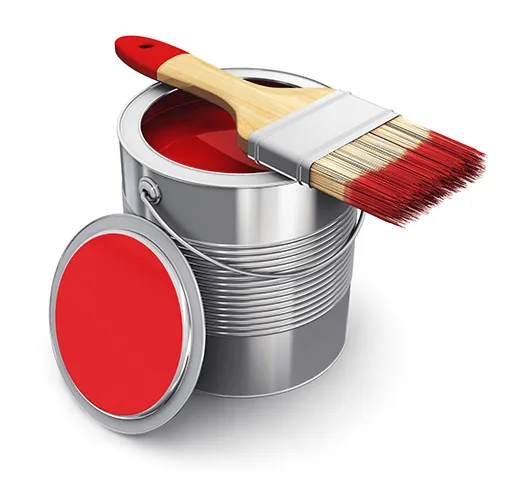 Color Visualizer
Click the color palettes below to see them in the room.
Partnerships and Achievements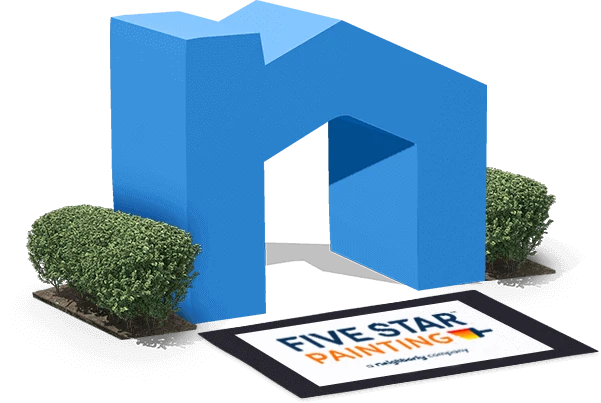 Neighborly®
Five Star Painting is a Neighborly Company. Painting is just one of many home maintenance solutions available to you. At Neighborly, we are committed to being there for all your home service needs.
Learn more about Neighborly®