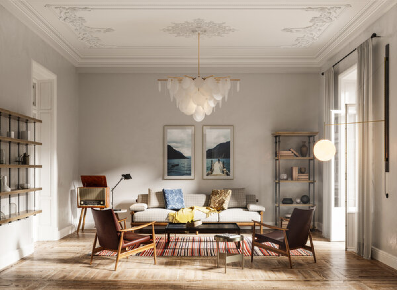 It's our goal to make home painting a pleasant experience. When you book with Five Star Painting of Mississauga, you're making an investment in your home. As a matter of fact, a fresh coat of quality paint can completely transform a space.
Not only that, but certain colors and tones can be used to brighten the mood of your house. Whether your walls need refreshing or you're looking to make a change, we're eager to discuss color trends and options at your convenience.
Call our team today to talk with one of our professional staff members about our top-notch residential painting services.

We Use Quality Paint to Ensure a Job Well Done
The paint used largely contributes to the outcome of your future projects. Our Mississauga painters use top-quality paint from brands like Sherwin-Williams® and Behr® on every painting job.
Using this paint helps create smooth & even results that will stand the test of time. We use these paints because our team understands how important quality materials are to the end result.
We're Experts in the Field
We're capable of painting the following areas in your house:
Kitchen
Bedrooms
Living room
Dining rooms
Closets
Pantries
Basement
Hallways
Entryways
Stairs
Home offices
Hobby rooms
Quality Painting Services at Your Convenience
We know that not all painting companies are created equal. That's why we aim to set the bar high with our dedicated customer service and superb results. We understand that customers are often eager to have their home interiors painted as soon as possible, which is why we always aim to clean up our work space in an efficient manner.
At Five Star Painting of Mississauga, we also offer environmentally friendly paints that cut down on the toxic emissions within the home. We value our customers' health and always do our best to provide premium products. We are happy to speak with you about our quality paints and services.
Call Five Star Painting of Mississauga today to discuss an interior paint job you have in mind. You're just a phone call away from scheduling a premium paint service.