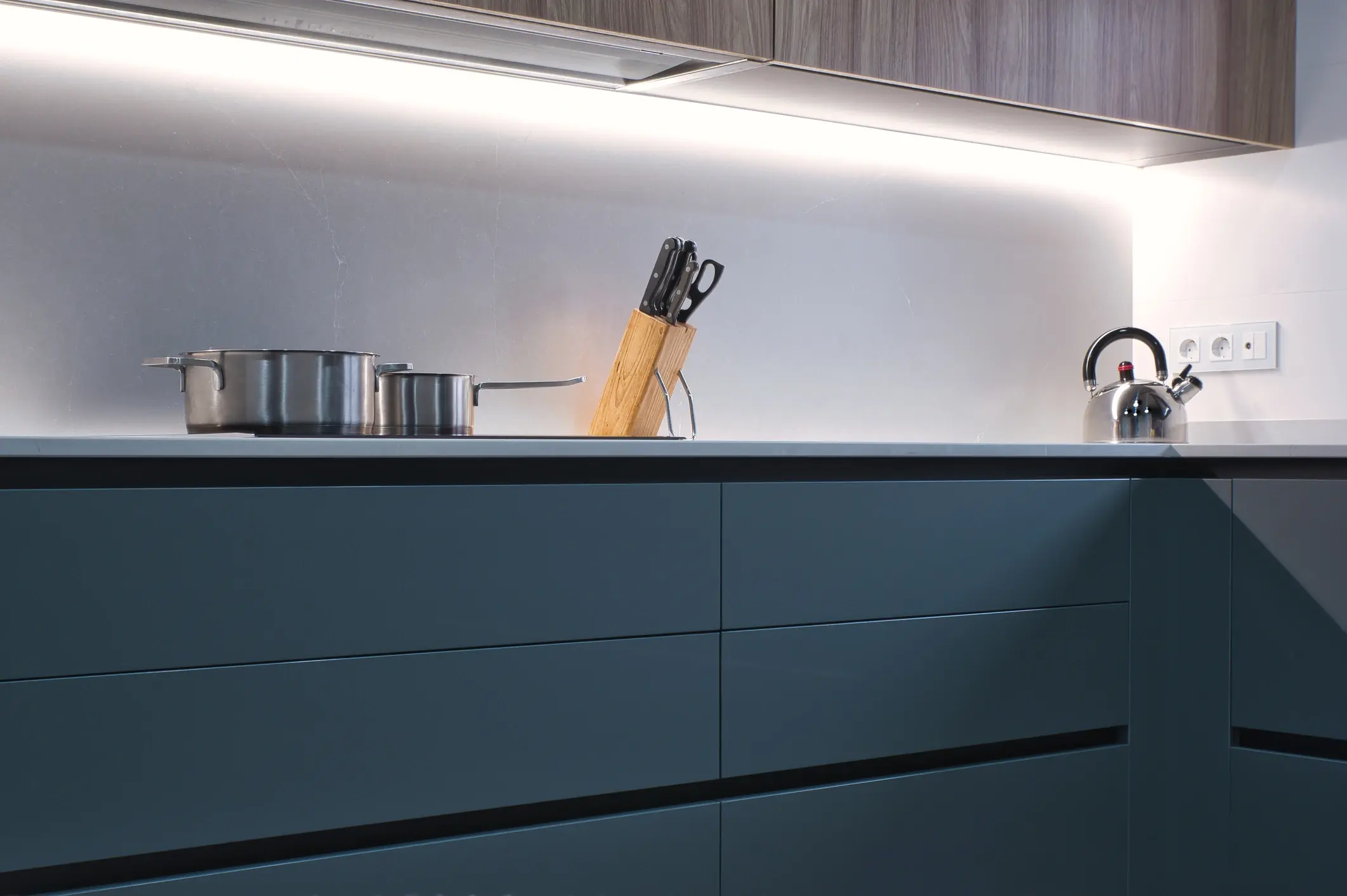 Your cabinets are one of the first things people see when they walk into your kitchen. If they're outdated, chipped, or just plain boring, it can really bring down the entire space. A fresh coat of paint can change all of that and give your kitchen a whole new look - and it's a lot easier and more affordable than you may think!
At Five Star Painting of Overland Park, we specialize in cabinet painting services. With our team of experienced professionals, you'll surely achieve the perfect look for your kitchen! We know what it takes to ensure the job is done right, from prepping and priming the cabinets to applying several layers of high-quality paint.
We follow a detailed process to help you benefit from everything newly painted kitchen cabinets offer:
1. Cabinet Painting Can Help You Keep Old Cabinets
Cabinet painting can quickly and easily update the look of your kitchen without having to replace your existing cabinets. Painting your cabinets can help you keep the woodwork and other features you like and save you money compared to replacing them altogether.
Plus, you'll get a fresh look with minimal disruption and hassle. Painting your kitchen cabinets should only take a few days while ripping out the old cabinets and replacing them can take weeks!
2. Protect Your Cabinets from Damage
Painting your kitchen cabinets is an easy and cost-effective way to help protect your existing cabinets from scratches, stains, and other damage, as well as cover up any impurities in the wood.
When selecting a color or finish for your painted cabinets, going darker can make it harder to see any dings that may develop over time. Additionally, make sure you're using a primer and choosing a premium paint that is durable and able to withstand wear and tear.
PRO TIP: Choosing a professional painting company ensures that all the proper prep is being taken (and the best paints are being used) to protect your investment and kitchen cabinets.
3. Save Money
Cabinet painting is a much more cost-efficient option than purchasing new cabinets. You can save hundreds or even thousands of dollars depending on the size of your kitchen and the number of cabinets that need to be painted. The time, energy, and money you would have spent replacing your cabinets can be put towards other home improvement projects, which is always great.
Skip DIY to Get the Most Bang for Your Buck
And even though you may be tempted to paint your kitchen cabinets on your own to save yourself even more money, don't. You may spend more money in the long run due to mistakes, extra materials needed, and wasted time.
Professional cabinet painters are experienced and knowledgeable in their craft, so they can get the job done right the first time, saving you time and money.
4. Planning Your Kitchen Cabinet Color Scheme is Fun & Rewarding
Even if you don't paint your kitchen cabinets on your own, you'll still have to plan! And fortunately, planning a new color scheme for your cabinets alone or the entire kitchen is always fun and rewarding!
Think about what colors you want to use and how they fit with the existing design of your kitchen. Do you love blues, greens, or yellows? Or maybe you prefer a classic color scheme such as white and black. There are so many great options, so take your time to explore them all!
5. A New Cabinet Color Can Make Things More "You"
Adding a colorful new look to your kitchen with cabinet painting can help to truly personalize the space and make it feel like your own. With all the options of shades, hues, and finishes available, you can find something that fits your style perfectly.
A bright and cheery yellow or blue might be perfect for those who love bold colors! Consider classic white or black cabinets for a more subtle and sophisticated look. Whatever color you choose, it can be the perfect way to make your kitchen match your unique style.
PRO TIP: Did you know that Five Star Painting of Overland Park is more than just a tuck of painters? We're a full-service painting company, meaning we're prepared to help with every step of the kitchen cabinet painting process, including color consultation to find the perfect shade!
6. Freshly Painted Kitchen Cabinets Can Make Your Kitchen Stand Out
And lastly, painting your kitchen cabinets can make your kitchen look like new. With the right colors, techniques, and team of cabinet painters, your newly painted cabinets should last for a decade or more!
Whether you're looking to complement the existing color scheme of your kitchen or start fresh with something entirely different, painting your cabinets is sure to make a statement. With a few simple steps, you can spruce up your kitchen in no time!