We Perform Thorough Prep Work
Did you know prep work can either make or break a paint job? At Five Star Painting of SW Minneapolis, we handle all of the necessary prep work to ensure your new paint job amazes and lasts for years.
Just some of the prep work we'd handle includes:
Removing failed paint
Washing and cleaning your interior and exteriors surfaces
Applying the necessary coats of primer
Applying painter's tape
Laying down drop cloths to protect your furniture and grounds
At Five Star Painting of SW Minneapolis, we have your interest at heart.
We Also Offer Carpentry Services
Further, you can trust the painting and carpentry services of the contractors we match you with. Part of the prep work process is repairing minor surface flaws and we can handle this for you, too.
The contractors handle interior and exterior wall upgrades. Well-maintained structures last longer and improve the appearance of your home.
In addition to paint, our carpentry services include the following:
Installing baseboards, crown molding, and wainscoting
Replacing rotten wood
Wood staining
Drywall repair
Ready to book your free estimate? Call our house painters in Edina at or contact us online today.
Cabinet Painting Services
Cabinet painting is among the approaches meant to change the appearance of your home. At Five Star Painting of SW Minneapolis, we partner with experienced contractors who understand the art of painting to make your cabinet look new again. We deploy our estimators to assess your cabinets and rooms for us to serve you the best way. Our project managers are eager to answer all your questions in person.
Everyone has an intended goal when pursuing a home improvement project, and yours is in safe hands if you hire SW Minneapolis
Call us today and allow us to regain the glory of your rooms.
We can refinish the following types of cabinets to brighten your home:
Laundry cabinets
Built-in bookshelves
Kitchen cupboards
Bathroom cabinets
Built-in storage shelves
Why Hire Five Star Painting of SW Minneapolis?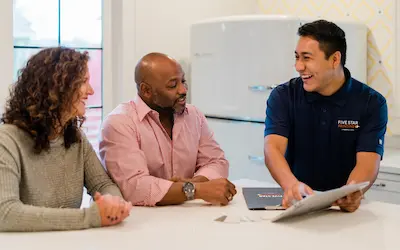 At Five Star Painting of SW Minneapolis, quality is among our core values as we treat your project as our own. We approach issues professionally to give you the confidence you deserve. Delivering successful projects is among the things that have made us the best option in home improvement.
At Five Star Painting of SW Minneapolis, we:
Warranty our house painting services for two years
Offer free estimates
Get projects done on time and on budget
Review estimates with you before proceeding with any work
We'll also ensure that the working area is clean after the project so your home can reflect its new splendor. We believe in straightforwardness in all our services.
Contact our Edina house painters today or reach out online to schedule your free estimate.