Don't Forget About Your Cabinets!
When you're painting your home, it can be easy to overlook your cabinets.
However, the cabinets that are stationed throughout your house add an integral aspect to your home's overall aesthetics, and they deserve just as much attention as any other part of your house.
Even if you aren't remodeling, there are a number of reasons why you might want to seek out professional help to update your cabinets.
Ready to get started with cabinet painting services? Contact our team for a free in-home estimate today!
Types Of Cabinets We Paint In Vancouver, WA
Cabinets aren't just for kitchens; these handy storage spaces are also found in various other areas throughout your home. Our cabinet painting contractors in Vancouver, WA paint cabinets almost wherever they may be found.
Some of the cabinets that are within our skill set include:
Kitchen cabinets
Garage cabinets
Laundry room cabinets
Bathroom cabinets
Closet cabinets
Certain types of cabinets, such as bathroom cabinets, can become damaged over time due to humidity or water damage, and they may need a new paint job before the other cabinets in your house.
The cabinets in your garage may also become damaged due to wear and tear, and cabinets in this location are often in need of a refresher.
To give your cabinets the paint job that they deserve, contact Five Star Painting of Vancouver, WA to get started!
Frequently Asked Cabinet Painting Questions
How Long Do Painted Cabinets Last?
The durability of painted cabinets depends on a variety of factors, including the quality of paint used, the application technique employed and the amount of care that goes into regular maintenance. Generally speaking, high-quality paint applied to properly prepped cabinets can last for up to 10 years without requiring refinishing or touch-ups.
However, cabinets that experience excessive wear and tear may require a touch-up or new coat of paint much sooner. Proper care, such as regular dusting and cleaning with mild detergents, can also help extend the life of your painted cabinets.
Give us a call or schedule an estimate online from the best painters near you today!
How should I choose the best color for my cabinets?
Choosing the best color for your cabinets is a very important decision. Not only does it affect the overall look and feel of your kitchen, it can also influence how you interact with the space. Before picking out a color, you should consider factors such as the amount of natural light that comes into the room, existing wall colors, and counter materials.
It can start to get quite overwhelming thinking about all of the colors you can use to liven up your rooms. We'd recommend starting with the mood, look, and feel you like!
Looking for more information on choosing the right color to compliment your rooms? Contact Five Star Painting of Vancouver, WA today!
Cleaning Tips for Your Cabinets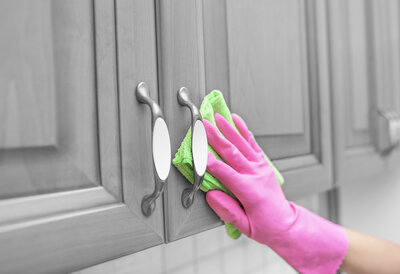 Curious how you can take care of your painted cabinets? We want your newly painted cabinets to last just as much as you do.
Here are some cleaning and maintenance tips:
Clean up spills, splatters, and messes immediately
Use microfiber cloths and paint-safe cleaning solutions
When cleaning the cabinets, do so in a circular motion
For grease and grime - create a cleaning solution with dish soap and warm water
For heavy stains and grease - create a cleaning solution with 1 cup of vinegar, 2 cups of warm water, and 1 tablespoon of baking soda
Always test your cleaning solution on the back of a cabinet door or drawer
Caring for your cabinets is a great way to help the new paint last. Our Vancouver cabinet painters are customer-focused!
Are you ready to book your free estimate? You can do so by contacting us online or by calling us today!
Professional-quality Cabinet Painters You Can Trust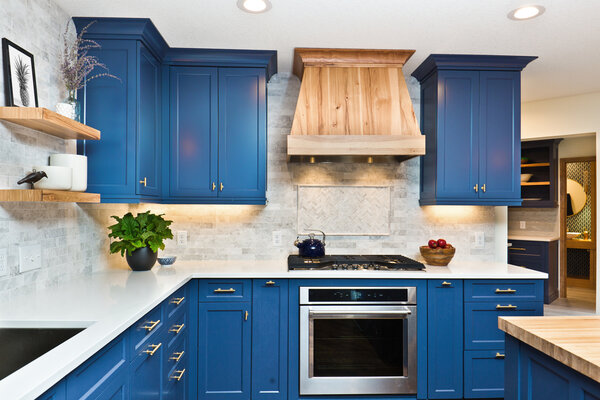 When you work with professionals like those we have contracted with at Five Star Painting of Vancouver, WA, you can rest assured knowing that your project will be in the hands of experts.
Professional Vancouver cabinet painters have the necessary experience to update the cabinets in almost any area of your home, and they do their jobs without causing any excess fuss or frustration.
The best part about working with professional painting contractors in Vancouver, WA, however, only becomes apparent after the job is done.
While painting your cabinets yourself leaves behind an inevitable mess, professional cabinet painters strive to get in and out of a paint job without leaving a mess, which is refreshing and convenient for busy homeowners.