We'll Provide You With a Professional Exterior House Painting Crew!
Painting a home's exterior is tough work, but we can supply you with a skilled painting crew to complete your project for you. Our Arlington exterior house painters will arrive fully prepared to get to work for you. Whether you're prepping to sell, or you want to improve the appearance of your home, our exterior painting services are available. We can also paint the shutters and trim on your home or outbuildings.
Our Exterior Home Painters Know About Curb Appeal!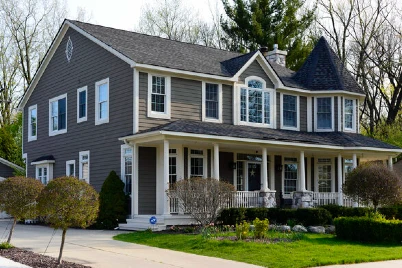 Fitting in with the surrounding homes is a must, and we're happy to consult with you about the color you want for your residence. Peeling paint and faded surfaces can be covered completely when you contact us for assistance. We'll connect you with a professional paint contractor who can apply that fresh coat of paint for you.
Looking for Quality-driven Exterior House Painting Services? Check Out What We Offer!
Value, satisfaction, and expert workmanship are what you can expect from Five Star Painting of Arlington. We'll strive to deliver the same precision and care whether you want to improve the look of a rental property, a vacation home, or a primary residence. Plus, we can paint far more than the exterior. We also paint:
Decks
Fences
Garages
Sheds
Porches
Barns
Playhouses
Roofs
Outbuildings
Our estimates are always free. Contact us at today to schedule your painting quote if you're anywhere in Arlington or a surrounding community.