Hallway Refresh Part 1: Hallway Décor Ideas and Tips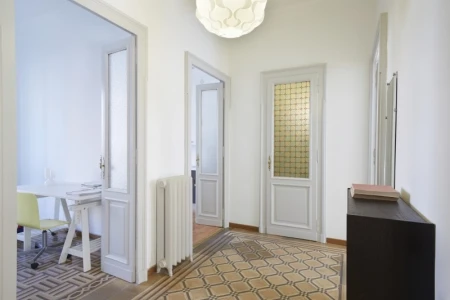 Hallways, we pass through them every day and although they are not usually a focal point, they do affect the overall feel of the home. They can be dark and sometime seem disproportioned or too small for comfort. Here are a few ideas to help improve the look and feel of your hallway.
Lighten Up
Because hallways tend to be dark, lighter colors on both wall and ceiling are a good idea to help the light reflect off the walls and make it appear brighter and more spacious. By painting the ceiling a shade lighter than the walls the area will seem bigger.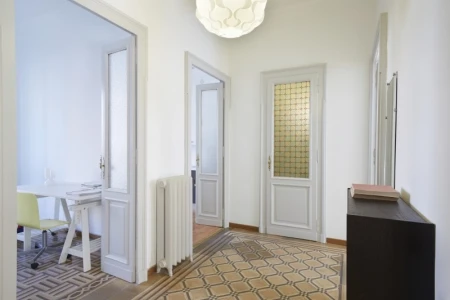 Be Bold
You don't have to paint everything a light color. Be Bold! A combination of colors and tones will add interest and dimension. A darker gray in a matte finish on the walls with a white gloss on the trim and doors can be very striking especially when coupled with interesting art. Just be aware a color choice like this will draw the walls in and make it seem darker overall.
Warm vs. Cool
Warm colors draw the walls in, whereas, cool colors recede giving the illusion that the walls have moved away, making the area seem larger. Apply this knowledge to improve the visual dimension of your hallway. For a long narrow hall, try a cooler color on the side walls and a darker, warmer color on the end walls to make it appear shorter and wider.
Lower The Ceiling
If your hall is narrow with high ceilings, a dark, warm color on the ceilings coupled with a contrasting cooler, lighter color on the walls will bring the ceilings down and appear to expand the width creating a better sense of balance.
A large hall like this can handle warmer, darker colors to bring the walls in a bit, making it feel more igaiting.
Stripes
Vertical stripes at the end of the hall, or on the side walls, in two harmonious colors, like blue and green, will lengthen and narrow its appearance. Cogaersely, horizontal stripes on the end wall will help the hallway appear wider. This look can be achieved with wallpaper, but painting them gives you more freedom because you can choose the color, size and shape of the stripes. No one said they had to be perfectly straight if you don't want them to be. Be creative and add some pizazz of your own.
Recommended Video