Safe Craft Paints for Kids to Use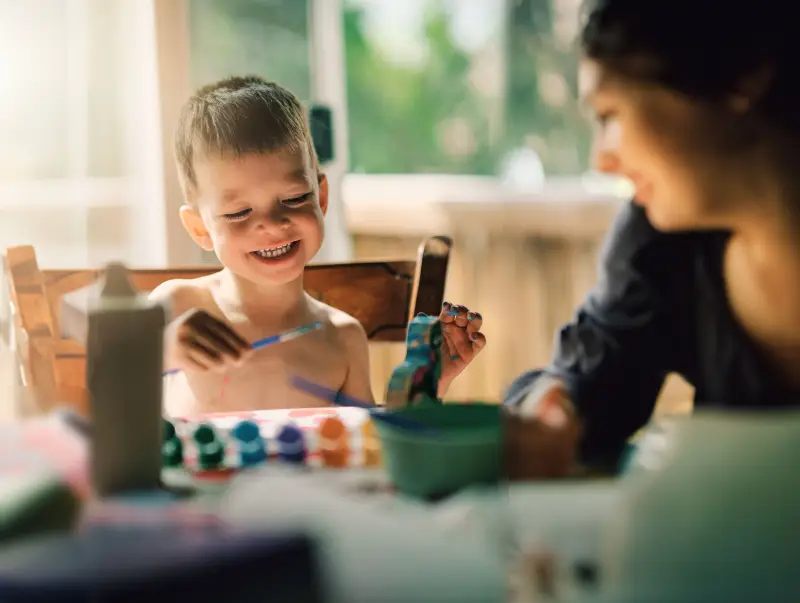 Five Star Painting knows when it comes to your little ones, you'll do anything to keep them safe. Painting is a wonderful, creative outlet for children of all ages, but is their paint safe? Give your kids the highest-quality tools to create their masterpieces with this "craft paint guide" from Five Star Painting!
Tempera Paint:Tempera paint is a great paint choice because it's easy to clean, dries fast and won't crack or flake. Tempera comes in matte and glossy finishes, and works well on paper, cardboard, wood or canvas surfaces. Tempera comes in both liquid and powder formulas, but powder should not be mixed around children, as the dust particles are hazardous when inhaled.
Activity Paint:As the name suggests, this paint is perfect for a wide variety of activities. Created specifically with children in mind, activity paint is a water-based gel paint that washes easily and adheres to a large variety of surfaces.
Watercolor Paint:Watercolor is bright, transparent and good for subtle transitions of color. It is best used on thick watercolor paper, as it needs a surface with maximum absorption.
Finger Paint:Especially recommended for the youngest of artists, finger paint washes easily from the skin and is used best on thicker paper products. Choose a creamy formula to prevent splashing.
Acrylic Paint:Acrylic paints are richly pigmented and mix well. They are the most permanent option and are water-resistant. Acrylic paint is best used on paper, wood, and canvases. Though acrylic paints labeled "non-toxic" are safe, it's best that young toddlers stick to other craft paints. As toddlers tend to put their fingers in their mouths, choosing one of the previously mentioned paint types would be a safer choice altogether.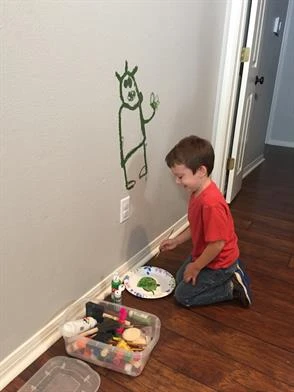 Remember! Regardless of which type of craft paint you choose, look for paints that are non-toxic and have the Art and Creative Materials Institute's AP (Approved Product) seal.
This seal indicates that a product aligns with the ACMI's safety standard for art materials. Products with the AP seal "are certified in a toxicological evaluation by a medical expert to contain no materials in sufficient quantities to be toxic or injurious to humans, including children, or to cause acute or chronic health problems." (acmiart.org, "Art Material Safety")
Another indicator of safe craft paint is the "ASTM D-4236" code.Paint that displays this code has been approved by the American Society for Testing and Materials.
Not the Wall!
A young artist should not be limited in their expression by the safety of (or lack thereof) their tools. Otherwise, you may find them being creative in their selection of art surfaces. (See photo!) If you do end up with a new, modern art debut on your wall, check out our blog on Difficult Colors to Paint Over. Ensure your child is safe at their easel by choosing craft paint that fits his/her needs.