Revive Your Kitchen by Painting Your Cabinets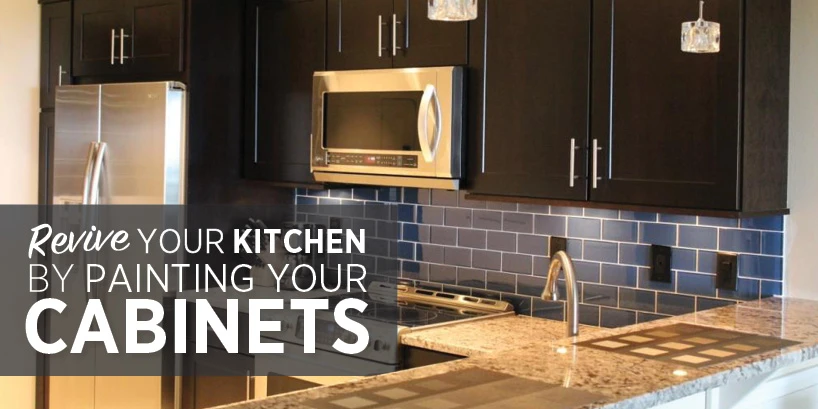 If your kitchen cabinets have become old and outdated or they just plain bore you, a major reconstruction to replace the cabinets may not be necessary. Consider painting the cabinets. A fresh coat of paint, in the right color, works wonders by injecting new life into the entire space. Paint provides you a relatively inexpensive way to upgrade those outdated cabinets and create a new and clean space you will love. Whether you plan to complete the cabinet painting project yourself or hire a professional painting service, take the time to research the right paints, colors and method for painting kitchen cabinets. The following information will help you get off to the right start and create a kitchen you'll love.
Kitchen Cabinets: Color Selection
Cabinets take up the most space in the kitchen. As the focal point of the space, they naturally draw attention and can make or break the environment. The great thing about painting kitchen cabinet may be the range of colors from which to choose. To find a color that works, evaluate the different hues in the floor, countertop, backsplash, walls and appliances. Here are some guidelines for making your color selection:
Multiple colors: Consider painting the cabinets white or a grounding neutral color, such as light gray, dark gray or a greige. These shades easily accommodate more vibrant, playful colors already present in the space.
Dark room: Painting the cabinets in white or pastels colors like blue, green, or peach bring cheer to a dark kitchen.
Mostly neutral hues: To add some pop to a kitchen with predominantly white or neutral walls, consider colors like cobalt, mint green, golden yellow, sky blue or emerald green. For a more stylish, sophisticated look, try a navy blue or dark gray.
For a kitchen with lots of cabinets, a two-tone paint job, light color for the upper units and a darker shade for the lower cabinets, will give your kitchen a trendy look.
Spray Painting versus Brushing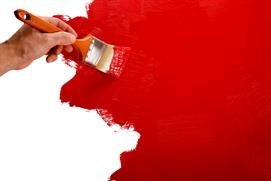 You can successfully paint metal cabinets or cabinets made from wood or wood veneer. However, cabinets with a melamine or laminated surface will eventually peel. Painting kitchen cabinets can be tedious and takes time. However, with patience, the proper preparation and color selection, you can complete the project over two or three weekends. Next, decide whether you want to brush or spray paint. Although spray painting cabinets takes more time and you must be vigilant about drip, this technique does have some advantages, including:
Produces a smoother professional surface
Easily paint cabinets with raised panels, intricate designs or nooks and crannies
Eliminate brush strokes
For cabinets with a simple design, brushing works really well. Simply sand the cabinet surfaces after each coat to produce a smooth finish. When painting the interior of your cabinets, use a small foam roller.
Tips for a Successful Project
Prepare the kitchen by emptying the cabinets and cleaning off the countertops. Protect fixtures, countertops, floor, appliances, doorways, walls, and open areas with drop cloths, newspaper and painters' tape. This will prevent paint from landing on the wrong surface, especially if you intend to spray paint. Here are more recommendations for a successful makeover:


Remove drawers, doors knobs hinges and hardware.
Use a piece of masking tape to label the position of doors.
Put all hardware into a plastic bag.
Scrub the doors, drawers and cabinet surfaces to remove grease and grime.
Fill nick and dings with non-shrinking putty.
Smooth uneven surfaces with 100-grit sandpaper.
Wipe the surface with a tack cloth to remove dust.
If you decide to spray paint your kitchen cabinets, make a few practice runs on a piece of wood to get a feel for the technique. Regarding the type of paint you should choose, both oil-based or latex (100 percent acrylic formulation) paints will provide a smooth finish. However, oil-based paint will emit a smell until cured and latex paint takes longer to cure.
Five Star Painting provides exceptional interior and exterior painting services for both commercial and residential project, including your cabinets in the kitchen, bathroom and built-ins. Contact us today for a free estimate for your project.