Whitewash vs. Limewash | What's the Difference?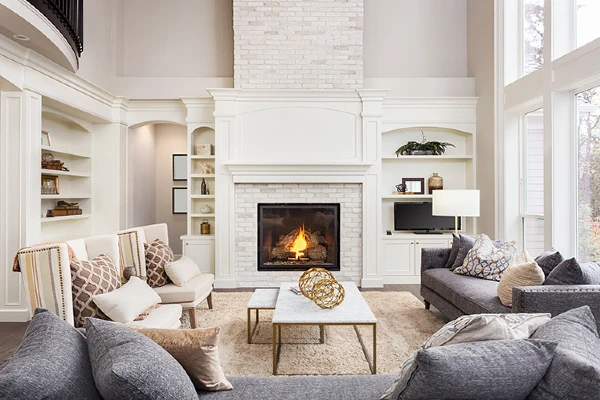 Whether you have decided to give your home's exterior or fireplace brick an update, or you are looking for the perfect paint shade for a room, you may have questions about whitewash versus limewash. While people sometimes use the words interchangeably, they are not the same thing. What's the difference between whitewashing and limewashing? Is one better than the other for your upcoming painting project?
Let Five Star Painting give you the lowdown on whitewash versus limewash, including the applications techniques, appearance differences and the details to help you determine which one is right for your project.
What Is Whitewashing?
Whitewashing involves applying a water-based paint that you mix with water. Apply it in thin layers with a large, soft paint brush; it tones down natural colors of brick, wood, or other surfaces, creating a vintage or weathered look. The painter can also use a wet rag to wipe areas of the paint away, allowing a little bit of the natural brick or wood to peek through the whitewash paint.
While limewash is available in a few different shades, whitewashing is just classic white. Other features of whitewashing include:
Acceptable for indoor and outdoor use
Coats and smooths over rough surfaces
Easy application
Dries quickly
Ideal for applications on raw, unfinished wood, so you will need to sand away any existing finish before applying
Add a satin polyurethane or water-based matte sealant to extend the life of the whitewash
If applied correctly, whitewashing can last up to 20 to 30 years, with little need for maintenance
What Is Limewash?
Limewash is made from limestone that has been crushed, burned, and then combined with water to make putty. After the putty goes through an aging process, it is thinned with water to create a paint that has a mottled, matte look with a chalky texture. Limewash is available in white, which is the natural hue of limestone, or in shades of gray, brown, and taupe, which are created by adding natural pigments.
Features of limewash include:
Acceptable for indoor and outdoor use
High pH level, making it hypoallergenic
Odor, moisture, fungal and insect resistant
Provides a layer of protection against outdoor elements
Easily removable up to five days after painting
Ideal for porous surfaces like stone, brick, and plaster
Can apply to drywall as long as you apply a mineral-based primer first
If applied correctly, it will typically not peel, flake off, or chip, but may require touch-ups every 5 to 7 years
To apply limewash, use a masonry paintbrush to create feathered strokes, applying several thin coats—at least three coats for best results. The limewash becomes much lighter as it dries, so it's a good idea to test colors. Because the paint type is natural, with all the variations of nature, it involves a level of uncertainty. Unlike traditional paints that match up perfectly with a paint swatch from the store, color and texture results with limewash vary.
Considering All Your Options to Create a Weathered, Vintage Look?
Yet another option for helping you to achieve your painting project goals is the technique called German smear, also known as a mortar wash. This process involves using a white mortar to smear on top of brick or another surface to create a rustic finish.
Whether you decide to go with whitewash, limewash, or even the German smear, remember you can always count on the local experts at Five Star Painting to make your project a success. We have the experience, tools, and the highest quality paint products to bring your vision to life. Give us a call at (888) 261-3633 or request a free estimate for services online.