How to Paint Window Glass to Decorate for the Holidays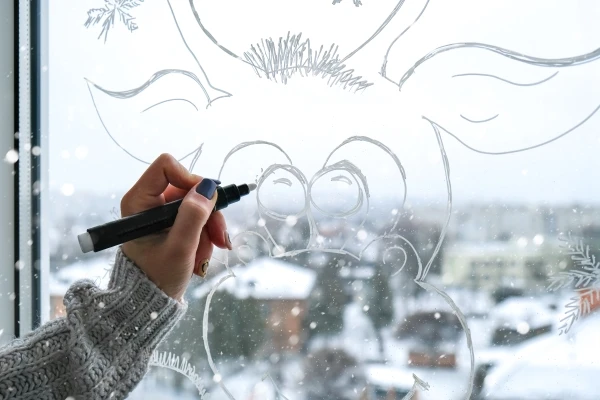 You've hung the holiday decorations with care, plugged in the lights, and decorated the mantel … what's next? The windows! Painting your window glass this holiday season is super festive and a fun! It's also a great way to involve your kids in the holiday decorating.
Christmas Painting on Glass Windows
Before you dive into your window painting project, we have some the tips that can help make this holiday project a success:
What Paint to Use on Glass Windows
You don't want permanent window decorations, so make sure you use the correct paint: Any interior water-based acrylic paint will work and so will washable tempera paint. You can find both in many different colors at your local craft store.
Prep the Paint
Thin the paint with a splash of water if it's too thick. If not sticking well to the glass, add a few drops of dish soap to 1 cup of paint.
Inside or Outside?
You can paint the interior or exterior of the glass, it's up to you. Paint the side that you want to be the most visible. If you have tinted windows, your painted-on decoration might be hard to see on the inside if you painted the outside, and vice-versa. Before you begin, don't forget to clean the glass with glass cleaner so you have a clean surface to paint.
Brush Selection
There's no need to get fancy with your brush selection, foam or bristles will work. The finer the bristles, the cleaner the line. Foam brushes won't leave brush marks.
Mask-Off the Area
Once you have your paint and brushes, it's time to paint. If your window has mullions (glass dividers) or you're worried about getting paint on the trim or sill, you can simply mask-off these areas with painters' tape and masking paper.
Five Glass Window Painting Ideas
Here are five tips to elevate your holiday window painting game and impress family, guests, and even Santa:
Use stencils
Print out holiday-themed paper stencils online, add some color and tape them on some window. Or use a can of artificial snow to fill in the stencil on your window.
Just like stencils, using painters' tape to make designs on the windows gives you unlimited stencil options. Just be sure to use tape that has a low adhesion, which will save your windowpanes from sticky tape residue.
Paint sticks are like markers with paint inside. They are easy to use, don't leave a big mess and kids love them. Check out your local craft store.
Use 1/2 cup warm water and mix in 1/3 cup of Epsom salt until the solution is very saturated and the salt stops dissolving. Once the salt is dissolved, add three drops of dish soap to help it adhere to the glass. Next, use a sponge to blot the windows with this mixture where you want the glass to look frosted. Use a paper towel to catch drips.
Give your windows a frosted touch with a can of spray-on snow. You can pick up a can at your local craft or hardware store. It's simple to apply, easy to clean, and gives your windows a wintery feel.
How to Remove Paint from Window Glass
When the holiday season winds down, there will come a time when you need to remove your beautiful painted-on window decorations. Here's how: Simply moisten the paint with window cleaner or soapy water then allow it to soak into the paint for a few minutes. When it's softened up, use a razor blade to scrape the paint off the window. To prevent scratching the glass, hold the blade at a 45-degree angle to the glass and make sure the glass and paint are wet. Once you've removed the paint, clean the window as normal.
Related Topic: Prepare Your Home for the Holidays
Interior Painting Experts
Painting your windows for the holidays adds to the festive mood of the season. It's a fun project the whole family can get involved in. Although we can't help you paint your windows this holiday, we can help with all of the other painting projects on your list.
When you're ready to get that next painting project completed, contact your local paint pros at Five Star Painting. We have the experience, expertise and tools to give the interior or exterior of your home a fresh, new look. To learn more, give call at (888) 261-3633 or request a free estimate online.