Everything You Should Know About Surfactant Leaching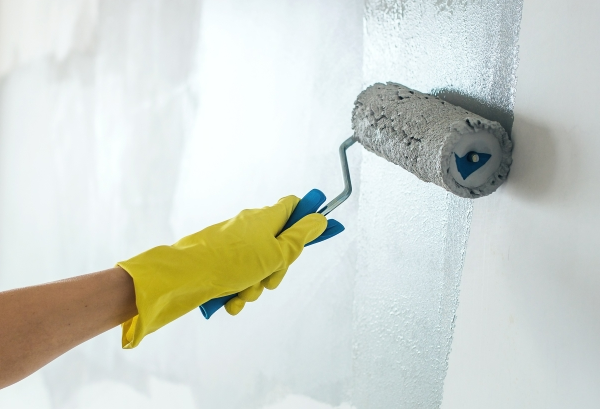 You have a nice new coat of paint that looked perfect when it was finished, but now you're finding drip marks on bathroom walls. Is the paint sweating? What's happening? More than likely, you have a case of surfactant leaching. The unsightly marks show up as glossy or greasy stains. While bathrooms, kitchens, and laundry rooms often have issues with these stains, there are also outdoor cases that can develop under the eave. Learn more about what causes surfactant leaching and how to fix it.
What Is Surfactant Leaching?
Surfactants, short for "surface-active agents," are compounds added to paint during pigmentation dispersion to promote stability and allow the paint to spread over the surface evenly. Under normal circumstances, surfactants either dry off as the paint cures or seal into the paint. It's only when drying conditions are especially cold, steamy, or damp that the compounds rise or leach to the paint's surface in an uneven film that can look glossy or greasy.
The primary causes of surfactant leaching include:
Humidity. If the painted surface comes into contact with high humidity before it has the chance to set, the moisture stagnates the drying process, encouraging leaching. This often happens with a hot shower in the bathroom or by running the dryer in the laundry room.
Low temperature. Paints typically dry best between 50 and 90 degrees Fahrenheit. Above 90 degrees, the paint will dry too fast and crack. Below 50 degrees, the paint will struggle to bind to the surface.
Poor ventilation. Lack of air circulation also prevents proper drying.
Dark colors. Darker pigmented paints contain more surfactants, making them more susceptible to leaching.
Related Topic: The Right Method for Removing Ceiling Water Stains
How to Fix Surfactant Leaching
If someone makes the mistake of using the shower too soon after a paint job, the humidity from the shower slows the paint's setting process. The next thing you know, you have surfactant leaching in the bathroom. How do you get rid of it? Will another coat solve the issue? Unfortunately, it won't. Sealing in the leaching with a new coat of paint cannot hide the ripples of uneven film. So, what can you do?
Here are the steps to fix surfactant leaching:
Wash with soap and water. After the paint has completely set, use soap, warm water, and a soft cloth or sponge to wash off the leaching. Taking care not to damage the uncured film, you may have to wash it a few times to get rid of the greasy marks.
Consider repainting. Although a fresh coat cannot resolve the issue on its own, if there is color staining from the leaching, you may need to add a new coat of paint after thoroughly removing the surfactant film.
Allow weathering to run its course. It may take close to a month for the stains to wear away, but outdoor surfactant leaching can be cured by natural weather.
Related Topic: What Is the Best Way to Clean Walls Before Painting?
Tips To Avoid Surfactant Leaching
Fortunately, it's possible to prevent these unsightly stains from forming in the first place. Here's how:
Use high-quality paints and follow the manufacturer's instructions for proper preparation and application.
Make sure the daytime and nighttime temperatures and dewpoints are within range for optimal drying.
Wait several days before showering, running the dryer, cooking with steam, or subjecting the paint to excessive humidity.
Ventilate the area properly by using fans or dehumidifiers.
Find Local Experts for Surfactant Leaching Services
A fresh coat of paint is a great way to transform the look and feel of a room or your entire house. Discovering ugly marks on your freshly painted walls can be frustrating. It can also cost you additional time and money to fix it. After all, the purpose of painting is to give the room a fresh, clean look. If your walls have surfactant leaching, your local pros at Five Star Painting can help by thoroughly removing the compounds and—if needed—repaint the room. We're here to help you with all of your painting projects. We offer interior painting and exterior painting services to help beautify your home inside and out so you can achieve the look and feel you want. To get started, call us at (888) 261-3633 or schedule an estimate online today.