The Right Method for Removing Ceiling Water Stains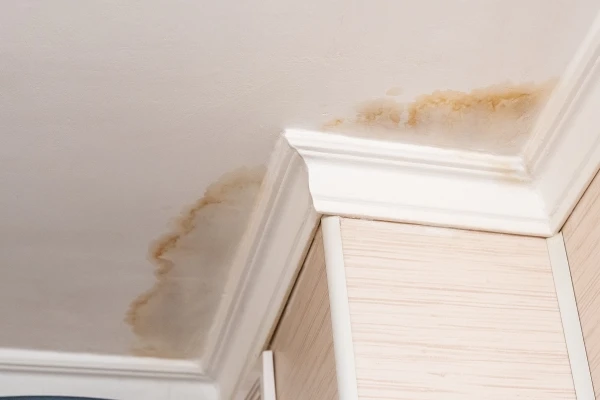 It can happen to new homes and old homes alike: a water stain on the ceiling. There are many causes ranging from roof issues to leaking pipes between floors. Regardless of what caused the water damage, the outcome is a ceiling stain—small or large—and maybe some secondary problems like bubbling and cracks. Although these brown-hued blobs can make your home look worse than you want it to, you aren't without options for removing and covering the stains.
Can I Paint Over a Water Stain on My Ceiling?
Yes, you can paint over a stain to cover it. However, you'll need to address the source of the stain first to make sure it doesn't keep coming back and lead to worse damage. Once the source is addressed, paint is a great way to cover a stain.
How to Cover Water Stains on the Ceiling
There are a few key steps for making sure you get the refreshed look you want and prevent further damage.
1. Identify the Cause of the Stain
The water stain on your ceiling may have been caused by a damaged roof or another major problem. You'll likely need a professional's help to fix major ceiling stain causes, including:
In any of these cases, after you stop the source of the water, it's a good idea to connect with a water damage specialist and get any necessary cleanup services to prevent further damage.
2. Use Bleach or Another Cleaner on the Stain
Not only are water stains ugly; they can cause mold. Make sure you're not covering the stain before it's totally cleaned up. Mix a solution of one part bleach and three parts warm water, or use a premixed cleaner, and wipe down the stain. Then wipe the solution off with a wet rag, and dry the area with a towel. Wait a few hours to let the ceiling completely dry.
3. Apply Ceiling Primer
Much like when you're painting a wall, you'll want to use a primer first. In situations like this when a ceiling stain is being covered, Sherwin William's offers options such as an oil-based ProBlock alkyd primer or a water-based Quick Dry Stain Blocking acrylic primer. You're probably accustomed to using an all-purpose primer indoors, but this could react with the stain in a visible way, even after cleaning and painting.
4. Apply Your Paint
Once your primer is dry, it's time to apply your ceiling paint to cover the water stains. Since you used an oil-based primer to provide the base layer, you can now use a latex paint of your choice for the main coat(s). Although it might seem like a massive undertaking, painting your room's whole ceiling is the best way to achieve consistent color. After all, you wouldn't want a freshly painted spot to create an uneven look in the opposite way that your stain did.
Call In the Pros
Painting over water stains (once the water damage is mitigated) can be an involved project that requires many steps to achieve the desired results. If you would rather focus your time and energy on other things, call the professionals at Five Star Painting. We can get your ceiling looking its best. We can also help you with any other paint project you may have, both inside and out. Give us a call at (888) 261-3633 or schedule your appointment online today.