Improving a house's curb appeal can be as simple as painting its exterior. It takes a certain degree of knowledge and skill to do it well. Knowing the difference that experience can make, we work with skilled painting contractors. Our goal is to provide high-quality exterior residential painting services. Whether you want your house to blend in with the neighborhood or to stand out, Five Star Painting of Cedar Falls can help.
Have you been looking to enliven your home? Whichever stage of life you're in, we're here to deliver the expert and professional exterior painting services you need. Looking to revamp your home? We're the Cedar Falls exterior painting company you can trust!
We offer expert and quality-driven residential exterior painting services! Book your free estimate today by calling us today.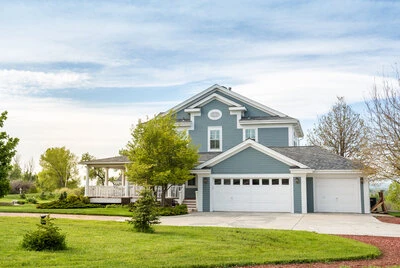 What Structures Outside Your Iowa Home Can We Paint?
We work with painting contractors in the Cedar Falls area who have the expertise to paint a range of exterior residential structures. This includes but is not limited to:
House exteriors
Sheds
Exterior trims
Exterior doors
Garages
Playhouses
Fences
Pools
Decks
Porches
Barns
Many types of exterior materials can be painted, such as:
Wood
Stucco
Concrete
Brick
Paneling
Siding
Contact us to schedule an appointment where we will assess the area to be painted for free. We will give you an estimate of how much it will cost to paint the area.
Experienced Painting Contractors near You
We work with experienced painting contractors. This is so you have peace of mind that experts who know what they are doing are painting the outside of your house. The painting contractors we work with prep the space correctly before painting. What if we detect a problem with the exterior structure, such as wood rot? We will let you know rather than incorrectly paint over it. Problems like that need to be fixed to deliver a quality paint job.
Why Choose Five Star Painting of Cedar Falls?
Five Star Painting of Cedar Falls uses state-of-the-art equipment and paints to get the job done. We believe using high-quality materials enables us to give an excellent finished product. Our commitment to quality and customer service guides us to pleasing many clients all over the Cedar Falls area.
Cedar Falls Exterior Home Painting | FAQs
How can I tell if my exteriors need new paint?
The best way to tell is by looking for signs of paint failure. Paint failure includes paint that is:
Chipping,
Bubbling or blistering,
Cracking,
Peeling, and
Fading
Failed paint exposes your siding and trim to rain, weather, and other harmful elements.
If you see failed paint like this, reach out to us to schedule your free estimate today!
What's the best time to repaint the exterior of my home?
In Cedar Falls, the best time of year for exterior painting is late spring, summer, and early fall. The temperatures in late fall, winter, and early spring tend to be too cold for the paint to properly bond to your exteriors.
When in doubt, just give us a call! We'll be able to help schedule your next exterior paint project around the weather.
Contact us today to learn more about our exterior residential painting services in the Cedar Falls area!